Archives

AND MORE...


Ayatollah Hitler
_____________________


Make-Believe Foreign Policy
_____________________


Holier Than Thou
_____________________




Obama Admin Busted
_____________________


Say It Ain't So, Ayatollah
_____________________
March 11, 2015
The Winners
Iran's foreign minister and chief negotiator in nuclear talks with the West declared victory for his country, stating that no matter how the negotiations end, Tehran has come out "the winner," according to remarks made on Tuesday (see below).
While some may dismiss this as typical Iranian bluster, we (NSR) would venture to say it's one of those rare moments where Iran is actually telling the TRUTH.
As we and others have been saying from day one, Iran's main goal in its negotiations with the West has been to gain TIME. Time to complete its nuclear weapons program and delivery systems, and operate freely, while under relaxed sanctions.
But the truth is Iran is doing much more. Its Revolutionary Guards have taken over and are leading the Iraqi military and Iraqi Shia militias in the fight against ISIS. That would explain the recent sightings of General Qasem Soleimani, commander of the Iranian Quds Force (a division of the Iranian Revolutionary Guards) in places like Tikrit, Iraq and even in Amman, Jordan.
Seems the State Dept/Obama administration had arranged for Soleimani to meet with a top Jordanian military leader in Amman last week, much to the consternation of the Jordanians.
In its zeal to get out of Iraq, the Obama administration has sought to bring in the Iranians, and to let them fight ISIS. Except no one has bothered to think about the repercussions of doing so, and while countries in the region are very alarmed by the administration's machinations, in America the American people continue to be steeped in blissful ignorance.
As a general rule, negotiating from what appears to be a position of weakness is NEVER a recipe for success, yet that is exactly what the Obama administration has done. Looking like an overeager suitor, its advances have been rebuffed by the object of its affection, i.e., Iran.
Washington Free Beacon  |  March 11, 2015
Iran Declares Pre-emptive Victory in Nuke Talks
Top Iranian negotiator: 'We are the winner'
By Adam Kredo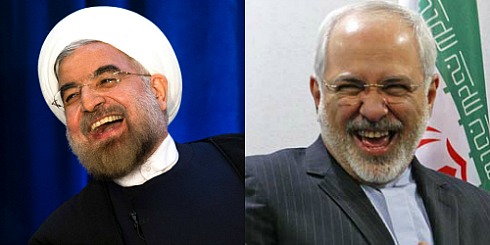 Iran president Hassan Rouhani (L) has a laugh during panel discussion at Hilton Hotel; and Iran FM Mohammad Javad Zarif (R) laughs during a photo session at the Caspian Sea littoral states conference in Moscow. (L Photo: AP/courtesy nypost.com; R Photo: courtesy ndtv.com)
Iran's foreign minister and chief negotiator in nuclear talks with the West declared victory for his country, stating that no matter how the negotiations end, Tehran has come out "the winner," according to remarks made on Tuesday and presented in the country's state-run press.
Javad Zarif, the Islamic Republic's foreign minister, stated in remarks before the country's powerful Assembly of Experts, which recently installed a hardline new cleric as its leader, that the nuclear negotiations have established Tehran as a global power broker.
"We are the winner whether the [nuclear] negotiations yield results or not," Zarif was quoted as saying before the assembly by the Tasnim News Agency. "The capital we have obtained over the years is dignity and self-esteem, a capital that could not be retaken."
Zarif's comments were accompanied by a host of bold military displays by Tehran in recent weeks, including the announcement of one new weapon that Iranian military leaders have described as a "very special" missile.
As the United States and Iran rush to hash out a final nuclear agreement ahead of a self-imposed July deadline, Zarif also lashed out at congressional Republicans who have expressed skepticism over the Obama administration's diplomacy and have fought to exert control over the implementation of any deal.
Zarif dismissed as a "propaganda ploy" a recent letter signed by 47 Senate Republicans that warned Tehran against placing too much stock in a weak deal agreed to by the Obama administration.
Meanwhile, Iran's military continues to unveil a range of new strategic missiles and advanced weapons meant to project strength throughout the region.
Iran disclosed during military drills late in February that it is developing a missile capable of being fired from a submerged submarine. Top Iranian military leaders have described the missile as a "very special weapon," according to IHS Jane's, a defense industry news source.
"I believe that this weapon is a strategic weapon,"Admiral Ali Fadavi, the naval commander of the Iranian Revolutionary Guard Corps (IRGC), said on state television, according to Jane's. "It has special characteristics."
Fadavi declined to provide additional details about the missile. "I would like to keep this information for the future. It is a very special weapon and the Americans cannot even surmise how strong and effective this weapon is."
On Tuesday morning, the commander of Iran's navy previewed the unveiling of "advanced surface and subsurface vessels" that will soon be incorporated into the country's fleet, according to the state-run Fars News Agency.
Iran has put great stock in its navy, investing significant resources to bolster the force and make it a principal player in key global shipping lanes, including around the Strait of Hormuz, the Gulf of Oman, and the Caspian Sea.
Sea-based weapons were a major focus of recent high-level meetings between Iranian and Russian officials, who agreed to a new arms pact.
Earlier this week, Iran initiated into its fleet a new destroyer ship that is "armed with advanced anti-surface and anti-subsurface weapons and air defense systems," according to military leaders quoted by Fars.
The ship was immediately deployed to the Caspian Sea, an area Iran views as critical to its interests.
Admiral Kordad Hakimi, a top Iranian navy official, told the country's press that Iran is prepared to use force in the region.
"We have no security problem in the Caspian Sea today, [but] … the Navy is fully prepared to confront any threat," he was quoted as saying.
Iranian officials have also bragged about being in full control of five out of nine major international waterways.
Original article here.
We welcome your comments, but please comply with our
Comment Rules.
You must be registered and logged in to leave a comment. Comments will display your Username and location.
Log In »
Notable Quotables

"Mr. Netanyahu is one of the most media-savvy politicians on the planet. On Friday he appeared live via video link on 'Real Time with Bill Maher,' taking the host's alternately sardonic and serious line of questioning with gazelle-like alacrity."

~  Anthony Grant, jourrnalist who has written for many major newspapers and worked in television at Paris and Tel Aviv, interviewing former PM Benjamin Netanyahu on Monday, at the outset of Mr. Netanyahu's new book (more here).