Archives

AND MORE...


Not-So-Brave New World
_____________________

Sanctified Tantrums
_____________________


Jews of Europe: Get Out Now
_____________________


An Obsession
_____________________


European Union Of Bigots
_____________________
April 26, 2016
Jew-Hatred Hazardous To One's Health
Shortly after the Charlie Hebdo attack in Paris, and nearly a year before terrorists killed 130 in coordinated strikes that rocked the City of Light, French security officials rejected an Israeli company's offer of terrorist-tracking technology that could possibly have thwarted the subsequent Islamic State terror attacks in Paris and Belgium (see below).
You can read the details below. But suffice it to say the boycott of Israeli technology by Europe (aka the Continent of Appeasement & Jew-Hatred) apparently trumps any and all security/safety considerations European governments have for their citizens.
So while the Israelis may be more gracious in the face of such rejection, we have zero qualms saying to the French: Vive La Surrender Monkeys! And to the rest of Europe we wish Lotsa Luck!
FoxNews.com  |  April 25, 2016
Did Anti-Israel Bias Keep France From Getting Terror Tech Before Paris Attacks?
By Hollie McKay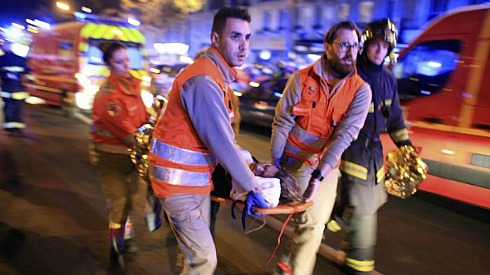 A woman is evacuated from the Bataclan concert hall after a terrorist shooting attack in Paris, November 13, 2015. (AP Photo/Thibault Camus, File) Courtesy: timesofisrael.com
Shortly after the Charlie Hebdo attack in Paris, and nearly a year before terrorists killed 130 in coordinated strikes that rocked the City of Light, French security officials rejected an Israeli company's offer of terrorist-tracking software that could have helped them flag the deadly terror cell, a security expert said.
The offer of data-mining technology that would allow French authorities to "connect all the dots" in the Islamist extremist community was made to the Directorate-General for Internal Security, France's main intelligence agency. It is used to analyze and match up fragmented intelligence reports from several national and international databases, giving counter-terrorism agents the most up-to-date information on potential terrorists available.
The overture was rejected.
_______________________________________________________________
"The goods are boycotted in European
supermarkets. But when they are in trouble they
run to Israel for help."
                                                         - Daniel Sharon, Israeli security expert
_______________________________________________________________

"French authorities liked it, but the official came back and said there was a higher-level instruction not to buy Israeli technology," a well-placed Israeli counter-terror specialist familiar with the technology and the company behind it told FoxNews.com. "The discussion just stopped."
The Israeli source declined to name the company or detail the technology, which has been shared with the U.S. and other nations on good terms with Israel, other than to say it scans databases from multiple agencies and Interpol and pinpoints "high-risk" people. But he believes it could have given French authorities a chance at stopping the Nov. 13, 2015, attacks in Paris, and possibly the coordinated bombings in Brussels that killed 32 on March 22.
"Government agencies struggling to foil terror attacks need access to technologies that allow them to connect their data fragments, making it possible to handle daily data challenges," the source said. "With this system, all data can then be easily navigated, processed and represented by employing a set of powerful analytic tools and unique algorithms."
The offer followed Israeli Prime Minister Benjamin Netanyahu's pledge to work closely with Europe on enhancing security in the wake of the Brussels attacks, taken in Israel as a call for intelligence and technology sharing. 
"In Paris or Brussels or San Bernardino or Tel Aviv or Jerusalem, terror must be condemned equally and it must be fought equally," Netanyahu said. "Israel stands ready to cooperate with all the nations in this great struggle."
No official reason was given for France's rejection of the offer, and the source acknowledged it could have been triggered by legitimate concerns about hacking vulnerability. Yet many suspect politics was to blame.
"The European Union has blamed Israel for everything that is happening in the Middle East and stopped cooperation in regards to military, law enforcement and intelligence training and banning university cooperation which [generates] much of the technology to fight terrorism," said Itamar Gelbman, a former IDF Special Forces and who is now a counter-terrorism consultant.
DGSI did not respond to requests for comment and a European Union official told FoxNews.com that there is no formal French, or wider EU ban, on purchasing technology products made in Israel. However, tensions between the European Union and Israel have heightened in recent years, primarily over claims the Jewish State illegally occupies Palestinian territories.
The Israeli-Palestinian conflict has long divided the international community. Human rights groups routinely condemn Israel for repressing and harshly retaliating against Palestinian aggression, while Israel remains staunch that it acts in self-defense and to protect its people.
Kamal Nawash, an American attorney and president of the Free Muslims Coalition, noted that Europe's tough stance against Israel and hesitation in making technology purchases is an "example of the global community sending a message to Israel that its treatment of the Palestinians is unacceptable."
"Israel would be wise to change its treatment of Palestinians by providing them with civil and human rights and pursuing a desegregation policy in general," Nawash said. "Otherwise, Israel may experience the same fate as South Africa during the apartheid era with all the countries of the world boycotting Israel."
The recent spate of terror attacks on European soil could bring about a resurgence in investment with Israeli tech and intelligence companies, given its undisputed status as a global leader in the field.
"Israel has been facing terror threats since its inception in 1948," said Gilles Perez, manager of HLS & Aerospace Unit at the Israel Export Institute. "In the 1970s, it was Israel's national airline that pioneered the concept of an undercover security officer on every commercial flight long before it was adopted by other countries after September 11, almost 40 years later."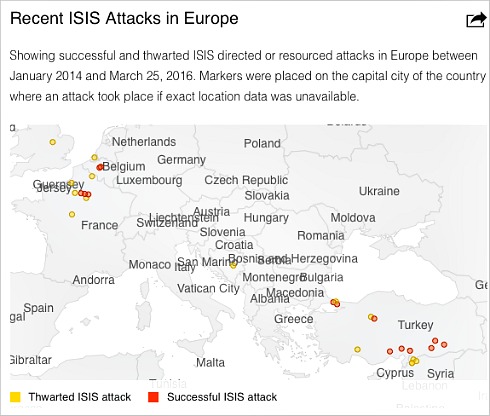 Source: Institute for the Study of War. As of March 26, 2016. See more details ›
Security at airports, such as Zaventem Airport in Brussels, where last month's bombing occurred, has long been an area of Israeli expertise. But intelligence, such as the system offered to French officials, could be even more crucial, said Col. Eran Lerman, former deputy chief of Israel's National Security Council and senior IDF Military Intelligence division director.
"However, the key to successful security has to be intelligence, in the broader sense of the word," Lerman told Homeland Security Today. "For too many years, for very good reasons, Europeans have neglected the need for effective intelligence measures."
Israel-based security training expert Daniel Sharon said that since the Brussels attacks last month there has been particular interest in airport and aviation security prevention concepts, interest that transcends popular protest.
"The goods are boycotted in European supermarkets," Sharon said. "But when they are in trouble they run to Israel for help."
Less than a week after the attacks in Brussels, Belgian law enforcement bought advanced surveillance and rapid view technology from Israeli company BriefCam. The technology is already in use at the Statue of Liberty and various U.S. airports, said President and CEO Dror Irani.
Israel's tech and security sector has long been an incubator for anti-terror solutions, say experts. The more France and Europe in general are threatened, the more willing they may be to work with companies based in the Jewish state.
"Israel is leading the field in counter-terrorism technology, but it's not a popular country," said Ari Zoldan, CEO of technology and e-commerce firm Quantum Network. "It is unlikely that Israel will suddenly become popular, but the need for better national security will force people to work with Israeli solutions."
Original article here.
We welcome your comments, but please comply with our
Comment Rules.
You must be registered and logged in to leave a comment. Comments will display your Username and location.
Log In »
Notable Quotables

"Don't threaten us with cutting off your aid. It will not work. I am not a Jew with trembling knees. I am a proud Jew with 3,700 years of civilized history. Nobody came to our aid when we were dying in the gas chambers and ovens. Nobody came to our aid when we were striving to create our country. We paid for it. We fought for it. We died for it. We will stand by our principles. We will defend them. And, when necessary, we will die for them again, with or without your aid."

~  Israeli PM Menachem Begin, in June 1982 at height of Lebanon War, responding to then Senator Joe Biden in front of Senate Foreign Relations Committee, after Biden had attacked Israeli settlements in Judea and Samaria and threatened to cut economic aid to Israel (more here).