Belgian officials say they are looking for at least two individuals, including one man suspected of playing role in Paris attacks last week
By Jason Burke in Brussels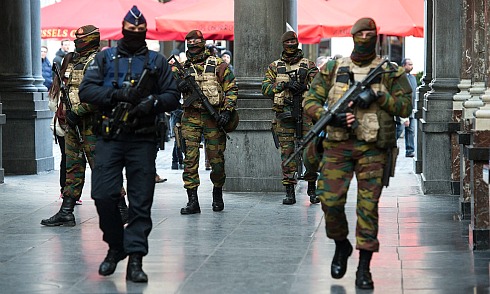 A police officer and soldiers on security duty inside the Galerie de la Reine in Brussels on Sunday. Photo: Stephanie Lecocq/EPA
Europe's de facto capital faces an unprecedented security lockdown this week after Belgian authorities imposed a slew of safety-first measures to prevent a "serious and imminent" terrorist attack.
Schools, universities and kindergartens will be shut and the metro, shuttered all weekend, will remain closed, as counter-terrorist forces intensify their search for a network of Islamist militants involved in the Paris attacks.
"We still fear attacks here like those that occurred in Paris, involving several individuals striking simultaneously in several places," Charles Michel, the Belgian prime minister, told a tense press conference, adding that there were "indications" that transport systems, commercial centres, shopping streets and busy places were targets.
Soldiers patrolled the streets with armoured vehicles outside the main stations and in public spaces, and last night there were reports of multiple operations in central parts of Brussels including the Grand Place.
"We realise that these measures will complicate economic and professional life … and we are doing everything we can to return to normality as soon as possible," Michel told reporters. His words came after the government raised the threat level in and around Brussels to four, the highest level, and deployed hundreds of troops to supplement armed local police.
European Union institutions will remain open, although with extra security checks, a spokesman said. Officials are expected to issue fresh guidance on further measures, the European commission said late on Sunday.
Officials have also confirmed that nursery schools will be closed on Monday, adding to the chaos that many are predicting for the Belgian capital as the working week begins.
The minister of education, Joelle Milquet, said the closure of all educational institutions could be extended beyond 24 hours. "You do not mess around with the security of children and students ... This was the only sure measure of protection which we could take," she told local TV networks.
Police were reportedly descending on rue du Midi in the historic centre of the and sealing it. Shops and restaurants remained shut on Sunday in Brussels with few locals in the streets. Museums and cinemas were also closed. Prospects for Britain's Davis Cup tennis clash with Belgium on Friday going ahead appeared slim.
"We've never had this kind of terrorist threat here before. It's very unexpected, almost surreal," said Alinka Le Comte, 26, a shop assistant in the centre of the city.
Tourists continued to throng sights such as the city's main square however. "It is reassuring to see the police. We are concerned, but not frightened," said Emilio Bravo, who had travelled to Brussels from Alicante, Spain.
The Sunday morning market at the city's Eurostar terminal Gare du Midi – one of the biggest outdoor markets in Europe – was called off. Busy trains from Paris were subject to extra security measures.
Belgian officials have said that they are hunting at least two men. One is 26-year-old Salah Abdeslam, who is believed to have played a role in the attacks which killed 130 people in Paris nine days ago.
The Belgian interior minister, Jan Jambon, said "several suspects" tied to the Paris attacks could be at large in the country, amid speculation that a series of cells may be planning further strikes in the heart of the European Union. A meeting of security agencies and senior ministers was held on Sunday afternoon to decide whether the metro will be allowed to function on Monday morning when the working week starts.
Other measures may be relaxed, or stiffened, depending on inputs from counter terrorist agencies, officials said. "We are clearly dealing with intelligent individuals who can change their targets and tactics depending on what we do ... So all this could take a certain time, that's obvious," Koen Geens, the justice minister, told a local TV network.
Many in Belgian's Muslim community, which numbers around 600,000, fear a backlash as tensions continue.
"We are very happy to see the searches and hear about the arrests," said Dekhili Marouan, a 35-year-old catering worker who arrived in Belgium from Tunisia five years ago. "It's frightening for everybody. I'm worried too about people here blaming all of us Muslims for this. These people who do this kind of violence, they are not Muslims."
Belgian officials have rejected widespread criticism of the country's intelligence services and counter-terror efforts. But the news that a Belgian man suspected of undertaking reconnaissance for the Paris attacks' targets has been held by Turkish police has underlined the country's role as a base for those behind the plot.
Belgium reportedly supplies more foreign fighters to Syria than any other EU country in per capita terms. Many have come from Molenbeek, a run-down Brussels borough with a large Muslim community that has long been a concern.
Speaking to Belgian TV on Saturday night, Carine Coquelet, the lawyer of one of the two men detained in Brussels last week, said her client admitted picking up Abdeslam in Paris shortly after the terrorist strike there and driving him back to Brussels. She said that Abdesalam may have been wearing a belt of explosives under a coat.
The US embassy in Brussels advised Americans to cancel their weekend plans and stay indoors. The Foreign Office delivered similar advice for the high numbers of Britons in Brussels, which is also home to the Nato headquarters.
Geens, the justice minister, said that the Paris attacks had shown that the profile of potential targets had changed.
"It's no longer synagogues or the Jewish museums or police stations, it's mass gatherings and public places."