Archives

AND MORE...


Orwellian Farce
_____________________




Already Sanitizing
_____________________


Sweetening The Capitulation
_____________________


Anatomy Of Betrayal
_____________________
August 27, 2015
Frontline Of Armageddon
Remember the Iran Deal, that 'wonderful' Orwellian Farce we've been writing about?
Below are some fruits of that wonderful deal, courtesy of BILLIONS of dollars released to Iran by the Obama administration.
As the Obama administration would say, terrorism was not part of the discussions with Iran. It's a whole other matter.
Well, someone forgot to mention to the Iranians that the billions they were getting were NOT to be used to sponsor terrorism.
Washington Free Beacon  |  August 27, 2015
Iran Renews Support For Hamas Terrorists
Iran stands on the 'frontline of war against the Zionist regime'
By Adam Kredo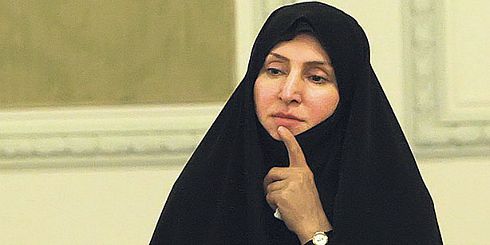 Marzieh Afkham, a spokeswoman for Iran's foreign ministry / AP
Iran's foreign ministry on Wednesday reiterated its support for Hamas and other anti-Israel terrorist groups and said that aiding those who "stand against the Zionist regime is a principle of Iran's policy."
The Islamic Republic's renewed backing of Hamas comes amid reports that relations between the two have been strained in recent months. However, Iran denies that this is the case and made clear this week that it will continue to back terrorist entities that seek Israel's destruction.
"Iran's support for all resistance groups continues similar to the past," said Marzieh Afkham, a spokeswoman for Iran's foreign ministry, to reporters in Tehran when asked whether the country's position on Hamas had shifted.
Afkham went on to stress that "supporting members of the resistance front and those who stand against the Zionist regime is a principle of Iran's policy," according to Iran's state-controlled Fars News Agency.
These terrorist groups, with Iran's support, will "stand on the frontline of war against the Zionist regime [and] would maintain their unity and integrity."
Iran's renewed interest in and public support for Hamas is a sign that the Islamic Republic has no intention of moderating its extremist views in light of the recently secured nuclear deal, which officials in the Obama administration claimed would bring Iran into the global community of nations.
However, senior Iranian officials have claimed in recent weeks that Iran will expand its global terrorism agenda as a result of the deal.
Iran will "continue providing weapons to support the Middle Eastern countries fighting terrorism," Javad Zarif, Iran's foreign minister, was recently quoted as saying by Iran's state-controlled press.
Following the nuclear deal, Iran will "preserve its defensive capabilities and send weapons to its regional allies," according to Zarif.
Meanwhile, members of Hamas have praised Iran in recent comments and thanked the Islamic Republic for its support.
Mousa Abu Marzouk, a senior Hamas official, praised Iran for enabling his group's war against Israel.
"Iran's various supports for Palestine have been precious, abundant and greatly influenced the Palestinian resistance," Marzouk is reported to have said earlier this year.
More than 70 members of the Iranian parliament recently petitioned President Hassan Rouhani to increase "Iranian support for the regional resistance front after the nuclear agreement," according to the report.
These Iranian lawmakers "called on the president to use the ministries of defense and foreign affairs to send aid to the Palestinians in accordance with instructions from the Supreme Leader to arm the Palestinians in the West Bank."
Another top Iranian national security official, Javad Karimi Qoddousi, demanded this month that "all the senior Iranian officials … support aid for the Palestinian people and the resistance front so that the nuclear agreement [is not] exploited to strengthen Israel's security."
Original article here.
We welcome your comments, but please comply with our
Comment Rules.
You must be registered and logged in to leave a comment. Comments will display your Username and location.
Log In »
Notable Quotables

"Mr. Netanyahu is one of the most media-savvy politicians on the planet. On Friday he appeared live via video link on 'Real Time with Bill Maher,' taking the host's alternately sardonic and serious line of questioning with gazelle-like alacrity."

~  Anthony Grant, jourrnalist who has written for many major newspapers and worked in television at Paris and Tel Aviv, interviewing former PM Benjamin Netanyahu on Monday, at the outset of Mr. Netanyahu's new book (more here).