Archives

AND MORE...


Disarming America
_____________________


Surprise!
_____________________


Our Gift To World Peace
_____________________


A Very Disturbing Dot
_____________________
February 15, 2013
From Russia With Love
Hours before President Obama was to deliver his State of the Union address and announce drastic cuts to US nuclear arsenals, two Russian nuclear-armed bombers circled the western Pacific island of Guam on Tuesday, in the latest sign of Moscow's increasingly threatening strategic posture toward the United States (see below).
That same day, North Korea (possibly Iran?) conducted its third nuclear test, while the previous week China engaged in its own muscle-flexing.
As the world shows its middle finger to America, America's Commander-in-Chief continues to call for drastic cuts to US defense and nuclear arsenals. Further proof the Obama administration will never let facts (or reality) get in the way of its plans to unilaterally disarm America.
Washington Free Beacon | February 15, 2013
Bear Bombers Over Guam
Russian nuclear bombers circle Guam
By Bill Gertz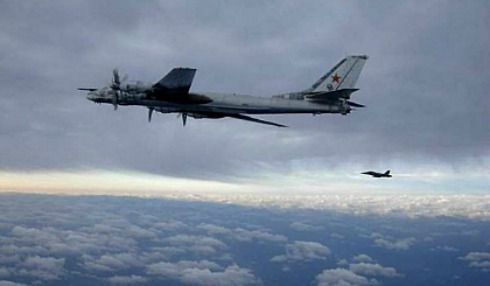 Russian Tu-95 Bear long-range bomber aircraft. AP
Two Russian nuclear-armed bombers circled the western Pacific island of Guam this week in the latest sign of Moscow's growing strategic assertiveness toward the United States.
The Russian Tu-95 Bear-H strategic bombers were equipped with nuclear-tipped cruise missiles and were followed by U.S. jets as they circumnavigated Guam on Feb. 12 local time—hours before President Barack Obama's state of the union address.
Air Force Capt. Kim Bender, a spokeswoman for the Pacific Air Force in Hawaii, confirmed the incident to the Washington Free Beacon and said Air Force F-15 jets based on Andersen Air Force Base, Guam, "scrambled and responded to the aircraft."
"The Tu-95s were intercepted and left the area in a northbound direction. No further actions occurred," she said. Bender said no other details would be released "for operational security reasons."
The bomber incident was considered highly unusual. Russian strategic bombers are not known to have conducted such operations in the past into the south Pacific from bomber bases in the Russian Far East, which is thousands of miles away and over water.
John Bolton, former U.N. ambassador and former State Department international security undersecretary, said the Russian bomber flights appear to be part of an increasingly threatening strategic posture in response to Obama administration anti-nuclear policies.
"Every day brings new evidence that Obama's ideological obsession with dismantling our nuclear deterrent is dangerous," Bolton said. "Our national security is in danger of slipping off the national agenda even as the threats grow."
Defense officials said the bombers tracked over Guam were likely equipped with six Kh-55 or Kh-55SM cruise missiles that can hit targets up to 1,800 miles away with either a high-explosive warhead or a 200-kiloton nuclear warhead.
The F-15s that intercepted the bombers were based at Kadena Air Base, Japan, and were deployed to Guam for the ongoing annual Exercise Guahan Shield 2013.
Two U.S. B-2 strategic bombers were deployed to Guam in late January and last fall advanced F-22 fighter bombers were temporarily stationed on the island. Three nuclear-powered attack submarines and the Global Hawk long-range drone also are based in Guam.
About 200 Marines currently are training on the island. Earlier news reports stated that Japanese and Australian military jets joined U.S. jets in the Guam exercises.
Guam is one of the key strategic U.S. military bases under the Obama administration's new "pivot" to Asia policy. As a result, it is a target of China and North Korea. Both have missiles capable of hitting the island, located about 1,700 miles east of the Philippines in the Mariana island chain.
This week's bomber flights are a sign the Russians are targeting the island as well, one defense official said.
Guam also plays a key role in the Pentagon's semi-secret strategy called the Air-Sea Battle Concept designed to counter what the Pentagon calls China's anti-access and area denial weapons—precision guided missiles, submarines, anti-satellite weapons, and other special warfighting capabilities designed to prevent the U.S. military from defending allies or keeping sea lanes open in the region.
Defense officials disclosed the incident to the Free Beacon and said the Russian bomber flights appeared to be a strategic message from Moscow timed to the president's state of the union speech.
"They were sending a message to Washington during the state of the union speech," one official said.
The bomber flights also coincided with growing tensions between China and... see more.
We welcome your comments, but please comply with our
Comment Rules.
You must be registered and logged in to leave a comment. Comments will display your Username and location.
Log In »
Notable Quotables

An ancient Mikveh (Jewish ritual bath) dated to the time of the second temple was unveiled in Jerusalem during archaeological excavating near the Western Wall. 

~  Michal Hever, Hebrew University. On Twitter.