Archives

AND MORE...


We Lied
_____________________


U.S. Grants Exemptions From Iran Sanctions
_____________________


Oops, They Meant It...
_____________________


Anatomy of Incompetence
_____________________


Iran Triples Its Capacity
_____________________

February 13, 2013
A Very Disturbing Dot
As President Obama prepared for his State of the Union address and plans to unilaterally disarm America, North Korea went BOOM in the night, carrying out its third nuclear test Monday night.
In his SOTU, President Obama offered little about this or for that matter, anything else relating to national security/foreign policy.
The Israelis, however, were paying closer attention (see below) and raising some disturbing questions: The Iranians have not carried out a nuclear test in Iran, but did they evade inspection by doing so in North Korea? Are the Iranians using North Korea as a backdoor plan for their own nuclear program?
There is no "official information" on this (yet), but since Washington, DC has great difficulty connecting dots, here's hoping that at the very least, they pay attention when others do it.
Jerusalem Post | February 13, 2013
Analysis: Pyongyang Nuke Test May Also Be Iranian
Expert warns Tehran may be bypassing int'l inspections via North Korea, says Iranian scientists may have been present at test.
By Yaakov Lappin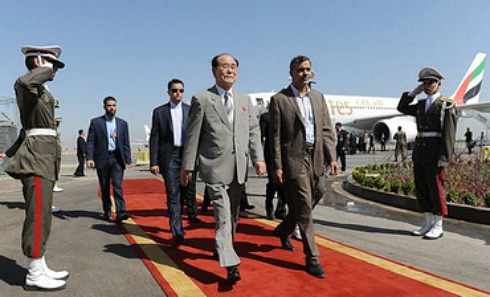 Kim Yong-Nam (C), chairman of the Presidium of the Supreme People's Assembly of North Korea, arrives for the 16th summit of the Non-Aligned Movement in Tehran. Photo: REUTERS/Hamid Forootan/ISNA/Handout
In addition to provoking the West, North Korea's nuclear test on Tuesday may have also been carried out on behalf of Iran, and in the presence of Iranian atomic scientists, a security expert warned on Tuesday.
North Korea is making progress both in its nuclear weapons capabilities and its ICBM missile research, Dr. Alon Levkowitz, coordinator of Bar-Ilan University's Asian Studies Program and a member of the BESA Center for Strategic Studies, told The Jerusalem Post.
"The most disturbing question is whether the Iranians are using North Korea as a backdoor plan for their own nuclear program. The Iranians didn't carry out a nuclear test in Iran, but they may have done so in North Korea," Levkowitz said. "There is no official information on this... but Iran may have bypassed inspections via North Korea. If true, this is a very worrying development."
Speaking to the Post in April, sources highly familiar with North Korea said a nuclear test was imminent, and that Iranian scientists could be present at the explosion site. During North Korea's previous two nuclear detonations, Iranian nuclear scientists were present, according to several indicators, Levkowitz said.
It remains unclear whether the North Koreans detonated a plutonium- based nuclear device or one that was based on enriched uranium on Tuesday. The latter option would further suggest increased cooperation with Iran, he added.
"There is regular cooperation, since the 1980s, between North Korea and Iran. North Korea also helped set up a plutonium nuclear facility in Syria, which was bombed by Israel in 2007, according to foreign sources," he said.
The feeble response by the international community to North Korea was due to China and Russia's refusal to pass harsher binding UN Security Council resolutions, Levkowitz said, adding that this sent a worrying message to Iran. Tehran was learning that the international community would fail to monitor and prevent nuclear proliferation, and that consequences for blatant transgressions were mild, he added.
In April 2012, Iranian officials from the Shahid Hemmat Industrial Group observed a failed North Korean rocket launch, according to a report by the South Korean Yonhap news agency.
Although Seoul has neither confirmed nor denied the report, it believes that a delegation of a dozen Iranian scientists may have been technically involved in North Korea's failed long-range missile launch, which was disguised as a satellite launch. North Korea has tested two atomic bombs in recent years, once in 2006 and again in 2009 – both times after it carried out failed missile tests.
The North's nuclear weapons program is mainly based on plutonium, while Iran is mostly relying on uranium in its efforts to build a bomb. Yet some analysts believe that Tehran may be pursuing a parallel, secret plutonium nuclear program. Similarly, North Korea is also known to have enriched uranium through spinning centrifuges, a process Pyongyang has recently made much progress in, Levkowitz said.
Responding to the North Korean test, Iran's Foreign Ministry on Tuesday called for the destruction of all nuclear weapons in the world. The statement said countries had a right to use "peaceful" nuclear technology.
Iran also confirmed on Tuesday reports that it was diverting a portion of its enriched uranium to the Tehran Research Reactor, where it will be converted into nuclear fuel rods that cannot be used for weapons construction.
Iran exercises this option whenever it wishes the international community to believe that it is moving away from a nuclear breakout stage. It is widely believed that Israel defines this breakout stage as having 240 kilograms of uranium enriched to 20 percent.
In recent weeks, Iran sent a very different signal, by announcing that it was installing faster, more advanced uranium enrichment centrifuges at Natanz.
Prime Minister Netanyahu warned this week that the faster centrifuges enable Iran to shorten by one-third the time it will take to produce "one nuclear bomb's worth of highly enriched uranium."

Herb Keinon contributed to this report.•
Original article here.
We welcome your comments, but please comply with our
Comment Rules.
You must be registered and logged in to leave a comment. Comments will display your Username and location.
Log In »
Notable Quotables

"Mr. Netanyahu is one of the most media-savvy politicians on the planet. On Friday he appeared live via video link on 'Real Time with Bill Maher,' taking the host's alternately sardonic and serious line of questioning with gazelle-like alacrity."

~  Anthony Grant, jourrnalist who has written for many major newspapers and worked in television at Paris and Tel Aviv, interviewing former PM Benjamin Netanyahu on Monday, at the outset of Mr. Netanyahu's new book (more here).