Archives

AND MORE....


Deadly Islamic Garb
_____________________


Female Terrorist Hosts TV Talk Show
_____________________


Moderate Indonesia
_____________________


Fatimah's New Spring Line
_____________________


Creepy Haute Couture
____________________
February 2, 2017
Equal Opportunity Bombers
The women's movement is marching right into the Muslim world, as women in Indonesia, the world's most populous Muslim-majority country, take on a more active role in "violent extremism" (see below).
Apparently, Indonesian women are increasingly eager to get involved in radicalism themselves, rather than merely support their extremist husbands.
After all, why should men have all the fun, eh?
Arab News  |  February 2, 2017
Indonesian Women Seeking To Become Daesh Suicide Bombers: Think Tank
By AFP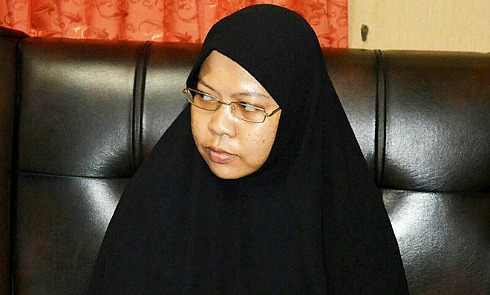 This picture taken on December 11, 2016 shows Dian Yulia Novi, one of two former domestic workers who had allegedly volunteered to become suicide bombers in Jakarta and Bali, in Jakarta. (AFP)
JAKARTA: Indonesian women are taking on a more active role in violent extremism, with some seeking to become Daesh suicide bombers, a leading security think tank has warned.
The growing problem was highlighted after the arrest in December of two women with links to Daesh allegedly planning suicide attacks in the world's most populous Muslim-majority country, according to a report from the Jakarta-based Institute for Policy Analysis of Conflict (IPAC).
Many from Indonesia — which has long struggled with militancy — have flocked to join Daesh in the Middle East, while radicals in the country have pledged allegiance to the group and attacks and plots have been linked to the terrorists.
But the increasing eagerness of Indonesian women to get involved in radicalism themselves rather than merely support their extremist husbands poses new risks, said the report from IPAC, which is headed by veteran Indonesian security analyst Sidney Jones.
"Indonesian women in extremist organizations are now catching up with the lethal practices of their sisters in other parts of the world," according to the study.
Increasing female involvement is linked to the appeal of Daesh but also to the growing sophistication of social media, which allows more women to read the terrorists' propaganda and take part in radical chat forums, said the report, which was released late Tuesday.
The most high-profile cases were the arrest of two former domestic workers, Dian Yulia Novi and Ika Puspitasari, who had allegedly volunteered to become suicide bombers in Jakarta and Bali.
Leading Indonesian Daesh radical Bahrun Naim, who has been accused of directing a series of mostly botched terror plots in his homeland from Syria, had given them instructions and financial support, the report said.
Authorities detained Novi and her husband the night before a planned attack on the presidential palace in Jakarta and later picked up Puspitasari, who was part of the same network and had been planning to carry out a bombing on the holiday island of Bali, the report said.
Other women have been arrested for offenses including setting up a pro-Daesh charity, helping to make a bomb, and being fighters with a militant group on Sulawesi island.
IPAC called for the Indonesian government to try to find out more about female radical networks, including interviewing the many women who have been deported from Turkey after allegedly trying to cross into Syria to join Daesh.
"The need to know more about Indonesian extremist women suddenly has become urgent," it said.
Indonesia's national counter-terror agency declined to comment.
Original article here.
We welcome your comments, but please comply with our
Comment Rules.
You must be registered and logged in to leave a comment. Comments will display your Username and location.
Log In »
Notable Quotables

"The Obama national-security team fell down on the job all too often, and now a veteran of that mess, Avril Haines, will be director of national intelligence. Joe Biden is likely to be a one-term president. He should embrace that and seize the opportunity to run some risks and take some chances. Instead, it's another installment of Night of the Living Dead Democrats."

~ Kevin D. Williamson, writer and journalist, in his piece entitled "Joe Biden cabinet picks are setting presidency up to be 'Swamp Things 2'" (more here).