April 11, 2011
Creepy Haute Couture
Bravo to France for banning this offensive, repressive and downright dangerous Islamic garb (see below).

Creepy doesn't even begin to describe the national security risk involved...


The Commentator | April 11, 2011
Defining moment for Islam in Europe: France implements Muslim burqa ban amid protests, arrests
In what may prove to be a defining moment in Europe's relationship with its growing Muslim population, France takes decisive action to force Muslims to conform to Western values. But Muslim activists are not taking the ban lying down.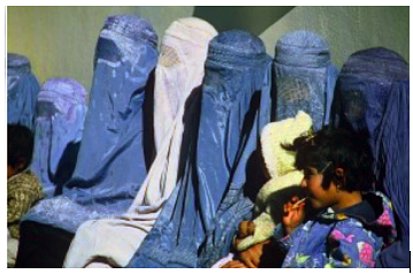 Banned in France from Monday
France, on Monday, became the first European country to implement a legal ban on Muslim women wearing the veil-like Islamic headdress known as the burqa.
Woman who violate the new directive face police detention, fines of 150 euros ($217) and compulsory re-education classes. Anyone – fathers, brothers, uncles, religious leaders or community leaders, for example – found guilty of forcing women to wear the burqa in defiance of the law face fines of up to 30,000 euros ($43,000) and a year in jail.
The law was overwhelmingly passed by the lower house of the French parliament in July 2010. In June of the previous year President Nicolas Sarkozy said the burqa was "not welcome" in France and that it was a symbol of "servitude" in remarks that drew the ire of many Muslim groups and their supporters on the left.
Sarkozy's critics say the ban is a blatant piece of populism designed to stem the flow of voters away from his own, centre-right party to the far-right National Front which is now headed by Marine Le Pen, the daughter of the veteran populist-nationalist Jean-Marie Le Pen.
The president's supporters counter that political correctness has held sway for too long in France and that robust action is necessary to send a clear message about the country's determination to defend its core values.
Analysts say the key moment will come when, and if, the first arrests are made, with some predicting possible outbreaks of protest and violence.
In what could be a sign of things to come, 61 mainly Muslim demonstrators were detained by police on Saturday after holding an unauthorised protest rally against the burqa ban in Paris. Among those arrested were 19 women.
The French government has a fraught relationship with its Muslim community which represents at least 10 percent of the population and is growing through high birth rates and immigration.
The number of French Muslim women wearing the burqa is unknown. One widely quoted figure is 2,000, though other estimates suggest the figure is far higher.
In anticipation of the ban, French real estate magnate, Rachid Nekkaz, said he had established a 2.0 million euro ($2.9 million) fund to pay any fines incurred by Muslim women who insist on continuing to wear the veil.
Though France is the first European country to impose a ban on the burqa, it is unlikely to be the last. Belgium has approved a similar law, but it has not yet gone into effect. Several other countries are considering such a move.
Original article here.
We welcome your comments, but please comply with our
Comment Rules.
You must be registered and logged in to leave a comment. Comments will display your Username and location.
Log In »
Notable Quotables

"Don't threaten us with cutting off your aid. It will not work. I am not a Jew with trembling knees. I am a proud Jew with 3,700 years of civilized history. Nobody came to our aid when we were dying in the gas chambers and ovens. Nobody came to our aid when we were striving to create our country. We paid for it. We fought for it. We died for it. We will stand by our principles. We will defend them. And, when necessary, we will die for them again, with or without your aid."

~  Israeli PM Menachem Begin, in June 1982 at height of Lebanon War, responding to then Senator Joe Biden in front of Senate Foreign Relations Committee, after Biden had attacked Israeli settlements in Judea and Samaria and threatened to cut economic aid to Israel (more here).