Archives
AND MORE...


Creepy Haute Couture
____________________


Fatwas For Flyers
____________________



To Burqa Or Not To Burqa
____________________


Respect For Barbarians
____________________
June 9, 2012
Deadly Islamic Garb
A suicide bomber dressed in a burqa blew himself up near a French patrol in Afghanistan on Saturday, killing four French soldiers and wounding five as the Taliban step up their spring offensive (see below).
And it's just a matter of time until we have an incident in the U.S. involving a burqa wearer.
As we've said repeatedly, besides being downright creepy, burqas are a major security risk. 
The U.S. should follow France's lead and ban this dangerous Islamic garb, rather than wait for something to happen here.
[See this video, which was shot in the streets of Paris just before the burqa ban was passed.]
Reuters | June 9, 2012
Veiled Suicide Bomber Kills Four French Soldiers In Afghanistan
By Sanjeev Miglani | Kabul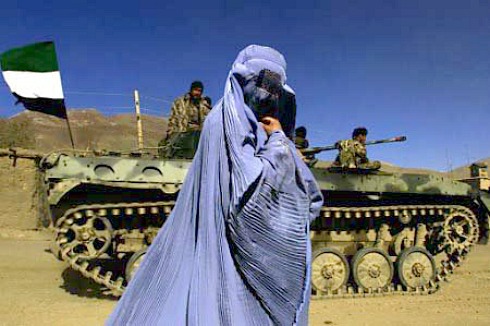 A burqa-wearing woman passes Afghan soldiers. On Saturday, a man wearing such garb blew himself up while killing four French soldiers. Photo Credit: AP / Courtesy: times247.com
(Reuters) - A suicide bomber dressed in a burqa blew himself up near a French patrol in Afghanistan on Saturday, killing four soldiers and wounding five as the Taliban step up a spring offensive.
The attack - one of the deadliest on the French contingent in months - occurred in the mountainous Kapisa province in the east of the country, an area mainly patrolled by a French force under NATO command.
"It was an unfortunate incident. There was a patrol of coalition soldiers in a small bazaar and they were attacked by a suicide bomber wearing a burqa," Afghan Interior Ministry spokesman Sediq Sediqqi told Reuters.
French President Francois Hollande restated his plan to withdraw all combat troops from Afghanistan by end-2012, well before NATO allies, as he offered condolences to the victims' families.
"This operation will start in July and be finished by the end of 2012," Hollande, who took office in mid-May, said as he visited his political fiefdom 500 km (310 miles) south of Paris on the eve of a parliamentary election.
Hollande, informed of the killings while travelling by car to the town of Tulle where he will case his vote, said Defence Minister Jean-Yves Le Drian and army chief Edouard Guillaud planned to be in Afghanistan on Sunday.
Le Drian, speaking on TF1 television shortly before leaving, said the soldiers who died along with an Afghan interpreter were on their way to meet village chiefs to talk about development projects when the attacker struck.
Until Saturday's incident, 83 French soldiers had been killed in Afghanistan since the U.S.-led military intervention began in 2001, the fourth highest number of military deaths by nation, behind the United States, Britain and Canada.
The Taliban claimed responsibility for the attack in the Nijrab district of the province, saying in an email message that a suicide attacker had struck the foreign soldiers.
Violence has surged across Afghanistan in recent weeks, with the Taliban vowing to target the Western-backed Afghan government and security forces, as well as the 130,000 foreign troops in the country, most of whom are due to leave by the end of 2014.
France plans to withdraw a majority of its roughly 3,400 troops by the end of this year, two years ahead of the timetable agreed by NATO. French troops have suffered a series of attacks including several by rogue Afghan soldiers, triggering demands in France for their troops to be brought home early.
Last month Hollande, during a visit to the Kapisa province days after he took over the presidency, defended the decision to pull some 2,000 combat troops out early, saying the job of fighting terrorism was nearly done, and France would focus on cooperating on the civilian front.
French officials said on Saturday 200 to 300 soldiers would leave in July before a second wave of withdrawal in October.
France's decision has raised concerns that other members of the NATO-led International Security Assistance Force (ISAF) coalition may follow its example and accelerate their withdrawal plans, handing security prematurely to fledgling Afghan forces.
Kapisa is one of the provinces scheduled to be handed over to Afghan forces in the current third phase of transition before 2014.
Original article here.
We welcome your comments, but please comply with our
Comment Rules.
You must be registered and logged in to leave a comment. Comments will display your Username and location.
Log In »
Notable Quotables

"Mr. Netanyahu is one of the most media-savvy politicians on the planet. On Friday he appeared live via video link on 'Real Time with Bill Maher,' taking the host's alternately sardonic and serious line of questioning with gazelle-like alacrity."

~  Anthony Grant, jourrnalist who has written for many major newspapers and worked in television at Paris and Tel Aviv, interviewing former PM Benjamin Netanyahu on Monday, at the outset of Mr. Netanyahu's new book (more here).