Archives

AND MORE...


Wanted: Suicide Bombers
_____________________


Whack-A-Mole
_____________________


Islamic Terror Metastasizing
_____________________


Welcome To The Friendly Skies of Al Qaeda!
____________________

August 15, 2012
Christians & Jews Need Not Apply
Low on suicide-bombers, al-Qaeda is running a (short term) employment advertisement on the Internet (see below).
The intended area of activity? "Planet Earth" (no kidding).
The job description promises only a "very slight chance" of being caught (but no doubt a very big chance of ending up d-e-a-d).
Demented? You betcha, although no less demented than Mrs. Zawahiri's thank-you letter posted on the Al-Fajr website in June.
"I congratulate all Muslim women for these blessed [Arab Spring] revolutions," wites Umaima Hassan Ahmed Mohammed Hassan (aka Mrs. Zawahiri). "I advise you to raise your children in the cult of jihad and martyrdom and to instil in them a love for religion and death," she wrote.
Instilling in children "a love for religion and death" - yep, that's quite a religion we're dealing with here...
Times of Israel | August 15, 2012
Short-lived employment
Al-Qaeda's 'Suicide Bombers Wanted' Ad
Job offer on closed Internet forum seeks applicants who are utterly committed to completing their mission
By Asher Zeiger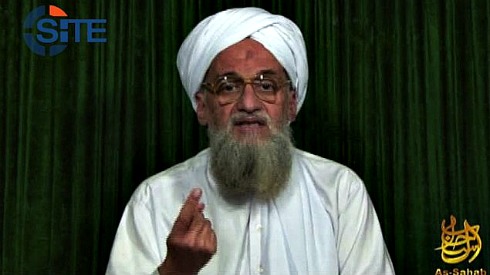 File photo of Al-Qaeda leader Ayman al-Zawahiri taken in February 2012 (photo credit: SITE Intel Group/AP)
Apparently low on bombers, al-Qaeda is running a (short-term) employment advertisement on its Shumukh al-Islam Internet forum. Under the heading "Area of activity: The planet Earth," the ad seeks jihadists to carry out suicide attacks.
Applicants must be Muslim, mentally mature, dedicated, able to listen, and utterly committed to completing their mission, the Hebrew daily Yedioth Ahronoth reported on Tuesday.
Several email addresses are provided for applicants. While their real names are not required, candidates are asked to send details of their nickname or handle, their age, marital status, languages spoken and a list of passports in their possession.
The ad on the forum, which is accessible only to al-Qaeda members, specifies the targets of the terror attacks that applicants will be expected to carry out, including "People who fight Islam and Muslims" and enemy "financial, military and media targets."
The ad indicates that the anticipated attacks will be solo operations: "Only one person will be in charge. He will gather all of the intelligence, he will prepare the operation — and he will complete the attack." However, it continues, "a military panel" will oversee the bomber's training and select the target.
The job description promises only a "very slight chance of being caught."
The ad has elicited several positive responses, the Yedioth article claimed. One forum participant requested that Germany, Denmark and Sweden be specified as potential targets. The same participant warned the forum to be very careful about what it publishes, for fear that the enemy may see what the group is planning.
Original article here.
We welcome your comments, but please comply with our
Comment Rules.
You must be registered and logged in to leave a comment. Comments will display your Username and location.
Log In »
Notable Quotables

"Mr. Netanyahu is one of the most media-savvy politicians on the planet. On Friday he appeared live via video link on 'Real Time with Bill Maher,' taking the host's alternately sardonic and serious line of questioning with gazelle-like alacrity."

~  Anthony Grant, jourrnalist who has written for many major newspapers and worked in television at Paris and Tel Aviv, interviewing former PM Benjamin Netanyahu on Monday, at the outset of Mr. Netanyahu's new book (more here).