Archives
AND MORE...


A Clear, Grave Threat
_____________________


Lies, Damned Lies & BO Lies
____________________


A Very Disturbing Dot
_____________________


So Now What?
_____________________
April 2, 2017
Taking On North Korea Alone?
The British newspaper, Daily Telegraph's tweeted on Twitter today: "Tomorrow's Daily Telegraph front page today: 'Trump to 'take on' North Korea' ":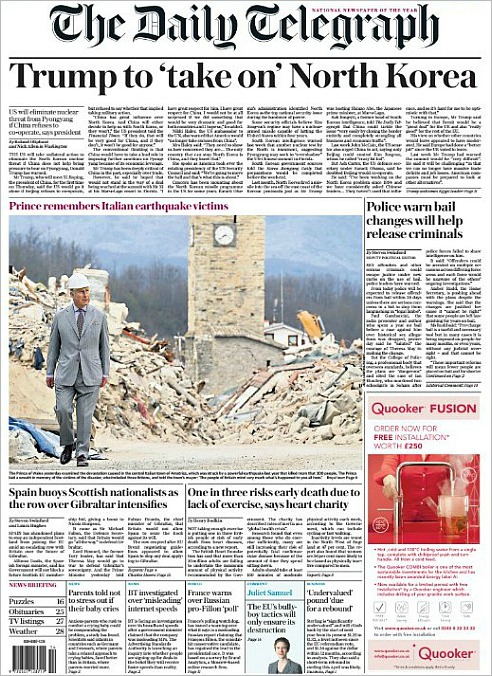 The article itself appears below.
And just a reminder: North Korea and Iran collaborate closely on their nuclear weapons programs and ballistic missile programs (e.g., here and here).
Telegraph.co.uk  |  April 2, 2017
Donald Trump Says US Prepared To Go It Alone On North Korea Nuclear Threat
By Roland Oliphant & Nick Allen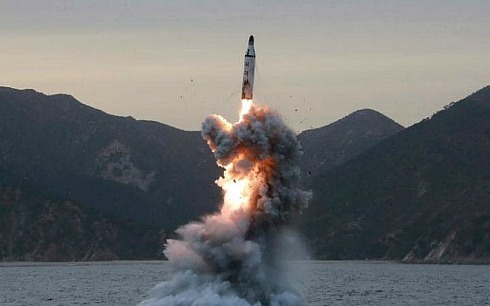 A North Korean ballistic missile test Credit: KCNA
The US will take unilateral action to eliminate the North Korean nuclear threat if China does not help bring pressure to bear on Pyongyang, Donald Trump has warned.
Mr Trump, who will meet Xi Jinping, the president of China, for the first time on Thursday, said the US would go it alone if Beijing refuses to cooperate, but refused to say whether he implied taking military action against the hermit dictatorship.
"China has great influence over North Korea. And China will either decide to help us with North Korea, or they won't," Mr Trump said in an interview with the Financial Times.
"If they do, that will be very good for China, and if they don't, it won't be good for anyone."
"If China is not going to solve North Korea, we will. That is all I am telling you," he added.
Conventional thinking is that China would have to take a lead role in imposing further sanctions on the regime in Pyongyang because of its economic leverage.
Mr Trump has been deeply critical of China in the past, especially its trade policy. However, he said he hoped that would not stand in the way of a deal being reached at the summit with Mr Xi at his Mar-a-Lago resort in Florida next week.
"I have great respect for him. I have great respect for China. I would not be at all surprised if we did something that would be very dramatic and good for both countries and I hope so," he told the paper.
Nikki Haley, the US ambassador to the UN, also issued a stark warning saying America would "no longer take excuses from China".
Mrs Haley said: "They need to show us how concerned they are. They need to put pressure on North Korea. The only country that can stop North Korea is China, and they know that.
"China has to cooperate. This is now down to, do we want to continue to see these ballistic missile attacks from North Korea or does China want to do something about it?"
Mrs Haley spoke as the US took over the rotating presidency of the Security Council. She added: "We're going to say what we think, and we're going to move the ball and that's what this is about."
Concern has been mounting about the North Korean missile program in the US for some years. Barack Obama's administration identified North Korea as the top national security issue for Mr Trump's administration during the handover of power.
Some US security officials believe Kim Jong Un's regime may have a nuclear-armed missile capable of hitting the United States within four years.
South Korean intelligence warned last week that another nuclear test by the North is imminent, with analysts suggesting Pyongyang may seek "overshadow" the US-Chinese summit in Florida with a show of force.
South Korean government sources told the Korea JoongAng Daily that preparations at the North's Punggye-ri nuclear proving grounds would be completed before the weekend.
Last month, North Korea fired a missile into the sea off the east coast of the Korean peninsula just as Mr Trump was hosting Shinzo Abe, the Japanese prime minister, at Mar-a-Lago.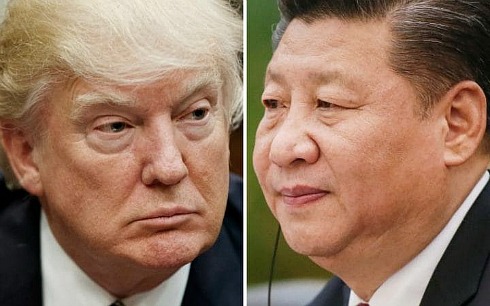 Donald Trump and Xi Jinping. Credit: AP
Rah Jong-yil, a former head of South Korean intelligence, told the Telegraph that China could tackle the issue "very easily by closing the border entirely and completely strangling all business and economic traffic between the two countries."
Last week US senator John McCain said only Beijing could control Kim Jong-un, who he branded "crazy fat kid."
Mr McCain told MSNBC earlier this month: "China is the only one that can control Kim Jong-un, this crazy fat kid that's running North Korea. They could stop North Korea's economy in a week."
On Thursday Mr Trump had warned the summit would be "very difficult"
He said: "The meeting next week with China will be very a difficult one in that we can no longer have massive trade deficits and job losses. American companies must be prepared to look at other alternatives."
The summit is taking place at Mar-a-Lago, Mr Trump's palatial club in Florida which has been called the "Winter White House"
His son-in-law and senior adviser Jared Kushner has emerge as a key architect of the summit along with Cui Tiankai, the Chinese ambassador.
The two men chose Mar-a-Lago as the venue and have reportedly worked closely on crafting a joint statement the two leaders will deliver.
Mr Kushner and his wife Ivanka, Mr Trump's daughter, were said to have been invited to the Chinese Embassy in February.
Ash Carter, US Defence Secretary under President Barack Obama, said he doubted Beijing would cooperate.
He said: "I've been working on the North Korea problem since 1994 and we have consistently asked Chinese leaders, because they uniquely have the historical and the economic relationship with North Korea, to make a difference. They haven't used that influence, and so it's hard for me to be optimistic with that."
Mr Carter, speaking on Sunday shortly before Mr Trump's comments, warned a US pre-emptive strike against North Korea's nuclear weapons risked triggering an invasion of South Korea.
"I'm confident of the outcome of that war, which would be the defeat of North Korea," he said. "But I need to caution you, this is a war, an intensity of violence associated with it, that we haven't seen since the last Korean War.
"Even though the outcome is certain, it is a very destructive war so one needs to proceed very carefully here."
Mr Trump said he believed Brexit would be a "great deal" for the UK and also "really good" for the European Union.
His view on whether other countries would leave the EU appeared to have moderated, and he now believed they were less likely to.
He said Europe seemed to be "really holding" and had done a "better job" since the UK voted to leave.
Original article here.
We welcome your comments, but please comply with our
Comment Rules.
You must be registered and logged in to leave a comment. Comments will display your Username and location.
Log In »
Notable Quotables

An ancient Mikveh (Jewish ritual bath) dated to the time of the second temple was unveiled in Jerusalem during archaeological excavating near the Western Wall. 

~  Michal Hever, Hebrew University. On Twitter.