Archives

AND MORE...


The Arsonist & Fire Brigade
_____________________


Sweetening The Capitulation
_____________________


Lies, Damned Lies & BO Lies
_____________________


Our Negotiating Buddies
_____________________


We Lied
_____________________
July 15, 2015
SUCKERED
No need to worry about anyone "sabotaging" Iran's nuclear weapons program anymore!
The new deal with Iran includes a pledge that the US & Europe will train the Iranians how to thwart sabotage of their nuclear facilities (see below).
The world can now heave a collective sigh of relief...
Israel National News  |  June 15, 2015
West To Teach Iran How to Block Israeli Nuclear Sabotage
More disturbing details surface in Iran deal: Europe and US to train Iran to 'protect against and respond to sabotage' at nuclear sites.
By Ari Yashar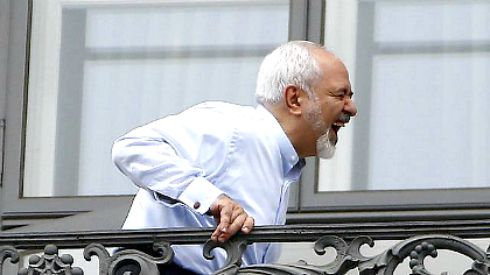 Iranian Foreign Minister Javad Zarif in Vienna on Monday. Photo: Reuters
Disturbing details of the Iran nuclear deal signed Tuesday continue to come to light, revealing why critics are more concerned than ever.
One particularly interesting detail: Tucked away near the very end of the deal's massive text is a section entitled "Nuclear Safety, Safeguards and Security," which stipulates that the West will train Iran to thwart sabotage against its nuclear facilities.
According to text, Iran will learn how to secure its controversial and covert nuclear program from all threats thanks to training by the "E3/EU+3," another designation for the P5+1 countries consisting of the US, UK, France, Germany, Russia and China, as well as the EU.
The section seemingly begins benignly enough, with a clause saying that "E3/EU+3 parties, and possibly other states, as appropriate, are prepared to cooperate with Iran to establish a Nuclear Safety Centre in Iran, engage in workshops and training events in Iran."
But then things take a turn, with the same world powers obligating to "co-operation in the form of training courses and workshops to strengthen Iran's ability to prevent, protect and respond to nuclear security threats to nuclear facilities and systems as well as to enable effective and sustainable nuclear security and physical protection systems."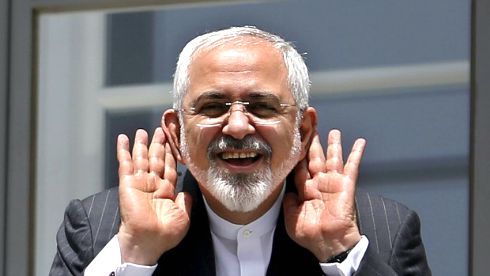 Iranian Foreign Minister Javad Zarif gestures as he talks with journalists in Vienna where the deal was reached. Photo: Reuters
Leaving no doubts about the intentions, the text then promises "co-operation through training and workshops to strengthen Iran's ability to protect against, and respond to nuclear security threats, including sabotage."
An overview of sabotage
The direct reference to sabotage in the deal's text is highly significant, given that Israel - as well as US President Barack Obama - has been accused of launching several cyber sabotage attempts in the past to delay Iran's suspected march to obtaining nuclear weapons.
Iran has frequently claimed to have thwarted sabotage attempts against its nuclear facilities, and Atomic Energy Organization of Iran (AEOI) head Ali Akbar Salehi claimed last August that the West and "the Zionist regime" were seeking to sabotage Iran's nuclear industry.
Shortly afterwards, last October, a massive explosion rocked the covert Parchin nuclear weapon facility, in what was reportedly an act of sabotage. An in-depth report indicated that a transport company may have been targeted by sabotage as it brought hazardous materials into the facility as part of the site's suspected nuclear testing.
The most effective attempt against Iran's nuclear program which significantly set it back was a 2010 cyber attack known as the "Stuxnet virus." The cyber attack wrought havoc by taking the Islamic regime's reactors out of commission.
In December 2013, Iran's semi-official Fars News Agency claimed Israel and Saudi Arabia were teaming up to launch an updated version of the virus.
Defense Minister Moshe Ya'alon (Likud) in May 2012 indirectly hinted that Israel may have been behind a computer virus that followed Stuxnet and was launched against Iran, known as the "Flame" malware.
Original article here.
We welcome your comments, but please comply with our
Comment Rules.
You must be registered and logged in to leave a comment. Comments will display your Username and location.
Log In »
Notable Quotables

"Mr. Netanyahu is one of the most media-savvy politicians on the planet. On Friday he appeared live via video link on 'Real Time with Bill Maher,' taking the host's alternately sardonic and serious line of questioning with gazelle-like alacrity."

~  Anthony Grant, jourrnalist who has written for many major newspapers and worked in television at Paris and Tel Aviv, interviewing former PM Benjamin Netanyahu on Monday, at the outset of Mr. Netanyahu's new book (more here).