Archives

AND MORE...


Another Legacy 'Tidbit'
_____________________


So What's In Secret Iran Deal?
_____________________


Loose Lips & Big Mouths
_____________________


Anatomy Of Deception
_____________________


Resupplying Iran
_____________________
February 14, 2017
Sabotage & Shadow Governments
"The abrupt resignation Monday evening of White House national security adviser Michael Flynn is the culmination of a secret, months-long campaign by former Obama administration confidantes to handicap President Donald Trump's national security apparatus and preserve the nuclear deal with Iran," writes Adam Kredo in a very disturbing exposé below.
You can read the sordid details below, which – knowing some of the personalities and institutions involved and their past behaviors (e.g., Ben Rhodes, John Brennan, President Obama, the Obama White House, the State Dept, Intel leaders, and several others) – are quite believable.
The fear that "Flynn would expose the secret agreements with Iran" is also quite believable given the Obama administration's many lies and deceptions surrounding the Iran deal (e.g., here, here, here, here, and here).
And Obama reverting to his community organizing days only confirms his predilection for plotting and colluding. As investigative journalist Paul Sperry writes in his New York Post piece entitled "How Obama Is Scheming To Sabotage Trump's Presidency":
"In what's shaping up to be a highly unusual post-presidency, Obama isn't just
staying behind in Washington. He's working behind the scenes to set up what will
effectively be a shadow government to not only protect his threatened legacy, but
to sabotage the incoming administration and its popular 'America First' agenda."
Unelected career bureaucrats, Intelligence Community apparatchiks, and "shadow governments", all using and abusing their powers (e.g., illegal wiretaps, leaking classified information, etc.) to undermine an elected government should be of serious concern to all Americans. These are precisely the kinds of things that police states do.
Washington Free Beacon  |  February 14, 2017
Former Obama Officials, Loyalists Waged Secret Campaign To Oust Flynn
Sources: Former Obama officials, loyalists planted series of stories to discredit Flynn, bolster Iran deal
By Adam Kredo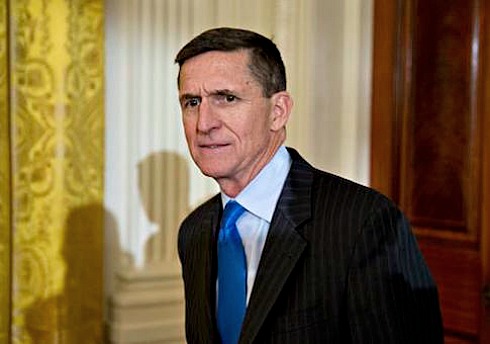 Michael Flynn. AP
The abrupt resignation Monday evening of White House national security adviser Michael Flynn is the culmination of a secret, months-long campaign by former Obama administration confidantes to handicap President Donald Trump's national security apparatus and preserve the nuclear deal with Iran, according to multiple sources in and out of the White House who described to the Washington Free Beacon a behind-the-scenes effort by these officials to plant a series of damaging stories about Flynn in the national media.
The effort, said to include former Obama administration adviser Ben Rhodes—the architect of a separate White House effort to create what he described as a pro-Iran echo chamber—included a small task force of Obama loyalists who deluged media outlets with stories aimed at eroding Flynn's credibility, multiple sources revealed.
The operation primarily focused on discrediting Flynn, an opponent of the Iran nuclear deal, in order to handicap the Trump administration's efforts to disclose secret details of the nuclear deal with Iran that had been long hidden by the Obama administration.
Insiders familiar with the anti-Flynn campaign told the Free Beacon that these Obama loyalists plotted in the months before Trump's inauguration to establish a set of roadblocks before Trump's national security team, which includes several prominent opponents of diplomacy with Iran. The Free Beacon first reported on this effort in January.
Sources who spoke to the Free Beacon requested anonymity in order to speak freely about the situation and avoid interfering with the White House's official narrative about Flynn, which centers on his failure to adequately inform the president about a series of phone calls with Russian officials.
Flynn took credit for his missteps regarding these phone calls in a brief statement released late Monday evening. Trump administration officials subsequently stated that Flynn's efforts to mislead the president and vice president about his contacts with Russia could not be tolerated.
However, multiple sources closely involved in the situation pointed to a larger, more secretive campaign aimed at discrediting Flynn and undermining the Trump White House.
"It's undeniable that the campaign to discredit Flynn was well underway before Inauguration Day, with a very troublesome and politicized series of leaks designed to undermine him," said one veteran national security adviser with close ties to the White House team. "This pattern reminds me of the lead up to the Iran deal, and probably features the same cast of characters."
The Free Beacon first reported in January that, until its final days in office, the Obama administration hosted several pro-Iran voices who were critical in helping to mislead the American public about the terms of the nuclear agreement. This included a former Iranian government official and the head of the National Iranian American Council, or NIAC, which has been accused of serving as Iran's mouthpiece in Washington, D.C.
Since then, top members of the Obama administration's national security team have launched a communications infrastructure after they left the White House, and have told reporters they are using that infrastructure to undermine Trump's foreign policy.
"It's actually Ben Rhodes, NIAC, and the Iranian mullahs who are celebrating today," said one veteran foreign policy insider who is close to Flynn and the White House. "They know that the number one target is Iran … [and] they all knew their little sacred agreement with Iran was going to go off the books. So they got rid of Flynn before any of the [secret] agreements even surfaced."
Flynn had been preparing to publicize many of the details about the nuclear deal that had been intentionally hidden by the Obama administration as part of its effort to garner support for the deal, these sources said.
Flynn is now "gone before anybody can see what happened" with these secret agreements, said the second insider close to Flynn and the White House.
Sources in and out of the White House are concerned that the campaign against Flynn will be extended to other prominent figures in the Trump administration.
One senior White House official told the Free Beacon that leaks targeting the former official were "not the result of a series of random events."
"The drumbeat of leaks of sensitive material related to General Flynn has been building since he was named to his position," said the official, who is a member of the White House's National Security Council. "Last night was not the result of a series of random events. The president has lost a valuable adviser and we need to make sure this sort of thing does not happen again."
Other sources expressed concern that public trust in the intelligence community would be eroded by the actions of employees with anti-Trump agendas.
"The larger issue that should trouble the American people is the far-reaching power of unknown, unelected apparatchiks in the Intelligence Community deciding for themselves both who serves in government and what is an acceptable policy they will allow the elected representatives of the people to pursue," said the national security adviser quoted above.
"Put aside the issue of Flynn himself; that nameless, faceless bureaucrats were able to take out a president's national security adviser based on a campaign of innuendo without evidence should worry every American," the source explained.
Eli Lake, a Bloomberg View columnist and veteran national security reporter well sourced in the White House, told the Free Beacon that Flynn earned a reputation in the Obama administration as one of its top detractors.
"Michael Flynn was one of the Obama administration's fiercest critics after he was forced out of the Defense Intelligence Agency," said Lake, who described "the political assassination of Michael Flynn" in his column published early Tuesday.
"[Flynn] was a withering critic of Obama's biggest foreign policy initiative, the Iran deal," Lake said. "He also publicly accused the administration of keeping classified documents found in the Osama bin Laden raid that showed Iran's close relationship with al Qaeda. He was a thorn in their side."
Lake noted in his column that he does not buy fully the White House's official spin on Flynn's resignation.
"For a White House that has such a casual and opportunistic relationship with the truth, it's strange that Flynn's 'lie' to Pence would get him fired," Lake wrote. "It doesn't add up."
White House Press Secretary Sean Spicer stated in his daily briefing that "the evolving and eroding level of trust as a result of this situation and a series of other questionable incidents is what led the president to ask General Flynn for his resignation."
A third source who serves as a congressional adviser and was involved in the 2015 fight over the Iran deal told the Free Beacon that the Obama administration feared that Flynn would expose the secret agreements with Iran.
"The Obama administration knew that Flynn was going to release the secret documents around the Iran deal, which would blow up their myth that it was a good deal that rolled back Iran," the source said. "So in December the Obama NSC started going to work with their favorite reporters, selectively leaking damaging and incomplete information about Flynn."
"After Trump was inaugurated some of those people stayed in and some began working from the outside, and they cooperated to keep undermining Trump," the source said, detailing a series of leaks from within the White House in the past weeks targeting Flynn. "Last night's resignation was their first major win, but unless the Trump people get serious about cleaning house, it won't be the last."
Original article here.
We welcome your comments, but please comply with our
Comment Rules.
You must be registered and logged in to leave a comment. Comments will display your Username and location.
Log In »
Notable Quotables

An ancient Mikveh (Jewish ritual bath) dated to the time of the second temple was unveiled in Jerusalem during archaeological excavating near the Western Wall. 

~  Michal Hever, Hebrew University. On Twitter.