Archives

AND MORE...


Surrender Monkeys
_____________________


Ayatollah Hitler
_____________________


Holier Than Thou
_____________________


We Lied
_____________________


Death, Deceit & Dishonor
_____________________
November 29, 2013
NEEDED: A Spine
Iran's foreign minister, Mohammad Javad Zarif announced on Friday that his country would NOT attend nuclear talks if the "Zionist regime" participates. "We consider the Zionist regime as the biggest danger to the region and the world," said Zarif (see below).
Yeah, and? So? What exactly was the point of Zarif's announcement?
We'll leave the parsing to the 'deep-thinkers' in the White House and State Department, but our (NSR's) response to Mr. Zarif would be: "Like it or not, our allies come with us. Don't like it? Well, then don't let the door hitchya on the way OUT."
That's what a real superpower would sound like. And that's what a real superpower would demand.
Who, pray tell, is calling the shots here? The United States of America or the loony-toon Mullahs of Iran?!
It's time for American leadership to grow a spine and use it if and when 'negotiating' with the world's #1 sponsor of terrorism.
The Times of Israel | November 29, 2013
Iranian FM: Tehran Won't Attend Nuclear Talks If 'Zionist Regime' Present
Ahead of expected negotiations with world powers on final agreement, Zarif says Israel 'biggest danger to region and the world'
By Times of Israel Staff & AP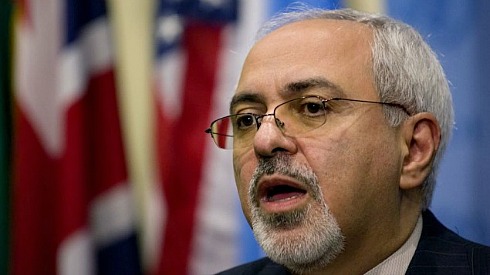 Iranian Foreign Minister Mohammad Javad Zarif (photo credit: AP/Craig Ruttle/File)
Iran will not attend nuclear talks if the "Zionist regime" participates, Iran's foreign minister announced on Friday.
A report by the country's official news agency IRNA quoted Mohammad Javad Zarif as saying that the Islamic Republic "would not attend a meeting in which the Quds [Jerusalem] occupying regime participates."
"We consider the Zionist regime as the biggest danger to the region and the world," Zarif told the Islamic Republic of Iran Broadcasting (IRIB), according to IRNA.
Following last weekend's interim deal between Iran and six world powers, the two sides are set to start talks on a final agreement that would see Iran further curb its nuclear program in exchange for eased international sanctions.
The report said the foreign minister's remarks came in response to possible Israeli participation in the expected talks. It did not elaborate on the source of the reports on Israel's possible presence.
Israel's Prime Minister Benjamin Netanyahu has slammed the Geneva deal as a "historic mistake" and announced the dispatch to the US of his national security adviser to try to shape the final agreement with Iran. President Barack Obama and Netanyahu agreed on the dispatch of the Israeli team when they spoke on Sunday, not long after the Geneva deal was reached, so that Israel's concerns would be made known to the US negotiators, but there was no public suggestion that Israel would have a direct role in any future negotiations with Iran.
"Definitely…we will not be in a room where the Zionist regime?s envoy is present," Zarif promised.
He said instead of putting pressure on Iran, the world powers should try to push for regional disarmament, a reference to disarming Israel's own alleged nuclear arsenal. Israel maintains a policy of ambiguity, neither confirming nor denying it possesses a nuclear arsenal.
Since the 1979 Islamic revolution that brought Islamist leaders to power, Iran does not recognize Israel and supports terror groups like Hamas and Lebanon's Hezbollah. It's leaders frequently speak of Israel's inevitable demise. Supreme leader Ayatollah Ali Khamenei nine days agocalled Israel the "rabid dog" of the region, and said its people "should not be called humans."
Last weekend, in a meeting with world powers, Iran agreed to freeze parts of its nuclear program in return for the easing of Western sanctions.
Western powers and Israel worry Iran's nuclear program could be used to build an atomic bomb. Iran says its nuclear program is only for peaceful purposes, like power generation and medical research.
Meanwhile, Iranian nuclear envoy Reza Najafi said the interim nuclear deal likely will start to be implemented at the end of next month or in early January. Najafi spoke Friday near the end of a two-day meeting of the United Nations nuclear agency, which will monitor the agreement reached in Geneva.
Original article here.
We welcome your comments, but please comply with our
Comment Rules.
You must be registered and logged in to leave a comment. Comments will display your Username and location.
Log In »
Notable Quotables

"Joe Biden isn't leading from behind. Joe Biden is sleeping from behind. This year has been one embarrassment after another. Russian hacks. Chinese threats. Iranian missiles. And twenty years after September 11th, Afghanistan is back in the hands of the Taliban."

~  Former U.N. Ambassador Nikki Haley tweeting Monday afternoon (more here).