October 5, 2006
More PC-Style Thinking (Part Deux)
For those who think that protest signs in Arabic at Columbia University in NY, against Minutemen who patrol the US-Mexican border (see today's earlier posting) don't merit even a raised eyebrow, take a quick peek at the piece below.
Note the Brits' new & improved method of fighting terror PC-style: forming a panel of Muslim leaders to advise the police on "the potential political consequences of terrorist interdiction raids upon London's Muslim immigrant communities."
Novel idea, eh?
The Jerusalem Post | October 5, 2006
Cop Refuses To Guard Israeli Embassy
By George Conger, Jerusalem Post Correspondent
London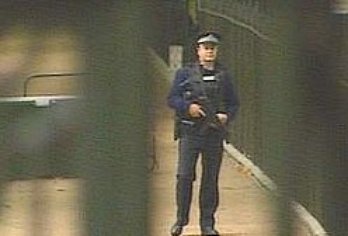 Photo by: SKY News
London's top cop has launched an investigation into press reports Thursday of a Muslim policeman being excused from guarding the Israeli embassy on moral grounds.
Police Constable Alexander Omar Basha, a member of the Metropolitan Police's Diplomatic Protection Group, was reassigned after he refused to guard Israel's embassy in Kensington, West London. PC Basha told his superiors he objected to the Israeli bombing campaign against Hizbullah in south Lebanon that caused the deaths of over 1,000 Muslims, and had participated in anti-war protests, The Sun reported.
Metropolitan Police Commissioner Sir Ian Blair promised an "urgent review" of the incident after The Sun broke the story.
The Israeli embassy issued a statement expressing "its full confidence in the ability of the Metropolitan Police Force to provide the Embassy with maximum security, as well as its ability to deal with this sort of grave problem."
In a statement to the BBC, however, the Association of Muslim Police stated PC Basha had requested reassignment because he had concerns over Lebanese family members and was perturbed about guarding the embassy during this summer's 34-day war in south Lebanon.
"This is an issue around the welfare of a particular officer" and was not religiously motivated, AMP spokesman Superintendent Dal Babu said on behalf of the constable.
Former Flying Squad commander John O'Connor called Basha's reassignment "the beginning of the end for British policing."
"The Metropolitan Police are setting a precedent they will come to bitterly regret. Top brass granted his wish, as they were probably frightened of being accused of racism. But what they've done is an insult to the Jewish community," he told the Sun.
Dubbed the "PC PC" [politically correct police constable] by his critics, Commissioner Blair last week backed a proposal calling for consultation with a panel of Muslim leaders before mounting counter-terrorist operations. The Muslim leaders, who must undergo security checks, will advise the police on the potential political consequences of terrorist interdiction raids upon London's Muslim immigrant communities.
The opening of police intelligence briefings to members of the Muslim community comes at the same time as the first reorganization of the security services since the start of the war on terror five years ago. On Monday, the Metropolitan Police announced the merger of the Special Branch and Anti-Terrorism Branch to form a 1500-man Counter Terrorism Command.
The head of the new force, Deputy Assistant Commissioner Peter Clarke stated the CT Command would "do everything in our power to ensure that the capital becomes an even more hostile environment for terrorists."
"Everyone who has worked in the Met's Special Branch and Anti-Terrorist Branch can justly be proud of their achievements in tackling the terrorist threat over many decades. Whether that threat has come from the United Kingdom or elsewhere, the response has always been robust, and with total respect for the rule of law; this will continue," he said.
Original article here.
We welcome your comments, but please comply with our
Comment Rules.
You must be registered and logged in to leave a comment. Comments will display your Username and location.
Log In »
Notable Quotables

"Don't threaten us with cutting off your aid. It will not work. I am not a Jew with trembling knees. I am a proud Jew with 3,700 years of civilized history. Nobody came to our aid when we were dying in the gas chambers and ovens. Nobody came to our aid when we were striving to create our country. We paid for it. We fought for it. We died for it. We will stand by our principles. We will defend them. And, when necessary, we will die for them again, with or without your aid."

~  Israeli PM Menachem Begin, in June 1982 at height of Lebanon War, responding to then Senator Joe Biden in front of Senate Foreign Relations Committee, after Biden had attacked Israeli settlements in Judea and Samaria and threatened to cut economic aid to Israel (more here).