Archives

AND MORE...


They Win, We Lose
_____________________


A Vulture Fest
_____________________


Arming 'Martyrs' Brigades
_____________________


Gun Control For Whom?
_____________________


Chock Full o'Nuts
_____________________
June 17, 2013
Manpads & No-Fly Zones
As the Obama administration et al consider whether to establish a no-fly zone over Syria, has anyone told them about the anti-aircraft missiles supplied to the Syrian "rebels" by the countries below?
Saudi Arabia began supplying anti-aircraft missiles to rebels "on a small scale" about two months ago, a Gulf source said on Monday (see below).
While we are shocked, shocked that our Wahhabi friends would do such a thing, it turns out these shoulder-fired weapons were obtained mostly from suppliers in France and Belgium.
Expect to see them pointed at us and/or our allies (e.g., Israel, Jordan) at some point in the near future...
For that, we'd like to offer our heartfelt thanks to France, Belgium, indeed all of Europe, for its continuing contribution to world peace. Manpads for Islamists is right up there with Europe's other contributions, e.g., Communism, Socialism, Fascism and Nazism.
Ahram Online | June 17, 2013
Saudi Supplying Missiles To Syria Rebels: Gulf Source
As US considers no-fly zone over Syria, Gulf source reveals that Saudi Arabia has supplied rebels with anti-aircraft missiles for past two months
By Reuters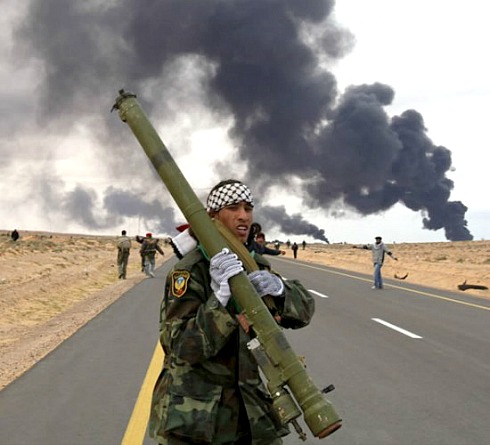 Syrian rebels with manpads. Photo courtesy: weaselzippers.us
Saudi Arabia, a staunch opponent of President Bashar al-Assad since early in Syria's conflict, began supplying anti-aircraft missiles to rebels "on a small scale" about two months ago, a Gulf source said on Monday.
The shoulder-fired weapons were obtained mostly from suppliers in France and Belgium, the source told Reuters. France had paid for the transport of the weapons to the region.
The supplies were intended for General Salim Idriss, leader of the Supreme Military Council of the Free Syrian Army (FSA), who was still the kingdom's main "point man" in the opposition, the source said.
The Gulf source said without elaborating that the kingdom had begun taking a more active role in the Syrian conflict in recent weeks due to the intensification of the conflict.
A foreign ministry spokesman was not immediately available for comment.
King Abdullah returned to Saudi Arabia on Friday after cutting short a holiday in Morocco to deal with what state media described as "repercussions of the events that the region is currently witnessing".
Diplomatic sources in the kingdom say Riyadh has grown increasingly concerned after the entry of Lebanese Shi'ite militia Hezbollah into the conflict and the subsequent rebel defeat in Qusayr.
Speaking to Reuters on Friday, Idriss urged Western allies to supply anti-aircraft and anti-tank missiles and to create a no-fly zone, saying if properly armed he could defeat Assad's army within six months.
Idriss said his forces urgently needed heavier weapons in the northern city of Aleppo, where Assad's government has said its troops are preparing a massive assault.
Syria's civil war grew out of protests that swept across the Arab world in 2011, becoming by far the deadliest of those uprisings and the most difficult to resolve.
Just months ago, Western countries believed Assad's days were numbered. But momentum on the battlefield has turned in his favour, making the prospect of his swift removal and an end to the bloodshed appear remote without outside intervention.
The reported Saudi supplies began shortly before its main Western ally, the United States, announced it would likely send arms to Syrian rebels, a development long encouraged by Riyadh.
Top Saudi princes have been shuttling from one ally to another in recent weeks for meetings about Syria.
The epicentre of this activity was Paris, visited by Interior Minister Prince Mohammed bin Nayef in May, intelligence chief Prince Bandar bin Sultan and Foreign Minister Prince Saud Al-Faisal this month.
Saudi Arabian National Guard Minister Prince Miteb bin Abdullah is there this week after meeting Turkish Prime Minister Tayyip Erdogan in Ankara. Crown Prince Salman met British Defence Secretary Phillip Hammond in Jeddah in early June.
Diplomatic sources in Riyadh said Saudi Arabia, France and Britain shared common ground on pushing Washington to take more decisive action against Assad.
Saudi Arabia has led Arab opposition to Assad since early in Syria's revolution. It was the first country to cut diplomatic ties with Damascus last year and took an early lead in funding and arming the rebels and helping them logistically.
However, its support has always been tempered by concerns of blowback from the more militant Islamist groups spearheading the battle against Assad, diplomatic sources in Riyadh say.
Riyadh has spent years combating domestic militants who waged a bombing campaign against Saudi and U.S. targets last decade, after they returned from fighting under the Islamist banner in Afghanistan and Iraq.
Original article here.
We welcome your comments, but please comply with our
Comment Rules.
You must be registered and logged in to leave a comment. Comments will display your Username and location.
Log In »
Notable Quotables

"Mr. Netanyahu is one of the most media-savvy politicians on the planet. On Friday he appeared live via video link on 'Real Time with Bill Maher,' taking the host's alternately sardonic and serious line of questioning with gazelle-like alacrity."

~  Anthony Grant, jourrnalist who has written for many major newspapers and worked in television at Paris and Tel Aviv, interviewing former PM Benjamin Netanyahu on Monday, at the outset of Mr. Netanyahu's new book (more here).