Archives

AND MORE...


It's Not You, Islam, It's Us
_____________________


Islamism Metastasizing
_____________________



Chock Full o'Nuts
_____________________


Devout Killers, Inc.
_____________________


A Culture Of Savagery
_____________________
May 21, 2013
A Vulture Fest
"The Arab Spring has unleashed the Arab Collapse," writes military analyst Ralph Peters below, "[and] the Islamist cancer proved more virulent than Arabs themselves expected, while dying regimes behave with unrestrained ruthlessness."
EXCEPT the Arab/Muslim world has always been ruthless, in fact quite savage, and the "Islamist cancer" is and always has been virulent. Americans may only be coming around to that realization now, but Israelis and before them, the Jews of Palestine experienced that savagery and virulence up close and personal.
Nevertheless, we wholeheartedly agree with Mr. Peters that the Arab/Muslim Middle East today is a "vulture fest" (in addition to being a hornets' nest).
As for the "strategist's golden rule" cited by Peters – "If you don't understand what a fight's about, stay out" – we would add one thing, for clarification purposes: If you don't understand what a fight's about or the sides fighting it, stay out.
New York Post | May 20, 2013
The Arab Collapse
Middle East a vulture's feast
By Ralph Peters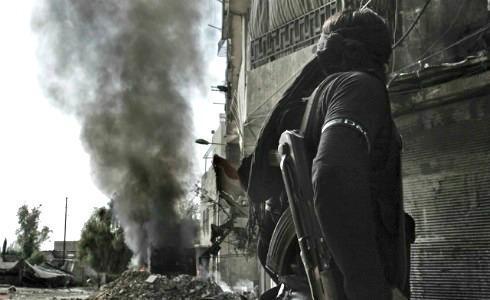 A Syrian rebel fighter looks at smoke billowing from a bus that caught on fire after a regime sniper allegedly shot at it in the northern city of Aleppo. (AFP/Courtesy: alarabiya.net)
The Arab Spring has unleashed the Arab Collapse. Everybody still standing in the region is picking the flesh of the helpless. The Islamist cancer proved more virulent than Arabs themselves expected, while dying regimes behave with unrestrained ruthlessness.
And our diplomats still think everyone can be cajoled into harmony.
We're witnessing a titanic event, the crack-up of a long-tottering civilization. Arab societies grew so corrupt and stagnant that violent upheaval became inevitable. That's what we're seeing in Syria and Iraq — two names, one struggle — and will find elsewhere tomorrow.
We can't stop it, we can't fix it, and we don't understand it. But we can stay out of it.
When the US is in the Middle East, the Arabs want us out. When we're out, they want us in. But our purported Arab (and Turkish) allies consistently agree that Uncle Sam should pay the party bill, while they take home all the presents.
Yes, Syria's humanitarian crisis is appalling. And no, I don't like to see innocents dying or suffering. But the calls from the region for American action are nakedly cynical.
Turkey has the largest military in NATO after our own, but cries "helpless" crocodile tears over Syrian refugees — while dreaming of rebuilding the Ottoman Empire upon their ruined lives. Our Saudi "friends" spent decades building the most-sophisticated military arsenal in the Middle East, apart from Israel. Now the Saudis wring their hands over Syria's misery — but won't intervene directly to stop the killing.
The Saudi position is always "You and him fight!" As long ago as Desert Storm, Saudis joked about renting the American army and our bumpkin gullibility. (Try to find one US officer who's worked with the Saudis and doesn't hate their guts. . .) Now they want Washington to spend our blood and treasure to open the mosques of Damascus to their Wahhabi cult.
Well, the Assad regime is horrible, but not al Qaeda horrible. Better poison gas than poisoned religion, as far as our own security's concerned. This is an Arab struggle (with Turkish and Iranian vultures overhead). This time, we need to let them fight it out.
The region's outdated order is disintegrating. But Washington's still mesmerized by the artificial boundaries on the map.
Nine decades ago, the diplomats at Versailles ignored the region's natural fault lines as they carved up the Middle East, forcing enemies together and driving kin apart (while Woodrow Wilson turned his back on the Kurds). Only brute force and dictators kept up the fiction that these were countries. Now the grim charade has reached its end.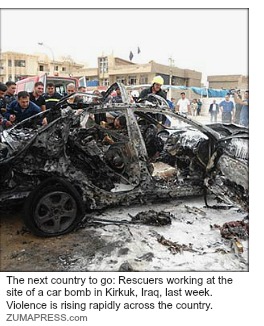 Iraq was carved out for British interests, while Syria was France's consolation prize. Now Syria's collapsing in a too-many-factions-to-count civil war. And Iraq's in the early stages of its own dissolution; even a would-be dictator — another of our one-time "friends," Nouri al-Maliki — can't keep the "country" together.
We don't even know how many new states will emerge from the old order's wreckage. But the Scramble for the Sand is on, with Iran, Turkey, treacherous Arab oil sheikdoms and terrorists Sunni and Shia alike all determined to dictate the future, no matter the cost in other people's blood.
We had our chance to extend the peace and keep both Iran and Wahhabi crazies at bay after we defeated Iraq's insurgencies. But a new American president, elevating politics over strategy, walked away from Baghdad, handing Iraq to Iran. Now it's too late. If George W. Bush helped trigger the Arab Spring, Barack Obama made this Arab Winter inevitable.
We must not be lured into the current fighting — centered, for now, on Syria — by cries of humanitarian necessity. The local powers could step in to stop the killing. But they won't. Once again, they want us to pay the bill. (It's time for the Saudis, especially, to give their own blood.)
We've paid enough. Rhetoric and red lines notwithstanding, we need to back off from Syria, if for no other reason than a strategist's golden rule: If you don't understand what a fight's about, stay out.
Ralph Peters is the author of the new Civil War novel "Hell or Richmond."
Original article here.
We welcome your comments, but please comply with our
Comment Rules.
You must be registered and logged in to leave a comment. Comments will display your Username and location.
Log In »
Notable Quotables

"Mr. Netanyahu is one of the most media-savvy politicians on the planet. On Friday he appeared live via video link on 'Real Time with Bill Maher,' taking the host's alternately sardonic and serious line of questioning with gazelle-like alacrity."

~  Anthony Grant, jourrnalist who has written for many major newspapers and worked in television at Paris and Tel Aviv, interviewing former PM Benjamin Netanyahu on Monday, at the outset of Mr. Netanyahu's new book (more here).