Archives
AND MORE...


Euros Will Be Euros
____________________


That Fragile Relationship
____________________


Inculcating Them With Hate
____________________


Here Comes Da Bomb
____________________
November 8, 2011
Gossip Queens
Curious about what goes on at those G-20 meetings? The heavy burden these world leaders must shoulder, or weighty decisions they must make? The kind of gravitas needed to become a leader of the free world?
Well, don't be, because judging from the report below, the Don Quixote and Sancho Panza of the free world are just a couple of gossip queens, ooh la la.


Ynetnews.com | November 7, 2011
Sarkozy calls Netanyahu 'liar'
Published: Israel News
Microphones accidently left on after G20 meeting pick up private conversation between US, French presidents. Sarkozy admits he 'can't stand' Israeli premier. Obama: You're fed up with him? I have to deal with him every day!
French President Nicolas Sarkozy reportedly told US President Barack Obama that he could not "stand" Prime Minister Benjamin Netanyahu and that he thinks the Israeli premier "is a liar."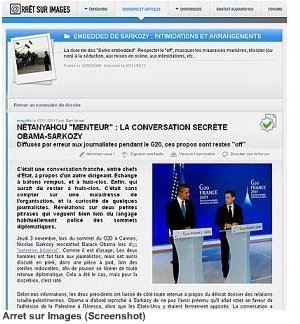 According to a Monday report in the French website "Arret sur Images," after facing reporters for a G20 press conference on Thursday, the two presidents retired to a private room, to further discuss the matters of the day.
The conversation apparently began with President Obama criticizing Sarkozy for not having warned him that France would be voting in favor of the Palestinian membership bid in UNESCO despite Washington's strong objection to the move.
The conversation then drifted to Netanyahu, at which time Sarkozy declared: "I cannot stand him. He is a liar." According to the report, Obama replied: "You're fed up with him, but I have to deal with him every day!"
The remark was naturally meant to be said in confidence, but the two leaders' microphones were accidently left on, making the would-be private comment embarrassingly public.
The communication faux pas went unnoticed for several minutes, during which the conversation between the two heads of state – which quickly reverted to other matters – was all but open to members the press, who were still in possession of headsets provided by the Elysée for the sake of simultaneous translation during the G20 press conference.
"By the time the (media) services at the Elysée realize it, it was on for at least three minutes," one journalist told the website. Still, he said that reporters "did not have a chance to take advantage of this fluke."
The surprising lack of coverage may be explained by a report alleging that journalists present at the event were requested to sign an agreement to keep mum on the embarrassing comments. A Reuters reporter was among the journalists present and can confirm the veracity of the comments.
A member of the media confirmed Monday that "there were discussions between journalists and they agreed not to publish the comments due to the sensitivity of the issue."
He added that while it was annoying to have to refrain from publishing the information, the journalists are subject to precise rules of conduct.
Original article here.
We welcome your comments, but please comply with our
Comment Rules.
You must be registered and logged in to leave a comment. Comments will display your Username and location.
Log In »
Notable Quotables

"Mr. Netanyahu is one of the most media-savvy politicians on the planet. On Friday he appeared live via video link on 'Real Time with Bill Maher,' taking the host's alternately sardonic and serious line of questioning with gazelle-like alacrity."

~  Anthony Grant, jourrnalist who has written for many major newspapers and worked in television at Paris and Tel Aviv, interviewing former PM Benjamin Netanyahu on Monday, at the outset of Mr. Netanyahu's new book (more here).