November 5, 2011
Inculcating Them With Hate
The Iranian regime spares nothing when it comes to inculcating their children with hate (see below). Ugh.
Haaretz.com | November 4, 2011
Iran Boosts Anti-U.S. Rhetoric Ahead of IAEA Report On Nuclear Program
Thousands of Iranians mark 32nd anniversary of 1979 seizure with burning flags and chants of 'Death to America'.
By Reuters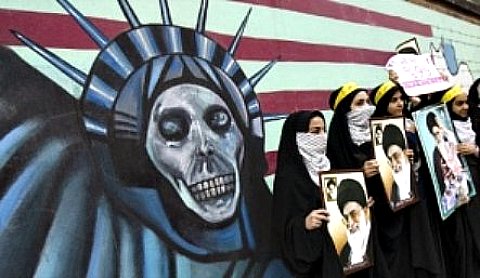 Iranian students stand in front of former U.S. embassy in Tehran, November 4, 2011.
Photo by: Reuters
Iran marked the anniversary of the 1979 seizure of the U.S. embassy on Friday with burning flags and chants of "Death to America", escalating its anti-U.S. rhetoric ahead of the release of a pivotal UN report on its nuclear program.
Thousands of students burned the Stars and Stripes, an effigy of Uncle Sam and pictures of President Barack Obama outside the leafy downtown Tehran compound that once housed the U.S. mission.
The embassy was stormed by hardline students on Nov. 4 1979, shortly after Iran's Islamic revolution toppled the U.S.-backed shah, and 52 Americans were held hostage there for 444 days. The two countries have been enemies ever since.
Iran has raised the volume of its anti-American rhetoric since October when the United States accused Iran of plotting to assassinate Saudi Arabia's ambassador to Washington. Iran calls the accusations false.
Tension between Iran and the West is particularly high ahead of the publication next week of a report by the United Nations nuclear watchdog, the International Atomic Energy Agency, expected to suggest Iran is seeking nuclear weapons.
Iran says its nuclear program is aimed at peaceful generation of electricity, but its failure to allay suspicions that it is seeking a bomb has prompted the United Nations to impose four rounds of economic sanctions on Iran.
For its part, Iran accuses the United States and Israel of killing several Iranian nuclear scientists in recent years.
"America has carried out terrorist acts against Iran and other countries ... We will support those who are against America's policies outside and inside America," the secretary of Iran's Supreme National Security Council, Saeed Jalili, told the crowd outside the former embassy.
He said Iran would present the United Nations with evidence of U.S. plots against Iran, and the foreign ministry would summon the Swiss ambassador on Friday to protest. The Swiss embassy represents U.S. interests in Iran.
Iran's top authority Supreme Leader Ayatollah Ali Khamenei said on Wednesday he had 100 "undeniable documents" proving the U.S was behind "terrorist acts" in Iran.
Pressure
The United States, Britain and France have turned up the pressure on Iran this week ahead of next week's IEAE report, expected to unveil detailed intelligence pointing to military dimensions of Iran's nuclear program.
"One (issue) in particular that I want to mention is the continuing threat posed by Iran's nuclear program," U.S. President Barack Obama told reporters after meeting French President Nicolas Sarkozy in the resort of Cannes.
"The IAEA is scheduled to release a report on Iran's nuclear program next week and President Sarkozy and I agree on the need to maintain the unprecedented pressure on Iran to meet its obligations."
The United States and Israel have refused to rule out military strikes against Iranian nuclear sites. Iran has warned of a fierce response to any attack.
"Nuclear technology is our absolute right," read one banner carried by students at Friday's protest.
"We came here to show America that it cannot do a damn thing and we will destroy them if they attack Iran," said Mehdi Asadi, 13, who said he was attending the ceremony to pay homage to the takeover of the embassy.
Original article here.
We welcome your comments, but please comply with our
Comment Rules.
You must be registered and logged in to leave a comment. Comments will display your Username and location.
Log In »
Notable Quotables

"Mr. Netanyahu is one of the most media-savvy politicians on the planet. On Friday he appeared live via video link on 'Real Time with Bill Maher,' taking the host's alternately sardonic and serious line of questioning with gazelle-like alacrity."

~  Anthony Grant, jourrnalist who has written for many major newspapers and worked in television at Paris and Tel Aviv, interviewing former PM Benjamin Netanyahu on Monday, at the outset of Mr. Netanyahu's new book (more here).