Archives

AND MORE...


HATERS, Inc.
_____________________


Another Ship of Fools
_____________________



"I Have Israel's Back"
_____________________


Surprise!
_____________________
April 17, 2012
Dear Activist
Below is a copy of the letter that Israel presented to each of the anti-Israel activists who landed Sunday at Ben-Gurion Airport in Israel. The so-called "flytilla" or mass fly-in protest was organized by the likes of Reverend Jeremiah God-Damn-America Wright, British MP George never-met-an-Arab dictator-he-didn't-like Galloway, renowned anti-Semite Bishop Desmond Tutu, and such other (astoundingly ignorant) Jew-haters.
The letter says it all, politely and respectfully. Too politely and respectfully, for our taste, as we would have shipped these hypocrites to Gaza for a year or two, and given them the opportunity to experience the joy of living among those other humanitarians, e.g., Hamas, Islamic Jihad, et al.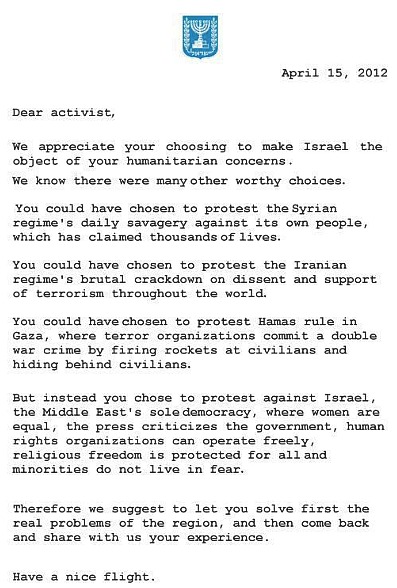 We welcome your comments, but please comply with our
Comment Rules.
You must be registered and logged in to leave a comment. Comments will display your Username and location.
Log In »
Notable Quotables

"If I get to the point where there is a judgment that says, 'You must say you hate Israel and the Jews', I would rather cease to be Chief Justice."

~ Chief Justice of South Africa since 2011, Mogoeng Mogoeng, comes under sustained attack from his country's powerful pro-Palestinian lobby for his declaration of support for the State of Israel (more here).