Archives

AND MORE...


Holier Than Thou
_____________________


Ayatollah Hitler
_____________________


Résumé of 'Moderate' Mass Murderer
_____________________


Bombs & Kooks: A Winning Combo
_____________________


Scourge of Mankind
_____________________
November 9, 2013
Barack Hussein Chamberlain
Is there any doubt today that Barack Hussein Obama is the reincarnation of history's most famous appeaser, Britain's Neville Chamberlain? If there is, just take a look at the current talks with Iran (see below) and how Israel is being offered up as the next Czechoslovakia.
Turns out the Obama administration began softening sanctions on Iran after the election of Iran's new president in June, i.e., 5 months before the current round of nuclear talks in Geneva, as reported in "Exclusive: Obama's Secret Iran Détente."
A review of Treasury Department notices reveals that the U.S. government has all but stopped the financial blacklisting of entities and people that help Iran evade international sanctions since the election of its president, Hassan Rouhani, in June (more here).
So while (the current round of) formal negotiations have just begun, the key condition for Iran — relief from crippling sanctions — actually began quietly five months ago. That begs the question, what exactly is America negotiating today?
Nevertheless, one thing is clear: the Iranians are playing chess, while the Americans are playing checkers. And the world is starting to look like 1938, with everyone assuming his traditional role.

Obama has assumed the role of appeaser, Neville Chamberlain; American Jewish leaders - who just lasted week were summoned to the White House to coordinate responses – have assumed the role of what Lenin used to call, the "useful idiots of the West"; the Jews of Europe, like European Jewry in the 1930s, are experiencing rising anti-Semitism in Europe today, to the point where nearly a third of European Jews are considering emigration because they do not feel safe in their home country; and Israel is being offered up by Obama & co. as the new Czechoslovakia, in the hope of reaching a new "Munich Agreement" with Iran, and achieving "peace in our time."
As Friedrich Hegel once said: "The only thing we learn from history is that we learn NOTHING from history" (emphasis added). Indeed, and nothing is more frightening than watching it play out AGAIN.
The Times of Israel | November 9, 2013
Agitated Netanyahu Wonders If He Left It Too Late
The prime minister's very public horror at the deal taking shape in Geneva reflects his concern that he is failing in what he sees as his central mission
By David Horovitz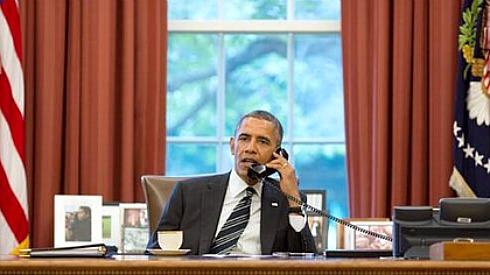 US President Barack Obama speaking to his Iranian counterpart, Hassan Rouhani, on Friday Sept. 27, marking the first time the two countries' leaders engaged each other since 1979. (photo credit: Pete Souza via White House Twitter page)
When Prime Minister Benjamin Netanyahu eulogized his historian father in April of 2012, he praised Benzion Netanyahu as a man who knew "how to identify danger in time" — a quality "that our people lost while in exile."
Benzion, who foresaw the Holocaust but was in no position to avert the Nazi genocide, taught his son to "face reality head on," the prime minister said at the funeral service, and to "draw the necessary conclusions."

On Friday, addressing the media after talks with John Kerry at Ben Gurion Airport — a meeting held just before the secretary of state headed off to Geneva for his unscheduled participation in the fast-moving talks there on Iran's rogue nuclear program — Netanyahu spoke with the panicked air of a Jewish leader who was wondering whether he had failed to heed his father's lessons, proved incapable of learning from history, and was thus going to be unable to protect his people from another potentially genocidal regime.

Thwarting Iran's nuclear weapons drive has been the central mission of Netanyahu's prime ministership. And he has been deeply worried these past few months — since the election of Hassan Rouhani in June gave Iran a smiling new public face, and since US President Barack Obama's public volte face on a punitive strike against Syria's President Bashar Assad for using chemical weapons against two months later — that the West was going to cut a lousy deal with Tehran that would leave at least part of the Islamic Republic's enrichment capabilities intact.

Evidently unimpressed by Obama's reassurance to him at the White House in late September that the United States would be negotiating "clear-eyed" with Iran, the prime minister headed straight to the United Nations General Assembly in New York to declare that, even if everybody else was fooled by the Rouhani charm offensive, and was ready to take Iran's "we don't want the bomb" claims at face value, Israel would "stand alone" against the Iranians' bid for nuclear weapons.

But this weekend, his concern has been elevated to new heights. Unsourced reports on Friday night's Israeli TV news programs suggested that the prime minister feels he has been misled by the Obama administration, and that the offer put on the table to the Iranians in Geneva — which would allow them to continue to enrich uranium to 3.5% and thus, in Israel's assessment, to establish themselves as a "breakout" state capable of racing to the bomb at a time of their choosing — is far more dangerous than anything he had anticipated. As he declared Friday in that highly agitated Ben Gurion Airport appearance, Iran, under the deal on the table, "gets everything that it wanted at this stage and pays nothing."

Ensconcing himself as the prime public face of international opposition to the deal taking shape in Geneva, Netanyahu openly acknowledged that he had pleaded with Kerry "not to rush to sign, to wait, to reconsider, to get a good deal… This is a bad deal, a very, very bad deal. It's the deal of a century for Iran; it's a very dangerous and bad deal for peace and the international community."

Underpinning the prime minister's undisguised horror at the direction of the Geneva talks was his worry that he has mishandled the crisis. Nobody could credibly assert that Netanyahu has failed to sound the international alarm. He has been warning the world relentlessly about Iran's nuclear weapons ambitions, and his constant highlighting of the danger played a central role in pushing the international community into the sanctions that finally brought Tehran to the negotiating table.

What the prime minister is likely asking himself this weekend, however, is whether he should have moved from warnings to action — whether the moment for his threatened resort to force has already come and gone.

Persistent reports have suggested that Netanyahu did want to intervene militarily in the past, most particularly in the summer of 2012, and that he was deterred by opposition from the United States and from Israel's own security chiefs, past and present. Others close to him, however, insist that had Netanyahu truly believed that it was a case of now or never for a military strike, he would have ordered one. "If he had thought that military action was crucial at the time, he would have acted," Tzachi Hanegbi, the Likud MK, and former minister for nuclear affairs, who is closer than most others in the party to the prime minister, told this writer just a few days ago.

Hanegbi added that Netanyahu "most likely decided not to [resort to force in the past] because there are great advantages to waiting until Israel comes as close as possible to the limits of its tolerance. Because when that point is reached, we can use all of the previous restraint as a very powerful tool for strengthening the legitimacy of our actions."

For Netanyahu now, though, the question of whether he has waited too long. As he made crystal clear in that UN address, he is certain that "Iran is developing nuclear weapons" and he believes that "when a radical regime with global ambitions gets awesome power, sooner or later its appetite for aggression knows no bounds."

He vowed in that speech that Israel would "not allow" Tehran to get the bomb. But now the entire international community is publicly lined up in search of an accord with the ostensibly newly moderate Iran. If a deal — however "bad" and "dangerous" — is being done by diplomats led by the United States, can Israel seriously contemplate defying the world and taking on Iran militarily? To paraphrase those comments he made at his father's funeral, the prime minister will be asking himself whether he proved incapable of identifying the danger and drawing the necessary conclusions in time.
Original article here.
We welcome your comments, but please comply with our
Comment Rules.
You must be registered and logged in to leave a comment. Comments will display your Username and location.
Log In »
Notable Quotables

"Mr. Netanyahu is one of the most media-savvy politicians on the planet. On Friday he appeared live via video link on 'Real Time with Bill Maher,' taking the host's alternately sardonic and serious line of questioning with gazelle-like alacrity."

~  Anthony Grant, jourrnalist who has written for many major newspapers and worked in television at Paris and Tel Aviv, interviewing former PM Benjamin Netanyahu on Monday, at the outset of Mr. Netanyahu's new book (more here).