Archives

AND MORE...


U.S. Fumble Policy
_____________________


Russian Reset Palooza
_____________________


Stunners & Bummers
______________________


Disarming America
_____________________


Befuddled Responses
_____________________


New World Order
_____________________
October 14, 2016
Another Foreign Policy Bonanza
The Kremlin is said to have told high ranking officials to bring their loved ones back to the 'Motherland' immediately - with any who disobey being overlooked for promotion (see below).
It's happening against a backdrop of rapidly deteriorating relations with the West over Russia's role in the Syria conflict and just days after Putin moved nuclear-ready missiles closer to the border with Poland.
And so we're faced with another foreign policy disaster under the Obama administration, i.e., the Russian Reset.
We have been warning about playing into Russia's hands from day one of Obama's ascent to power, yet Obama et al have done just that. From America's unilateral disarmament under START II (the new Strategic Arms Reduction Treaty with Russia), to Russia's "stunner" a couple of months later denying any agreement for U.S. plans to upgrade its missile defense shield. From Russia's announcement that it's adding 40 new intercontinental ballistic missiles capable of piercing any missile defense, and its rapprochement with China in an effort to erode American military dominance, to Obama's plans to cut America's nuclear force by roughly a third. And from Russia's Crimea takeover and military buildup in Syria to the Obama administration's befuddled responses
Nature abhors a vacuum, and as America has withdrawn from its leadership role in the world, Putin and Russia have boldly stepped in.
DailyMail.com  |  October 13, 2016
'This Is Another Step Towards War': Russian Citizens React With Fear To Reports That Moscow Has Ordered Officials To Fly Home All Relatives
•  Officials said to have been told to bring relatives back to the 'Motherland'
•  Citizens reacted with a mixture of fear and gallows humour over reports
•  Comes amid worsening relations between Russia and US over Syria crisis
•  Russia has 'moved nuclear-capable missiles nearer to the Polish border'
By Will Stewart In Moscow & Julian Robinson for MailOnline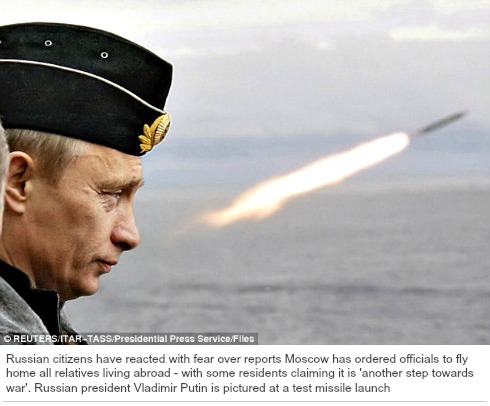 Russian citizens have reacted with fear over reports Moscow has ordered officials to fly home all relatives living abroad - with some residents claiming it is 'another step towards war'. 
The Kremlin is said to have told high ranking officials to bring their loved ones back to the 'Motherland' immediately - with any who disobey being overlooked for promotion.
It comes against a backdrop of rapidly deteriorating relations with the West over Russia's role in the Syria conflict and just days after Putin moved nuclear-ready missiles closer to the border with Poland.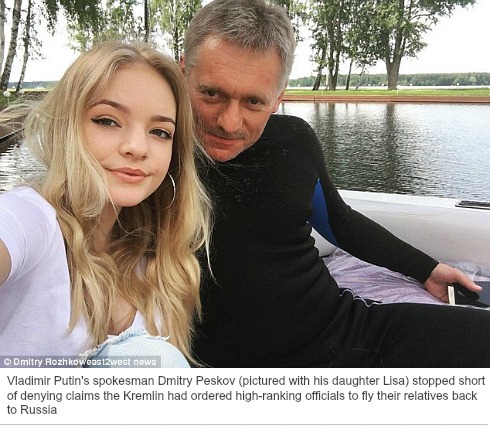 Putin also cancelled a planned visit to France amid a furious row over Moscow's role in the Syrian conflict and just days after it emerged the Kremlin had moved nuclear-capable missiles near to the Polish border.
Russian political analyst Stanislav Belkovsky warned yesterday: 'This is all part of the package of measures to prepare elites to some "big war".'
And today, Russians reacted with a mixture of fury and gallows humour over the Kremlin's new orders amid rising world tension and the possibility of global war.
Political analyst Valery Solovei said plans were afoot for 'serious limitations' on people wishing to leave Russia.
While he doubted a return to the Soviet system of 'exit visas' for its citizens, he said: 'Officials of all levels and their relatives will be recommended not to leave the country.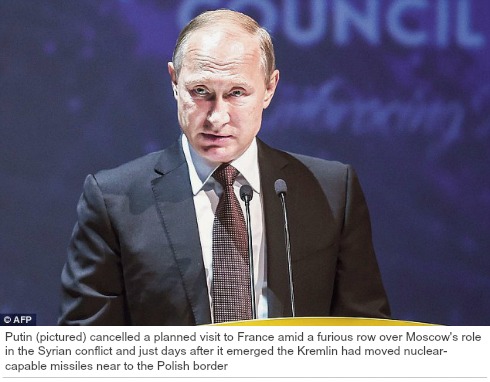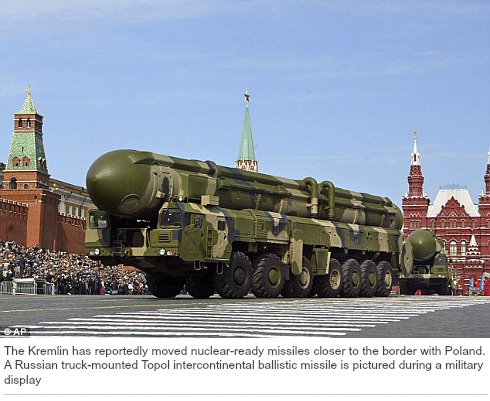 'As soon as officials are limited in their freedom of travel, they will make sure the rest of society gets the same treatment.
'As far as I know a tourist tax will be introduced for people wishing to go abroad.'
But there was deep concern from some Russians on social media that the alleged move signals war on the way.
Journalist Ostap Karmodi warned: 'First siloviki (security personnel) were prohibited from going abroad, then high-ranking officials were asked to sell foreign houses, close their companies and shut (overseas) bank accounts.
'Now they are ordered to bring children back. The only strange thing is that it didn't happen earlier. This is, of course, a preparation to war.
'Not in a sense that Putin is getting ready to a nuclear strike at America and Europe. They believe that the war against Russia started a long time ago.
'By moving everything they can back into Russia they try to minimise their vulnerability and clean up their own ranks to get rid of unstable elements.
'Children are the most vulnerable, they mustn't let the West to take hostages.'

Blogger Ilya Viceman, a Putin critic, warned: 'This is not yet an order to "bring everyone back within 24 hours to Russia" but a firm request from the presidential administration which would be so hard to refuse.
'This is not war, of course, but another small step towards it.
'This is also an insurance against escape of the most knowledgeable state servants abroad - with their families in Russia, control will remain with the state.' 
The Kremlin fell short of issuing an outright denial with Vladimir Putin's spokesman Dmitry Peskov stating only: 'It is the first time I have heard about that.'
Relations between Russia and the US are at their lowest since the Cold War and have soured in recent days after Washington pulled the plug on Syria talks and accused Russia of hacking attacks. 
The Kremlin has also suspended a series of nuclear pacts, including a symbolic cooperation deal to cut stocks of weapons-grade plutonium. 
Just days ago, it was reported that Russia had moved nuclear-capable missiles near to the Polish border as tensions escalated between the world's largest nation and the West.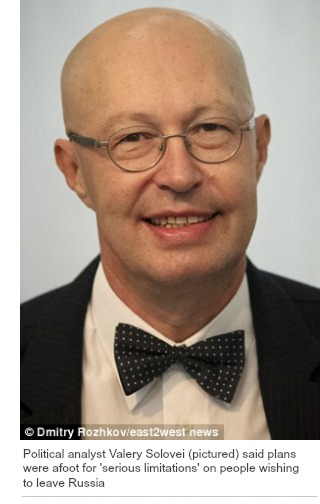 The Iskander missiles sent to Kaliningrad, a Russian enclave on the Baltic Sea between Nato members Poland and Lithuania, are now within range of major Western cities including Berlin.
Polish officials – whose capital Warsaw is potentially threatened – have described the move as of the 'highest concern'. 
Putin's decision to cancel his Paris visit came a day after French President Francois Hollande said Syrian forces had committed a 'war crime' in the battered city of Aleppo with the support of Russian air strikes.
Putin had been due in Paris on October 19 to inaugurate a spiritual centre at a new Russian Orthodox church near the Eiffel Tower, but Hollande had insisted his Russian counterpart also took part in talks with him about Syria.
The unprecedented cancellation of a visit so close to being finalised is a 'serious step... reminiscent of the Cold War', said Russian foreign policy analyst Fyodor Lukyanov.
'This is part of the broader escalation in the tensions between Russia and the West, and Russia and NATO,' he told AFP.
The Kremlin has also been angered over the banning of the Russian Paralympic team from the Rio Olympics amid claims of state-sponsored doping of its athletes.
Meanwhile, the top advisor to US presidential candidate Hillary Clinton has said the FBI is investigating Russia's possible role in hacking thousands of his personal emails.
But Russian officials have vigorously rejected accusations of meddling in the US presidential elections and dismissed allegations that Moscow was behind a series of recent hacks on US institutions.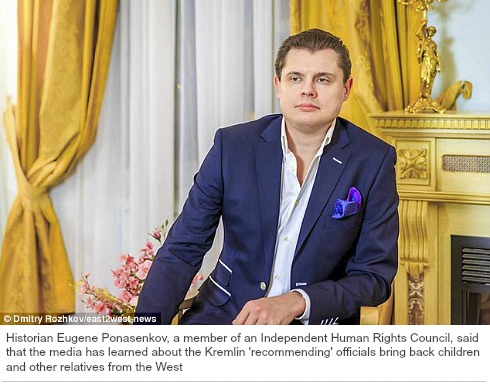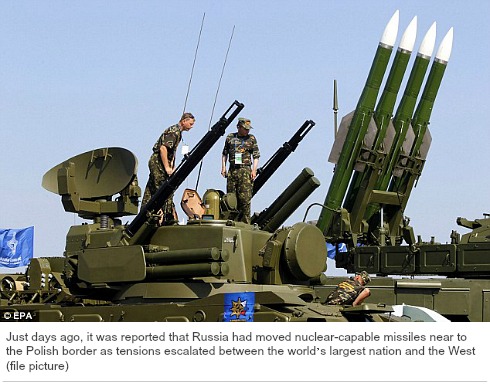 Yesterday's reports stemming from news source znak.com claimed all state employees should take their children out of foreign schools and repatriate their families. 
Sweeping travel restrictions already apply to security and law enforcement officials and in some cases family members and the supposed proposals were seen as an extension of these. 
While there were reports including from Noviye Izvestia suggesting the znak.com report was a 'fake', other sources are suspicious that pressure is indeed being brought to bear as Russia's propaganda machine paints the West as enemy number one. 
Gallows humour also set in among some citizens who took to Twitter in an attempt to make light of the situation.
One joke imagined a telegram from Putin mouthpiece Peskov's 18-year-old daughter Lisa - whose views are not always politically correct in Russia, and now lives in France - demanding to meet her off the next flight from Nice.
Blogger Danny Lerer added: 'I'd love to watch Peskov's daughter - who doesn't speak Russian and grew up in the States - being brought back to Russia. Guess they'd need to handcuff her first.'
Another popular comment was a British aristocrat asking his butler: 'Barrymore, what is this howl coming from the swamps?'
The reply: 'Children and other relatives of Russian officials, Sir. They don't want to go back.'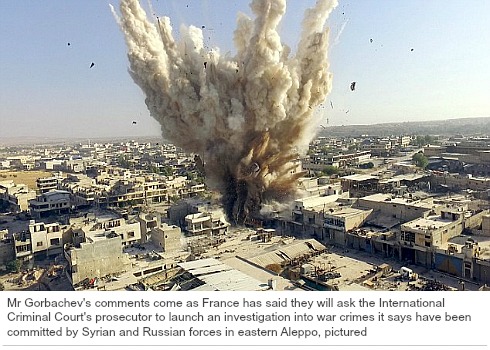 Blogger Irina Azarova write: 'Haha - imagine half-empty schools all around the UK after Russians pull their children back!'
Historian Eugene Ponasenkov, a member of an Independent Human Rights Council, said: 'The media has learned about the Kremlin "recommending" officials to bring back children and other relatives from the West.
'So soon we should expect to see plenty of billionaire orphans.
'Just like when our captured soldiers were said by officials to have resigned a long time ago.
'Imagine bureaucrats saying: "Yes this is my son or daughter (still living abroad) but they resigned from our family a while ago".'
Another commenter Ania Dorn said: 'I worked at Rublyovka (Moscow's most elite suburb) for many years and I can tell you this - there is no way they'll bring their children anywhere near here (Russia).
'They've got so much money that even if tomorrow they all leave their armchairs and will say **** off to this government up to its very top, they'll still have enough to live the most luxurious life for generations to come.'
Other senior officials echoed the line that they had not seen the order, without fully denying its existence.
'I didn't hear it, I am not aware of this command,' said first deputy chief of Putin's political party, United Russia, Viktor Pinsky.
'This is the first time I hear about it, we didn't get anything like this,' said Vladimir Poletayev from the Russian Federation.

Original article here.
We welcome your comments, but please comply with our
Comment Rules.
You must be registered and logged in to leave a comment. Comments will display your Username and location.
Log In »
Notable Quotables

"Mr. Netanyahu is one of the most media-savvy politicians on the planet. On Friday he appeared live via video link on 'Real Time with Bill Maher,' taking the host's alternately sardonic and serious line of questioning with gazelle-like alacrity."

~  Anthony Grant, jourrnalist who has written for many major newspapers and worked in television at Paris and Tel Aviv, interviewing former PM Benjamin Netanyahu on Monday, at the outset of Mr. Netanyahu's new book (more here).