May 27, 2011
Stunners & Bummers
Judging from the big smile, it appears President Obama is having a real bon temp in Deauville, France (see below),
Except that in a meeting with Russian President Dmitry Medvedev, just as Mr. Obama finished touting another "outstanding relationship" (days after ruining the one with ally Israel), Dmitry uncorked a stunner.
Turns out Mr. Obama's last "major foreign policy accomplishment," i.e., START II (the nuclear arms reduction treaty signed in February, in which Russia arms and we reduce) isn't worth the paper it's written on.
"I have told my counterpart, Barack Obama, that this issue [U.S. plans to upgrade its missile defense shield], will be finally solved in the future," said Dmitry to reporters in France, "like, for example, in the year 2020."

Will be finally solved? Like, for example, in the year 2020? And what, pray tell, is the U.S. obligated to do in the meantime? Reduce its arms? Well, like, for example, and who was the genius that signed on to that?!

So that's the stunner, folks. The bummer is the American people elected a lightweight, who thinks he can deal with heavyweight issues by charming tyrants and adversaries into submission with a winning smile.

FoxNews.com  |  May 26, 2011
Medvedev Uncorks A Stunner On U.S. Missile Defense Shield
By James Rosen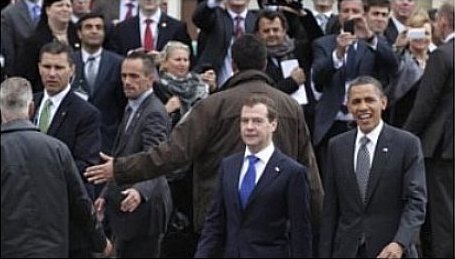 President Obama, right, and Russian President Dmitry Medvedev walk together as
they arrive at the G8 Summit in Deauville, France, Thursday, May 26, 2011. (AP)
President Obama had just finished touting the "outstanding relationship" he and Dmitry Medvedev hand build between themselves and their nations - the American leader even used the "reset" button metaphor again - when the Russian president turned to the thorny issue of Washington's plan to upgrade its missile defense shield, and uncorked a stunner.
I have told my counterpart, Barack Obama, that this issue will be finally solved in the future," Medvedev told reporters in Deauville, France, "like, for example, in the year 2020."
It wasn't merely that Medvedev had chosen a date almost comically far into the future to suggest when the two nations might come to terms; the particular date he chose carried special meaning. 2020 is the year when the State Department has estimated the U.S. will deploy the SM-3 Block IIB, a missile still on the drawing board but being designed to intercept medium- and intermediate-range missiles that might be launched from the Middle East.

Since the Russians purport to see the Block IIB as a threat to Moscow's own ballistic missile arsenal, Medvedev's reference to the projected date of its deployment, in an otherwise cordial photo-op with the American president on the sidelines of an international summit, sent an unmistakable signal.

"He puts that marker out there," explained Michael McFaul, the senior director for Russian and Eurasian Affairs at the National Security Council, "to say that we have to have cooperation [on missile defense] before then, because if we don't, then we're going to have to think about these more dire scenarios."
In a briefing with reporters after the two presidents spoke, McFaul said the Russians are "wrong" to express concern about American intentions or capabilities with respect to the Block IIB. "First of all, let's just be clear, this is a concept -- it doesn't exist," McFaul said. "This is way in the future….Their argument is, 'That's what you have today. That's your technological abilities today. We don't know what your technological capabilities will be in 2020.'…What we say, and what the president said again today, is: 'Cooperate with us, work with us, get into our system. You get into our system and cooperate, you'll have much better visibility and much better understanding about our real capabilities and these fictitious ones.'"
The mini-summit occurred on a day when the U.S. House of Representatives passed – almost unanimously – a half-trillion-dollar defense spending bill that threatens to delay implementation of the START II nuclear arms reduction treaty between the U.S. and Russia. The accord was just finalized in February, and Obama cites it as a major foreign policy accomplishment.
One provision of the bill forbids the use of federal funds to retire a nuclear warhead unless the heads of the Departments of Defense and Energy certify that the remaining U.S. nuclear arsenal is being modernized. Another bars the commander in chief from adopting a new nuclear targeting strategy, or from removing certain weapons systems from Europe, without notifying Congress. The White House has threatened to veto the bill if those provisions remain in the final version of the legislation that reaches the president's desk.
Aides to the president argued that the personal dynamic between the American and Russian presidents can serve to assuage concerns in their respective legislatures back home.
"I think what we've seen happen is they can drive the relationship and they can push, frankly, their own governments who have habits, I think, of mistrust," said Deputy National Security Adviser Ben Rhodes, while traveling with... more here.


We welcome your comments, but please comply with our
Comment Rules.
You must be registered and logged in to leave a comment. Comments will display your Username and location.
Log In »
Notable Quotables

"Mr. Netanyahu is one of the most media-savvy politicians on the planet. On Friday he appeared live via video link on 'Real Time with Bill Maher,' taking the host's alternately sardonic and serious line of questioning with gazelle-like alacrity."

~  Anthony Grant, jourrnalist who has written for many major newspapers and worked in television at Paris and Tel Aviv, interviewing former PM Benjamin Netanyahu on Monday, at the outset of Mr. Netanyahu's new book (more here).