Archives
AND MORE...


Preparing For War
_____________________


Holy Nukes
_____________________


Ayatollah Hitler
_____________________


Fric & Frac
_____________________
February 20, 2012
W-A-S-T-E of Time
Hear ye, hear ye, President Barack Obama is set to meet with Israeli Prime Minister Benjamin Netanyahu in Washington on March 5th (see below). Expect the meeting to be a colossal waste of time.
Why? Because PM Netanyahu is worried about an existential threat to his country. President Obama, on the other hand, is worried about his political career. Two very different individuals with two very different agendas, representing two countries with historically close ties, shared values, and a common enemy.
So expect some photo-ops and very public kumbaya moments (unless, of course, President Obama feels compelled to join the family for dinner in the private residence, as he did another time, leaving PM Netanyahu hanging in the wind).
Expect the so-called pro-Israel lobby, AIPAC, which is holding its annual cheerleading conference on March 4-6 (the real reason for Netanyahu's visit), to put on a star-studded extravaganza, with soaring music and VIPs from all sides of the aisles. And expect the speakers to reaffirm their strong commitment to the security of Israel, i.e., the line that triggers spontaneous applause from the AIPAC crowd and earns you the honorary title of "strong Israel supporter."
EXCEPT that entertaining all sides of the national security divide (aka the aisle), and giving them equal time and treatment is little more than an exercise in futility. For when it comes to national security, there are but two (main) sides to the debate, i.e., there's the knowledgeable and informed side that makes sense; and the side that ISN'T and DOESN'T. Simply put, there's smart, and there's not-so-smart (politically-correct parlance for stupid). Dumbing down the former to accommodate the latter may give an appearance of being fair & balanced, but accomplishes little else, except sending a message of wobbliness to friends and foes alike.
So much for high-profile meetings and start-studded extravaganzas...
[See latest Update from AIPAC here.]
Haaretz.com | February 20, 2012
White House: Netanyahu, Obama To Meet In Washington On March 5
Meeting in two weeks will likely center on range of actions geared at preventing Iran from achieving nuclear weapons capability, whether through sanctions, talks, or military strike.
By Natasha Mozgovaya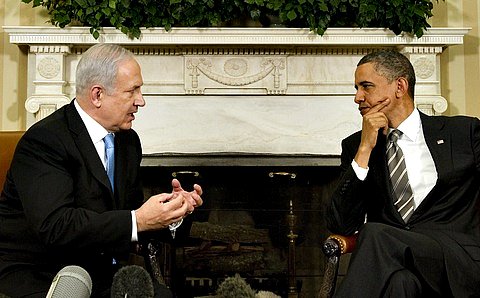 President Barack Obama meets with Israeli Prime Minister Benjamin Netanyahu in the
Oval Office on May 20, 2011. (Jim Watson/AFP/Getty Images) Courtesy: PBS.org
U.S. President Barack Obama will host a meeting with Prime Minister Benjamin Netanyahu in Washington on March 5, the White House said on Monday, a session that will likely center on the West's efforts to thwart Iran's nuclear ambitions.
A White House statement rounding up the recent Israel visit by Obama's National Security Advisor Tom Donilon, which announced the date for the upcoming meeting, indicated that the top advisor discussed the "full range of security issues of mutual concern" during his meetings with Israeli leadership.
"The visit is part of the continuous and intensive dialogue between the United States and Israel and reflects our unshakeable commitment to Israel's security," the statement added. More here...
We welcome your comments, but please comply with our
Comment Rules.
You must be registered and logged in to leave a comment. Comments will display your Username and location.
Log In »
Notable Quotables

"Mr. Netanyahu is one of the most media-savvy politicians on the planet. On Friday he appeared live via video link on 'Real Time with Bill Maher,' taking the host's alternately sardonic and serious line of questioning with gazelle-like alacrity."

~  Anthony Grant, jourrnalist who has written for many major newspapers and worked in television at Paris and Tel Aviv, interviewing former PM Benjamin Netanyahu on Monday, at the outset of Mr. Netanyahu's new book (more here).