Archives

AND MORE...


United Dregs of Humanity
_____________________


Some Inconvenient Facts
_____________________


Dear World
_____________________


Where's The Outrage?
_____________________
October 13, 2016
Theater Of The Absurd
The UN Educational, Scientific and Cultural Organization (UNESCO) on Thursday passed an Arab-sponsored resolution ignoring Jewish ties to Jerusalem and its holy sites, the Temple Mount and the Western Wall, in  a move derided in Israel as absurd (see below).
You can read the mind-boggling details below (and here), but suffice it to say that, once again Cesspool Central (aka the UN) and its Islamist majority are engaging in revisionist history.
The Western Wall, the outer retaining wall of the Second Jewish Temple, is the holiest site where Jews today can pray, and sits at the bottom of the Temple Mount, Judaism's number one holiest spot.
The Al-Aqsa Mosque, regarded by Muslims as the third-holiest site in Islam, sits atop the Mount, known to Muslims as the Haram al-Sharif, along with the Dome of the Rock.
Interestingly enough, Jerusalem is NOT mentioned even once in the Quran, but Arabs/Muslims have a habit of conquering lands and co-opting other people's histories. And this time, it's Jewish and Christian history.
In fact, it was only last year when we reported on these pages that UNESCO had passed another Arab-sponsored resolution listing two ancient Jewish holy sites – the Cave of the Patriarchs in Hebron and Rachel's Tomb in Bethlehem – as "Muslim" sites (see "United Dregs of Humanity").
So the only question we have for UNESCO is: When will UNESCO declare there is zero connection between the cities of Mecca/Medina & Islam? After all, Jews lived in those cities long before Muhammad and his hordes came along.
As the late Abba Eban, Israel's Foreign Minister and Ambassador to the UN once said:
"If Algeria introduced a resolution declaring that the earth was flat and that Israel had flattened it, it would pass by a vote of 164 to 13 with 26 abstentions."
Times of Israel  |  October 13, 2016
Netanyahu Leads Angry Denunciations of 'Absurd' UNESCO Decision
UN body's motion ignoring Jewish link to Temple Mount draws scorn from across Israeli political spectrum, including charges of anti-Semitism
By Times of Israel staff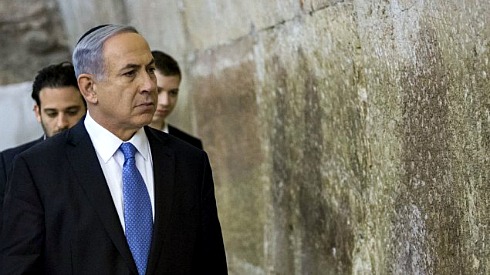 Israeli Prime Minister Benjamin Netanyahu visits the Western Wall in Jerusalem's Old City, a day after the Israeli general elections, March 18, 2015. (Photo credit: Yonatan Sindel/Flash90)
Furious Israeli politicians accused the UN's cultural arm of anti-Semitism Thursday in the wake of a resolution approved by UNESCO that erases the Jewish connection to Jerusalem holy sites.
Lawmakers from both the right and left of the political spectrum said the decision, which refers to the Temple Mount and Western Wall only by their Muslim names and condemns Israel as "the occupying power" for various actions taken in both places, was ill-befitting of UNESCO.
Prime Minister Benjamin Netanyahu called the decision "absurd," while President Reuven Rivlin called it an "embarrassment" for UNESCO. The Executive Board of UNESCO is next week set to approve the resolution, which passed Thursday at the committee stage.
Culture Minister Miri Regev slammed the resolution as "shameful and anti-Semitic," and Agriculture Minister Uri Ariel called for Israel to increase the Jewish presence on the Temple Mount, a flashpoint site governed by a tense status quo, in response.
"To say that Israel has no link to the Temple Mount is like saying that China has no link to the Great Wall or that Egypt has no connection to the Pyramids," Netanyahu said, adding that "with this absurd decision UNESCO has lost what little legitimacy it still had."
He also said UNESCO was ignorant regarding the Bible, and accused the body of taking part in a "Theater of the Absurd."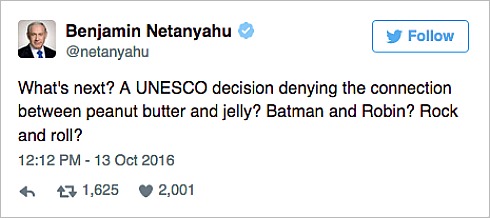 Twenty-four countries voted in favor of the resolution Thursday afternoon, six against and 26 abstained, though ambassador Carmel Shama-Hacohen praised the diplomatic effort that had changed several no votes in a similar resolution in April into abstentions this time around.
it was "a significant accomplishment," that countries like France, Sweden, Argentina and India, which had earlier supported the declaration, now abstained, he told Army Radio.
"It's not pleasant, "he said, "but I'm pleased by the decision, relatively, because it was clear the decision would pass but we didn't know which countries would support it. We had the goal of gaining back French support and our friends in Europe," he said.
(Voting in favor were: Algeria, Bangladesh, Brazil, Chad, China, Dominican Republic, Egypt, Iran, Lebanon, Malaysia, Morocco, Mauritius, Mexico, Mozambique, Nicaragua, Nigeria, Oman, Pakistan, Qatar, Russia, Senegal, South Africa, Sudan and Vietnam. Voting against were: Estonia, Germany, Lithuania, The Netherlands, United Kingdom and United States. Abstaining were: Albania, Argentina, Cameroon, El Salvador, France, Ghana, Greece, Guinea, Haiti, India, Italy, Ivory Coast, Japan, Kenya, Nepal, Paraguay, Saint Vincent and Nevis, Slovenia, South Korea, Spain, Sri Lanka, Sweden, Togo, Trinidad and Tobago, Uganda and Ukraine. Absent were: Serbia and Turkmenistan.)
Jerusalem Mayor Nir Barkat said he was "outraged" over the decision "which denies thousands of years of Jewish connection to Jerusalem's Western Wall."
"Would UNESCO vote to deny the Christian connection to the Vatican? Or the Muslim connection to Mecca," he said in a statement.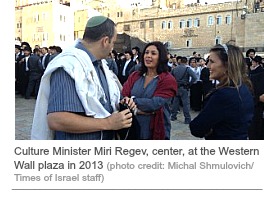 Opposition chief Isaac Herzog accused UNESCO of betraying their mission. "Whoever wants to rewrite history, to distort fact, and to completely invent the fantasy that the Western Wall and Temple Mount have no connection to the Jewish people, is telling a terrible lie that only serves to increase hatred."
Fellow Labor Party lawmaker Eitan Cabel called it "anti-Zionist, shameful and embarrassing."
"You can try and throw the innumerable testimonies (of a Jewish connection) into the trash, the evidence, the prayers and the archaeological discoveries. You can try and throw into the sea the millions of Jews who have touched this place with their hands and hearts," he wrote on his Facebook page. "It won't help you."
MK Merav Michaeli, also from the dovish party, said the resolution was the result of Netanyahu refusing to appoint a foreign minister and holding the position for himself for political capital.
The left-wing Emek Shaveh organization, which says it seeks for archaeology to be decoupled from politics, said the resolution would only make a solution to the Israeli-Palestinian conflict more difficult.
"Now that an international, professional entity like UNESCO has disregarded the deep relationship of the Jewish people to the Western Wall and the Temple Mount, they've only made it easier for the Israeli right to convince the Israeli public that Jerusalem is in danger," the group said in a statement.
Indeed, lawmakers from the right-wing Jewish Home party called on Netanyahu to use this opportunity to increase Jewish activity on the flash-point holy site.
"Especially now, it's on us as a government to act in defiance of these decisions and to strengthen the Temple Mount and the Jewish presence on the site holiest to the Jewish people — the Temple Mount," said Agriculture Minister Uri Ariel.
Rivlin, speaking at an event before the vote, said UNESCO was making a mockery of itself with the vote.
"No forum or body in the world can come and deny the connection between the Jewish people, the Land of Israel and Jerusalem – and any such body that does so simply embarrasses itself," Rivlin said at an event in his Jerusalem residence. "We can understand criticism, but you cannot change history".
In the US, Congressman Ted Duetch called the motion "dangerous."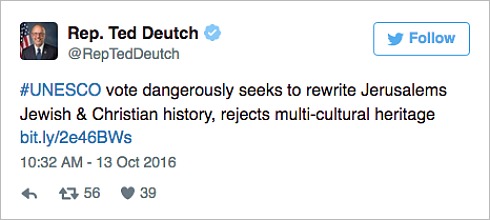 Original article here.
We welcome your comments, but please comply with our
Comment Rules.
You must be registered and logged in to leave a comment. Comments will display your Username and location.
Log In »
Notable Quotables

"There's much to be thankful for about how things ended last week in Texas, and about the outpouring of love and support, across faiths, for a little Jewish community. But the wise counsel for Jews is to be grateful for last week's good luck, while taking it as a warning that our luck in America may run out."

~  Bret Stephens, prolific journalist, author and op-ed writer, in "What an Antisemite's Fantasy Says About Jewish Reality" (more here).