Archives

AND MORE...


Benghazi: A National Disgrace
_____________________


Bunkum, Balderdash & Murder
_____________________


The "Cooling Out" Process
_____________________


Slow Extinction
_____________________
December 26, 2012
The Illusion
Now you see it, now you don't. Accountability, that is, by the U.S. government for a debacle that cost four American lives.
The four State Department officials supposedly out of jobs because of their blunders in the run-up to the deadly Benghazi terror attack, reportedly remain on the State Department payroll and will all be back to work soon (see below).
Although we have yet to hear from our Secretary of State, who is currently recuperating from a bump on the noggin, chances are her testimony will shed little if any light on the Benghazi debacle.
Someone once said:
"I always believe that ultimately, if people are paying attention, then we get good government and good leadership. And when we get lazy, as a democracy and civically start taking shortcuts, then it results in bad government and politics."
Indeed, and that someone, i.e., President Barack Obama, is now reaping the benefits of our lazy democracy.
New York Post | December 26, 2012
Benghazi Penalties Are Bogus
By Josh Margolin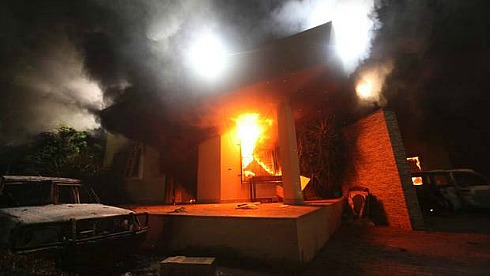 The U.S. Consulate in Benghazi is seen in flames on September 11, 2012. (Esam Omran Al-Fetori/Reuters; Courtesy: theglobeandmail.com)
EXCLUSIVE – The four officials supposedly out of jobs because of their blunders in the run-up to the deadly Benghazi terror attack remain on the State Department payroll – and will all be back to work soon, The Post has learned.
The highest-ranking official caught up in the scandal, Assistant Secretary of State Eric Boswell, has not "resigned" from government service, as officials said last week. He is just switching desks. And the other three are simply on administrative leave and are expected back.
The four were made out to be sacrificial lambs in the wake of a scathing report issued last week that found that the US compound in Benghazi, Libya, was left vulnerable to attack because of "grossly inadequate" security.
State Department leaders "didn't come clean about Benghazi and now they're not coming clean about these staff changes," a source close to the situation told The Post., adding, the "public would be outraged over this."
US Ambassador Chris Stevens and three other Americans were killed in the Sept. 11 attack, originally blamed on a spontaneous demonstration against a US-made anti-Islam video that got out of hand.
That version was dismissed by an Accountability Review Board headed by retired Ambassador Thomas Pickering.
In response to questions from The Post, the State Department would only reissue the carefully crafted statement put out last week.
Spokeswoman Victoria Nuland said that Secretary of State Hillary Rodham Clinton "has accepted Eric Boswell's decision to resign as assistant secretary for diplomatic security, effective immediately." What Nuland omitted was that Boswell gave up only the presidential appointment as assistant secretary, not his other portfolios.
The other officials – Deputy Assistant Secretaries Charlene Lamb and Raymond Maxwell, and a third who has not been identified – were found to have shown "performance inadequacies" but not "willful misconduct," Pickering said, so they would not face discipline.
House Foreign Affairs Committee Chairwoman Ileana Ros-Lehtinen (R-Fla.) told The Post this is "yet another ruse about the tragedy of Benghazi."
"State Department officials proclaimed . . . that heads would roll . . . Now we see that the discipline is a lie and all that has happened is the shuffling of the deck chairs."
Original article here.
We welcome your comments, but please comply with our
Comment Rules.
You must be registered and logged in to leave a comment. Comments will display your Username and location.
Log In »
Notable Quotables

"Mr. Netanyahu is one of the most media-savvy politicians on the planet. On Friday he appeared live via video link on 'Real Time with Bill Maher,' taking the host's alternately sardonic and serious line of questioning with gazelle-like alacrity."

~  Anthony Grant, jourrnalist who has written for many major newspapers and worked in television at Paris and Tel Aviv, interviewing former PM Benjamin Netanyahu on Monday, at the outset of Mr. Netanyahu's new book (more here).