Archives

AND MORE...


Tolerance For Thee, But Not For Me
_____________________


Phoning It In
_____________________


Encyclopedic Ignorance, Part Deux
_____________________


Fans Of The Five Percent
_____________________
December 26, 2012
The People Have Spoken
The people in Egypt have spoken. Egyptian voters approved a new "Islamist-backed" constitution by a nearly 2 to 1 ratio on Tuesday (see below).
So why does the US State Department continue using words like 'democratic' to describe it?
MEMO to State: There is nothing democratic in anything "Islamist-backed," for the simple reason that democracy and sharia law do not go hand in hand.
To those who argue that they do, and that Islam is a Religion of Peace and Tolerance, we say: SHOW US, i.e., show us an Islamist state that is free, democratic and tolerant of other religions.
CNN | December 25, 2012
Morsy Signs Egypt's Constitution Into Law
By Salma Abdelaziz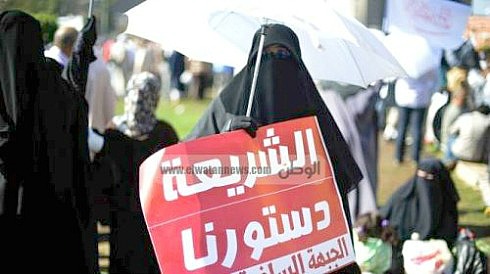 Egyptian woman carrying a placard saying: "The Shari'a Is Our Constitution". Photo: Al-Watan (Egypt); Courtesy: memri.org
(CNN) -- Egyptian President Mohamed Morsy signed a decree putting into effect his country's newly approved constitution, the state-run Egynews reported Wednesday.
His signature came after Egyptian voters approved the Islamist-backed constitution by what an election official said Tuesday was a nearly 2 to 1 ratio.
During the two rounds of voting, more than 10 million, or 63.8%, voted in favor, and more than 6 million, or 36.2%, voted against, Judge Samr Abou El Maaty, head of the High Election Commission, told reporters.
The referendum passed with 56.6% of the vote in the first round on December 15, when more liberal provinces voted.
In the second round of voting, on December 22, people cast ballots in 17 provinces largely loyal to Morsy and his ruling party -- which backed the constitution.
There was a 32.9% turnout, El Maaty said. Nearly 303,400 votes were excluded because of voting irregularities.
Controversy among Egypt's society and institutions had accompanied the draft constitution since its inception.
Critics said it was passed too quickly. Liberals, Christians and other minority opposition groups said they felt excluded from the Constituent Assembly that drafted it and that the wording did not include their voices. They had sought a new assembly.
Opposition members said the charter uses vague language and will not protect the rights Egyptians fought for in last year's revolution, which ousted former President Hosni Mubarak.
Supporters of the constitution herald what they say is its protection of personal rights, especially its provisions on the handling of detainees in the judicial system, which made capricious use of its powers under the former government.
The international rights group Human Rights Watch said the constitution "protects some rights but undermines others." It "fails to end military trials of civilians or to protect freedom of expression and religion."
The rocky road to the referendum began when judges threatened to shut the assembly tasked with drafting the constitution. Morsy issued an edict in late November declaring his decisions immune from judicial review until the holding of the constitutional referendum.
He also sacked the head of the judiciary, many of whose members had remained loyal to Mubarak.
The Islamist president's opposition saw the moves as a grab for dictatorial powers and poured into the streets, converting Tahrir Square in central Cairo back into the center of public discontent it had been during the uprising that brought down Mubarak.
In response, Morsy dropped his decree, but the situation remained tense. Violence raged, producing incidents that have raised the ire of international human rights groups, though these were not systematic, as was the case under the former government.
The outcome of the election is important to the stability of volatile North Africa and the Middle East -- where Egypt is a key player.
The U.S. State Department acknowledged divisions within Egypt and said there was a need for a broader consensus behind its new democratic rules.
"Many Egyptians have voiced deep concerns about the substance of the constitution and the constitutional process," Patrick Ventrell, acting deputy spokesman, said Tuesday in a statement. "President Morsy, as the democratically elected leader of Egypt, has a special responsibility to move forward in a way that recognizes the urgent need to bridge divisions, build trust and broaden support for the political process."
Egypt needs a strong, inclusive government to meet its many challenges, Ventrell added.
Original article here.
We welcome your comments, but please comply with our
Comment Rules.
You must be registered and logged in to leave a comment. Comments will display your Username and location.
Log In »
Notable Quotables

"Don't threaten us with cutting off your aid. It will not work. I am not a Jew with trembling knees. I am a proud Jew with 3,700 years of civilized history. Nobody came to our aid when we were dying in the gas chambers and ovens. Nobody came to our aid when we were striving to create our country. We paid for it. We fought for it. We died for it. We will stand by our principles. We will defend them. And, when necessary, we will die for them again, with or without your aid."

~  Israeli PM Menachem Begin, in June 1982 at height of Lebanon War, responding to then Senator Joe Biden in front of Senate Foreign Relations Committee, after Biden had attacked Israeli settlements in Judea and Samaria and threatened to cut economic aid to Israel (more here).