Archives

AND MORE...


Royal Liars
_____________________


FATWA On The Peninsula
_____________________


Appeasement Swedish-Style
_____________________


The 'Joys' of Sharia
_____________________
January 18, 2013
Our 'Trusted' Friends
The symbolism here could have been so much more poignant had this agreement (see below) been signed on 9/11 but, alas, Homeland Security Secretary Janet Napolitano probably had her hands full this past September 11th. That was when the Benghazi debacle was unfolding.
So little time, so many debacles to deal with...
Al Arabiya News | January 18, 2013
U.S-Saudi 'Trusted Traveler' Deal to Accelerate Airport Screening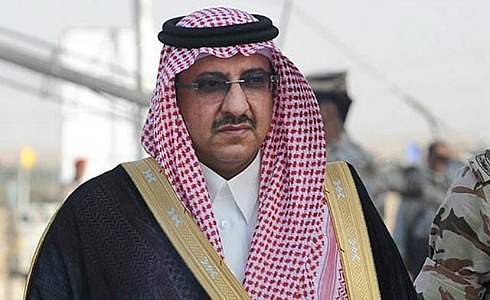 Saudi Minister of Interior Prince Mohammed bin Naif and U.S. Secretary of Homeland Security Janet Napolitano signed the Trusted Traveller deal on Jan. 16, 2013. (Photo courtesy of Arab News)
Saudi Arabia and the United States have signed a "Trusted Traveler" agreement to facilitate and accelerate the trusted passenger screening on the principle of reciprocity in both Saudi and U.S. airports.

The Saudi state agency reported that Minister of Interior Prince Mohammed bin Naif and U.S. Secretary of Homeland Security Janet Napolitano "signed an agreement on arrangements relating to the implementation of a program of the 'Trusted Traveler' between the two countries."

According to the agreement U.S. Customs and Border Protection's trusted traveler program, Global Entry, will be implemented. Global Entry streamlines the screening process at airports for trusted travelers, allowing customs authorities to focus on those travelers they know less about, in order to more effectively identify potential threats and keep our borders and country secure.

"I am proud of the bond between the United States and the Kingdom of Saudi Arabia, and today's meeting marks another major step forward in our partnership," said Secretary Napolitano. "By enhancing collaboration with the Government of Saudi Arabia, we reaffirm our commitment to more effectively secure our two countries against evolving threats while facilitating legitimate trade and travel."

Interior Minister Prince Mohammed bin Naif and Secretary Napolitano also released a joint statement affirming ongoing cooperation on cybercrime, maritime security and infrastructure protection, and cooperation on cyber security, which is critical to both nations' economic competitiveness and national security.
Text of the Joint Statement
JOINT STATEMENT

BETWEEN THE MINISTRY OF INTERIOR

OF THE KINGDOM OF SAUDI ARABIA

AND

THE DEPARTMENT OF HOMELAND SECURITY

OF THE UNITED STATES OF AMERICA

The Ministry of Interior of the Kingdom of Saudi Arabia (MOI) and the U.S. Department of Homeland Security (DHS) have a long history of working bilaterally and regionally to promote mutual security and economic prosperity. Both the MOI and DHS recognize that the development and promotion of these relations serves the joint interests of both the Kingdom of Saudi Arabia and the United States of America.

In effort to reaffirm the extraordinary bond between them and advance this partnership, MOI and DHS have signed an arrangement to begin implementation for each nation's trusted traveler programs. The trusted traveler programs will facilitate trade and travel between the Kingdom of Saudi Arabia and the United States of America and will help authorities from MOI and DHS more effectively identify potential threats to keep their borders and countries secure. The objective will be to start implementation within the next six months with full operations starting in 2014.

In addition, MOI and DHS note their emerging cooperation on cybersecurity. MOI and DHS have a mutual interest in partnering to protect critical vital government and private sector critical infrastructure of binational importance, and to make cyberspace more secure for citizens of both countries. Given the significance of each nation in the global economy, this partnership also contributes to global security.

Finally, MOI and DHS highlight the continuing effort in combating international security challenges in the areas of cyber crimes, physical infrastructure protection, and maritime security through the joint Office of Program Management-Ministry of Interior (OPM-MOI) initiative. These areas signal further the strong bond between MOI and DHS and recognize the vital importance for both of cooperation in the security field.

Jointly released in Washington on 16 January 2013.
Original article here.
We welcome your comments, but please comply with our
Comment Rules.
You must be registered and logged in to leave a comment. Comments will display your Username and location.
Log In »
Notable Quotables

"Mr. Netanyahu is one of the most media-savvy politicians on the planet. On Friday he appeared live via video link on 'Real Time with Bill Maher,' taking the host's alternately sardonic and serious line of questioning with gazelle-like alacrity."

~  Anthony Grant, jourrnalist who has written for many major newspapers and worked in television at Paris and Tel Aviv, interviewing former PM Benjamin Netanyahu on Monday, at the outset of Mr. Netanyahu's new book (more here).