Archives

AND MORE...


The Groveling Continues
_____________________


Another 'Fantastic' Deal
_____________________


Helping North Korea
_____________________


Deadly Payloads
_____________________


A Very Disturbing Dot
_____________________


Epic Fail
_____________________
August 10, 2017
North Korea Finalizing Plans
North Korea on Wednesday dismissed President Trump's threats of "fire and fury," declaring him "bereft of reason" and warning ominously, "Only absolute force can work on him" (see below).
Hard not to laugh at North Korea's Dear Leader accusing anyone of being "bereft of reason".
The loony leader is now threatening to fire four mid-range missiles hitting waters 30 to 40 kilometers (19 to 25 miles) from the U.S. Pacific territory of Guam, in an "historic enveloping fire at Guam."
Meanwhile here in the US, the usual suspects are standing on their hind legs and howling at Trump for his rhetoric. They include Sen. John McCain, of course, who said: "I take exception to the president's words because you got to be sure you can do what you say you're going to do"
And mainstream media along with its assorted "experts" have proceeded to publicly dispute the US's nuclear firepower, and show the world how and why our nuclear capabilities are insufficient.
Senate Minority Leader Chuck Schumer commented that "reckless rhetoric is not a strategy to keep America safe", while his Democratic cohort, Sen. Dianne Feinstein opined that the situation needs diplomacy, "not saber rattling."
Well color us perplexed. Have the past 25 years of "diplomacy" with North Korea yielded any positive results? Did President Bill Clinton's deal-making 'prowess' and appeasement of North Korea achieve anything positive? Quite the opposite.
The only thing 25 years of diplomacy with North Korea did was buy more time for it to develop its nuclear weapons and delivery systems. Sort of like what Obama's Iran Deal has done for Iran. (BTW, if the North Koreans have it, rest assured their partners in Iran also have it or are very close to having it.)
So while all previous attempts to curb North Korea's appetite for nuclear weapons have failed miserably, experts today are obsessing over Trump's rhetoric.
Israel's legendary soldier and politician, Moshe Dayan once said: "Israel must be like a mad dog; too dangerous to bother."
Sage advice. And looks like President Trump thinks it's worth a try.
Times of Israel  |  August 10, 2017
N. Korea says it is finalizing attack plans, calls Trump 'bereft of reason'
Threatening to fire four ballistic missiles at Guam after delivering plan to Kim by mid-August, regime says 'only absolute force' can work on US president
By AP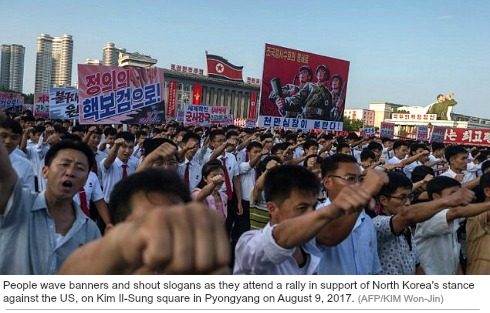 WASHINGTON — North Korea on Wednesday officially dismissed President Donald Trump's threats of "fire and fury," declaring the American leader "bereft of reason" and warning ominously, "Only absolute force can work on him."
In a statement carried by state media, General Kim Rak Gyom, who heads North Korea's rocket command, also said his country was "about to take" military action near the U.S. Pacific territory of Guam. He said the North would finalize a plan by mid-August to fire four mid-range missiles hitting waters 30 to 40 kilometers (19 to 25 miles) away from the island.
The plan will then go to the commander in chief of North Korea's nuclear force and "wait for his order," Kim was quoted by KCNA as saying.
He called it a "historic enveloping fire at Guam."
The statement only served to escalate tensions further in a week that has seen a barrage of threats from both sides. While nuclear confrontation still seems incredibly remote, the comments have sparked deep unease in the United States, Asia and beyond.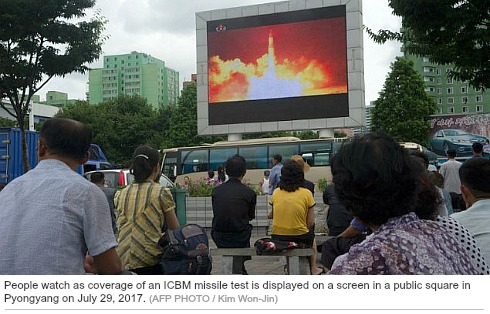 A day after evoking the use of overwhelming US military might, Trump touted America's atomic supremacy. From the New Jersey golf resort where he's vacationing, he tweeted that his first order as president was to "renovate and modernize" an arsenal that is "now far stronger and more powerful than ever before."
It was a rare public flexing of America's nuclear might. And Trump's boasting only added to the confusion over his administration's approach to dealing with North Korea's expanding nuclear capabilities on a day when his top national security aides wavered between messages of alarm and reassurance.
If Trump's goal with two days of tough talk was to scare North Korea, Kim, the commander, put that idea quickly to rest. He called Trump's rhetoric a "load of nonsense" that was aggravating a grave situation.
"Sound dialogue is not possible with such a guy bereft of reason and only absolute force can work on him," the KNCA report quoted him saying.
Kim said the Guam action would be "an effective remedy for restraining the frantic moves of the US in the southern part of the Korean peninsula and its vicinity."
Guam lies about 2,100 miles (3,400 kilometers) from the Korean Peninsula, and it's extremely unlikely Kim's government would risk annihilation with a pre-emptive attack on US citizens. It's also unclear how reliable North Korea's missiles would be against such a distant target, but no one was writing off the danger completely.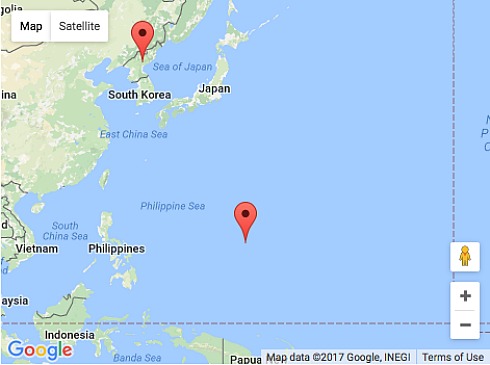 The new specificity from Pyongyang about its plans for a potential attack came as Trump and his top national security aides delivered contrasting messages over North Korea's expanding nuclear capabilities.
As international alarm escalated, Trump dug in on his threats of military action and posted video of his ultimatum to North Korean leader Kim Jong Un.
The suggestion that Trump has enhanced US nuclear firepower was immediately disputed by experts, who noted no progress under Trump's presidency. Still, Trump tweeted, "Hopefully we will never have to use this power, but there will never be a time that we are not the most powerful nation in the world!"
The tweets did little to soothe concerns that Trump was helping push the standoff with North Korea into uncharted and even more dangerous territory. While the prospect of military action by either side appears slim, given the level of devastation that would ensue, Trump's talk Tuesday of "fire and fury like the world has never seen" compounded fears of an accident or misunderstanding leading the nuclear-armed nations into conflict.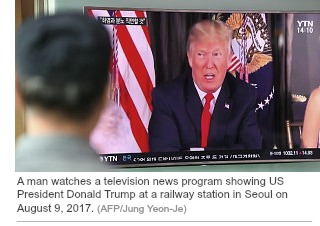 This week, an official Japanese report and a classified U.S. intelligence document, the latter reported by The Washington Post, combined to suggest the North was closer to being able to strike the United States with a nuclear missile than previously believed. The U.S. document reportedly assessed that the North had mastered the ability to fit a nuclear warhead on its long-range missiles.
After North Korea issued its own warning that suggested it could attack Guam, Secretary of State Rex Tillerson sought to calm the sense of crisis.
Speaking earlier Wednesday on his way home from Asia, he credited Trump with sending a strong message to the North Korean leader on the "unquestionable" U.S. ability to defend itself, so as to prevent "any miscalculation." Tillerson insisted the US isn't signaling a move toward military action, while it pursues a policy of sanctions and isolation of North Korea.
"Americans should sleep well at night," Tillerson told reporters. He added, "Nothing that I have seen and nothing that I know of would indicate that the situation has dramatically changed in the last 24 hours."
No sooner had Tillerson ratcheted down the rhetoric than Defense Secretary Jim Mattis ratcheted it back up.
Echoing Trump's martial tone, Mattis said North Korea should stand down its nuclear weapons program and "cease any consideration of actions that would lead to the end of its regime and the destruction of its people." As seldom as it is for a president to speak of using nuclear missiles, the reference to the "destruction" of a foreign people is equally rare.
It was unclear, however, how serious to take all the war talk. Markets weren't rattled by the back-and-forth threats. Trump had no meetings on his schedule Wednesday. There were no indications from the Pentagon of urgent planning or new assets being hastily deployed to the Pacific region. And Tillerson even made a pre-scheduled refueling stop in Guam, the target of the North's purported military designs.
Trump's alarmist tone sparked criticism among his political opponents in the United States and concern among allies and partners in Asia — the very nations the United States would need to work with to avert a military showdown with North Korea.
Senate Minority Leader Chuck Schumer said "reckless rhetoric is not a strategy to keep America safe." Fellow Democratic Sen. Dianne Feinstein said the situation needs diplomacy, "not saber rattling."
China, North Korea's increasingly alienated ally, cautioned all sides against "employing words or actions that could sharpen differences and escalate the situation."
One regular critic of Trump's foreign policy stood up for the president. Sen. Lindsey Graham, a Republican hawk, said he felt Trump wasn't bluffing with his threat of "fire and fury." Trump has "basically drawn a red line" by saying Pyongyang can't ever have a nuclear-tipped missile capable of striking the US, Graham said.
Original article here.
We welcome your comments, but please comply with our
Comment Rules.
You must be registered and logged in to leave a comment. Comments will display your Username and location.
Log In »
Notable Quotables

"Mr. Netanyahu is one of the most media-savvy politicians on the planet. On Friday he appeared live via video link on 'Real Time with Bill Maher,' taking the host's alternately sardonic and serious line of questioning with gazelle-like alacrity."

~  Anthony Grant, jourrnalist who has written for many major newspapers and worked in television at Paris and Tel Aviv, interviewing former PM Benjamin Netanyahu on Monday, at the outset of Mr. Netanyahu's new book (more here).