Archives

AND MORE...


Wanted: Suicide Bombers
_____________________


Sitting Ducks
_____________________


Welcome To The Friendly Skies of Al Qaeda!
_____________________


Tomato/Tomahto, Both Are Deadly
_____________________
April 16, 2013
It's Not The IEDs
Here we go AGAIN, focusing on the symptoms rather than the disease. The threat is not "IEDs in America" (see below) but rather the folks who use them.
We have warned against these relatively "small-scale" terrorist attacks against the public (like in Israel) since day one of the so-called "War on Terror." These are the kind of attacks that really TERRORIZE a population, and it was just a matter of time until they came here.
So remind us again, who are our "enemies"? IEDs? Black nylon bags? Or maybe it's those who inspire and/or aspire?
FoxNews.com  |  April 16, 2013
Boston Attack Underscores Growing Threat of IEDs In America
By Barnini Chakraborty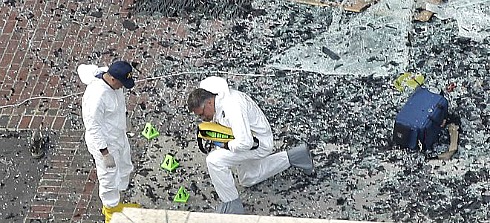 The deadly bomb attack on the Boston Marathon highlights what may be a growing threat to American cities -- the use of IEDs to target large gatherings, inflicting mass damage with a device that is difficult to detect. 
Security experts say the use of IEDs is becoming a preferred tool of terror in both domestic and global attacks -- or attempted attacks -- against the United States. 
"The reason to use an IED or multiple IEDs is that you're trying to create an oversized impact, and as much panic and disruption as possible," Bill Braniff, the executive director of the National Consortium for the Study of Terrorism and Responses to Terrorism, told FoxNews.com Tuesday. 
The FBI and Department of Homeland Security on Tuesday sent an intelligence bulletin to law enforcement across the country noting that the Boston attack follows a pattern. 
"The activities in Boston highlight the use of improvised explosive devices (IEDs) to target large gatherings, including at special events, in order to inflict mass casualties," said the bulletin, obtained by Fox News.
IEDs are usually makeshift bombs that are extremely destructive when detonated. They are designed to propel shrapnel and are sometimes used in combination with toxic chemicals, radiological material or biological toxins, and are often packed with metal fragments. This pattern of terror has been seen on a global level for years but is becoming more common in the U.S.   
In recent years, several of these attacks have been plotted but not successfully carried out.   
The DHS/FBI bulletin highlighted the following plots since 2009: 
In 2011, authorities discovered an undetonated IED along the planned Martin Luther King Jr. unity parade route in Spokane, Wash. 

In November 2010, FBI agents and the Portland police stopped a Somali teenager's plan to blow up a van full of explosives at a Christmas tree lighting ceremony. Dwight Holton, U.S. Attorney for the District of Oregon, said at the time that the "defendant's chilling determination is a stark reminder that there are people -- even here in Oregon -- who are determined to kill Americans." 

In May 2010, New York authorities thwarted an attempt to detonate an IED left in a smoking Nissan Pathfinder in Times Square. The crude car bomb of propane, gasoline and fireworks was discovered by authorities and quick-thinking vendors. 

Nine months earlier in 2009, New York City police stopped a plot to blow up the city's subways using IEDs. 
The bombing Monday shattered what may have been a false sense of security, after law enforcement successfully foiled plots year after year. 
In the attack, two IEDs went off back-to-back near the finish line of the Boston Marathon, killing three and injuring more than 170 others. Reports say the bombs were made out of pressure cookers and packed with ball bearings, nails and other metal scraps that blew dangerous debris in every direction. It's a pattern of terror security experts have documented in places like Afghanistan and Iraq. They say it was only a matter of time before the devices made their way here. 
"Most people in law enforcement believed we would see these IEDs begin emerging in the U.S.," Craig Dotlo, a retired FBI agent who helped investigate the Sept. 11 terrorist attacks, said. 
According to a recent report by the National Consortium for the Study of Terrorism and Responses to Terrorism, IEDs were the most common weapons used in the 207 terrorist plots and attacks in the United States from 2001 to 2011. The study also found that incendiary devices accounted for more than half of all weapons used over the last decade, representing a large increase in the type of weapons used in terror attacks.
The perpetrators are often domestic groups -- with the environmental Earth Liberation Front and Animal Liberation Front responsible for the most attacks in that 10-year window, according to the report. Al Qaeda was involved in four of them. The Pakistani Taliban claimed involvement in the Times Square bombing case -- but has said it had no role in the Boston attack Monday.
Authorities are still searching for suspects in the latest attack. President Obama said Tuesday that while the strike was an "act of terrorism," it's not clear whether a foreign or domestic group or individual was behind it. 
"At this time there are no claims of responsibility," FBI officials said in a press conference Tuesday. "The range of suspects and motives remains wide open." 
The dual devices used in Monday's marathon bombing in Massachusetts are similar to those used in attacks in Sri Lanka in 2008 as well as a series of blasts in Lahore, Pakistan in 2006.
IEDs were also used in attacks in Ireland in May 1998, May 2003 and May 2005.
Original article here.
We welcome your comments, but please comply with our
Comment Rules.
You must be registered and logged in to leave a comment. Comments will display your Username and location.
Log In »
Posted by

sbryen from Washington, DC

on

Apr 30, 2013
Interesting that this story makes no mention of IEDs used by Palestinian terrorists against Israel - the first nails and bolts bombs and the first use of germs in that context was against Israeli civilians.
Posted by

RBS from New York, NY

on

Apr 30, 2013
@sbryen: Very interesting indeed. But since we (the U.S.) are still having difficulty NAMING our enemy, don't expect any kind of serious analysis/public discussion about the methods they use.
Notable Quotables

An ancient Mikveh (Jewish ritual bath) dated to the time of the second temple was unveiled in Jerusalem during archaeological excavating near the Western Wall. 

~  Michal Hever, Hebrew University. On Twitter.