Archives
AND MORE...


Shameful Chapter In American History
____________________


Murder Inc. Pays a Visit aka The Zone (2)
____________________


Temple of Doom
____________________


One Step Forward, Two Back
____________________
January 3, 2012
Emergency Meeting!
Stop the presses! The Arab League on Tuesday called for an emergency meeting to discuss whether to withdraw its monitors from Syria, because security forces are still killing protesters despite the observers' presence, go figure?!
When will this emergency meeting take place? In five days, i.e., on Saturday (remind us never to call on the Arab League in an emergency).
The purpose of the emergency meeting? For the Arab League to discuss whether to pull its monitors - who were sent to Syria because of the ongoing violence there - from Syria because of ongoing violence (sorta like UN Peacekeeping Troops, who stay as long as there's peace, but high-tail it outta there as soon as there's a violation of calm).
What will be done upon conclusion of the emergency meeting? The League will send the fruits of its discussions (aka recommendations) to another, high-level ministerial meeting, for which no date has been set yet (which sorta reminds us of UN Security Council emergency meetings and their resolutions).
Behold the wonders of global bureaucracies (and their gutless wonders).
The Globe and Mail | January 3, 2012
Arab League Calls For Meeting On Syria Monitors
By Eizabeth A. Kennedy and Maggie Michael
Beirut | The Associated Press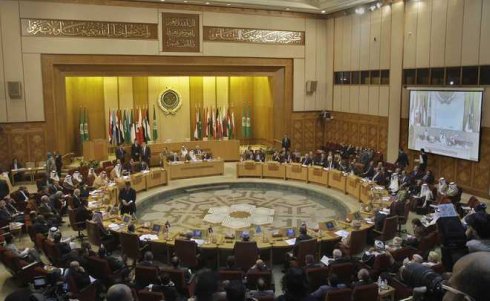 General view of the Arab League emergency session on Syria at the Arab League
headquarters in Cairo (AP Photo/Amr Nabil) Courtesy: Miami Herald
The Arab League on Tuesday called for an emergency meeting to discuss whether to withdraw the group's monitors from Syria, where security forces are still killing protesters despite the observers' presence, an Arab official said.
The meeting will take place Saturday in Cairo, where the Arab League is based.
The Arab League's deputy secretary-general, Ahmed bin Heli, said the meeting will look into the first report by the head of the monitoring mission, which began Dec. 27.
Another official told The Associated Press that the ministerial meeting will discuss whether to pull out the monitors because of the ongoing violence in Syria. He spoke on condition of anonymity because he was not authorized to speak to the media.
The Saturday meeting will not make a final decision, but will send its recommendations to another, high-level ministerial meeting. No date was set for that meeting.
There are about 100 Arab League monitors in Syria, dispatched to verify the regime's compliance with an Arab League plan to stop its crackdown on a 9-month-old uprising.
But activists say hundreds have been slain in the week since the observers started work.
On Monday, League chief Nabil Elaraby acknowledged ongoing bloodshed but insisted the observer mission has yielded important concessions from the Damascus regime, such as the withdrawal of heavy weapons from cities.
Opposition groups have been deeply critical of the mission, saying it is simply giving Mr. Assad cover for his crackdown. The Local Coordinating Committees, an umbrella group of activists, says the observer mission is witnessing mainly regime-staged events, and they move about the country only with the full knowledge of the government.
Original article here.
We welcome your comments, but please comply with our
Comment Rules.
You must be registered and logged in to leave a comment. Comments will display your Username and location.
Log In »
Notable Quotables

"Joe Biden isn't leading from behind. Joe Biden is sleeping from behind. This year has been one embarrassment after another. Russian hacks. Chinese threats. Iranian missiles. And twenty years after September 11th, Afghanistan is back in the hands of the Taliban."

~  Former U.N. Ambassador Nikki Haley tweeting Monday afternoon (more here).