Archives

AND MORE...


So Much By So Few
_____________________


Of Course It's The Culture, Stupid
_____________________


A Culture Of Savagery
_____________________




Institutions of Hate
_____________________
December 8, 2015
Edifice Of Hate
"Jihadists represent the natural and inevitable outgrowth of a faith that is given over to hate on a massive scale," writes David French below, in an article that dispels the myth of 'few extremists' and describes how the Islamic world is inundated with hate (see below).
Fascinating and well worth the read.
"Not all Muslims are hateful, of course, but so many are that it's not remotely surprising that the world is wracked by wave after wave of jihadist violence," continues French.
Or, as we (NSR) would say: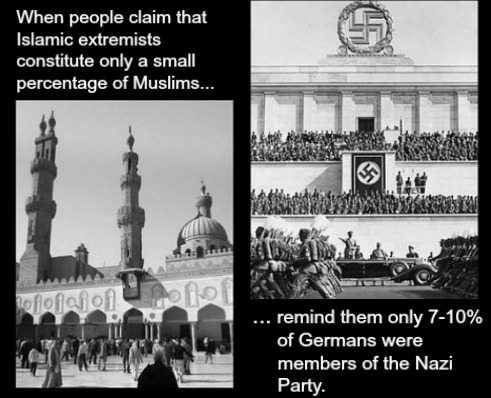 National Review  |  December 7, 2015
Dispelling the 'Few Extremists' Myth – the Muslim World Is Overcome with Hate
By David French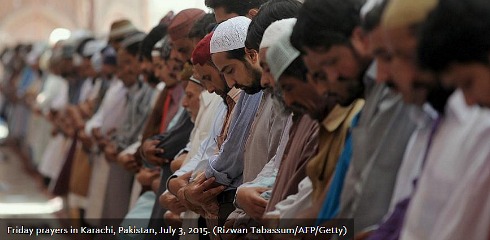 It is simply false to declare that jihadists represent the "tiny few extremists" who sully the reputation of an otherwise peace-loving and tolerant Muslim faith. In reality, the truth is far more troubling — that jihadists represent the natural and inevitable outgrowth of a faith that is given over to hate on a massive scale, with hundreds of millions of believers holding views that Americans would rightly find revolting. Not all Muslims are hateful, of course, but so many are that it's not remotely surprising that the world is wracked by wave after wave of jihadist violence.
To understand the Muslim edifice of hate, imagine it as a pyramid — with broadly-shared bigotry at the bottom, followed by stair steps of escalating radicalism — culminating in jihadist armies that in some instances represent a greater share of their respective populations than does the active-duty military in the United States.
The base of the pyramid, the most broadly held hatred in the Islamic world, is anti-Semitism, with staggering numbers of Muslims expressing anti-Jewish views. In 2014, the Anti-Defamation League released the results of polling 53,100 people in 102 countries for evidence of anti-Semitic attitudes and beliefs. The numbers from the majority-Muslim world are difficult to believe for those steeped in politically correct rhetoric about Islam. A full 74 percent of North African and Middle Eastern residents registered anti-Semitic beliefs, including 92 percent of Iraqis, a whopping 69 percent of relatively secular Turks, and 74 percent of Saudis.
The trend toward Muslim anti-Semitism continues even when Muslim nations are far removed from the Arab–Israeli conflict. A solid majority — 61 percent — of majority-Muslim Malays harbor anti-Semitic attitudes, while only 13 percent of neighboring majority-Buddhist Thais are anti-Jewish.
The next level of the pyramid is Muslim commitment to deadly Islamic supremacy. In multiple Muslim nations, overwhelming majorities of Muslims support the death penalty for apostasy or blasphemy. Collectively, this means that hundreds of millions of men and women support capital punishment for the exercise of the basic human rights of freedom of expression and free exercise of religion: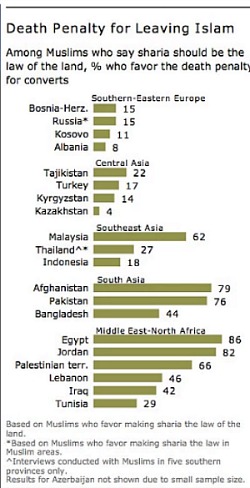 ___________________________________
Moving beyond Islamic supremacy to the next step of the pyramid, enormous numbers of Muslims are terrorist sympathizers. It is still stunning to see how popular Osama bin Laden was early last decade, and even as his popularity plunged (as he grew weaker and more isolated), his public approval remained disturbingly high: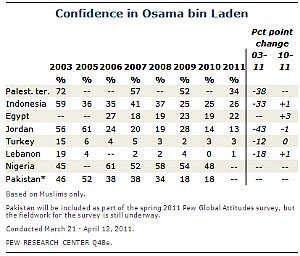 But what about ISIS — the world's most savage and deadly terror organization? The latest polling data show that while a majority of Muslims reject ISIS, extrapolating from the populations of polled countries alone shows that roughly 50 million people express sympathy for a terrorist army that burns prisoners alive, throws gay men from buildings, and beheads political opponents. In Pakistan a horrifying 72 percent couldn't bring themselves to express an unfavorable view of ISIS: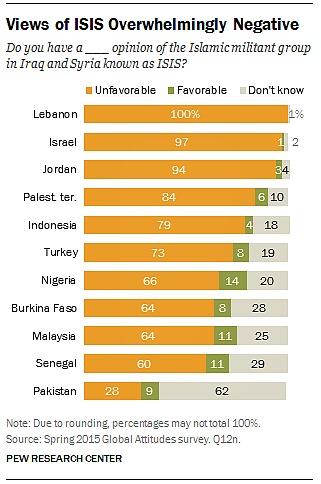 But sympathy for terror is different from active support, and here's where the numbers are difficult to pin down. I know of no reliable database that shows how many Muslims give to jihadist charities, spread jihadist propaganda on social media, support radical preachers, or otherwise take concrete actions to advance the terrorists' cause. We do know, for example, that anti-Israel terrorism is so popular in Saudi Arabia that a telethon once raised $100 million to support the 2002 intifada. Shows of support included this charming scene:
A 6-year-old boy, with a plastic gun slung over his shoulder and fake explosives strapped around his waist, walked into a donation center and made a symbolic donation of plastic explosives, according to Al Watan daily.
It is from this fertile soil that jihadists grow. And here the numbers decisively belie the "few extremists" rhetoric. In Iran alone, the Revolutionary Guard represents a proportionate share of the population similar to the combined strength of the active-duty Army and Marines here in the United States. Between Boko Haram, the Al-Nusra front, ISIS, Hezbollah, Hamas, al-Qaeda, the Taliban, Yemeni militias, Libyan militias, and many others, the number of active jihadists numbers in the hundreds of thousands; some estimates indicate that 100,000 are fighting in Syria alone.
To give a sense of proportion, the United States is a nation that honors military service, respects its veterans, and engages in a massive military recruiting effort that includes offering soldiers generous salaries, pensions, benefits, and the best military equipment in the world. Even then, only about 0.4 percent of the American population engages in active-duty military service at any given time.
Jihadists, by contrast, have low life expectancies, second-rate gear, low salaries, and often have to break domestic laws and journey across battlefields to join terrorist insurgencies, but still they join. In Britain, for example, more Muslims join ISIS than join the British army.
Simply put, America's leaders actively deceive the American people about the sheer scale of Muslim hatred and commitment to jihad. Rather than tell us the truth, the Obama administration and the media aristocracy constantly lecture Americans about discrimination, apparently believing that only their scolding keeps the great redneck masses at bay.
Telling us the truth won't send Americans on an anti-Muslim killing spree. Instead, it will make us no more radical than Egypt's president, who briefly made headlines earlier this year after calling for a "revolution" in Islam and decrying faith traditions that he admitted had been "sacralized over the centuries." Telling the truth can demonstrate the scale of the problem and at least begin the process of convincing the American people that there is no quick fix, that the defense of the nation will require courage and resolve over the long term.
Islam has a problem. It is Muslims' responsibility to reform their own faith. It is America's responsibility to defend itself and its citizens. Neither goal is advanced by telling convenient, politically correct lies. After 14 years of war, can we finally tell the truth?
— David French is a staff writer at National Review, an attorney, and a veteran of Operation Iraqi Freedom.
Original article here.

We welcome your comments, but please comply with our
Comment Rules.
You must be registered and logged in to leave a comment. Comments will display your Username and location.
Log In »
Notable Quotables

"Mr. Netanyahu is one of the most media-savvy politicians on the planet. On Friday he appeared live via video link on 'Real Time with Bill Maher,' taking the host's alternately sardonic and serious line of questioning with gazelle-like alacrity."

~  Anthony Grant, jourrnalist who has written for many major newspapers and worked in television at Paris and Tel Aviv, interviewing former PM Benjamin Netanyahu on Monday, at the outset of Mr. Netanyahu's new book (more here).