Archives

AND MORE...


Syria Using Human Shields On Tanks
_____________________


Of Course It's The Culture, Stupid
_____________________


Pure, Unadulterated Evil
_____________________



The Syrian Boom
_____________________


Happy Graduation Day!
_____________________
March 29, 2013
A Culture Of Savagery
"This is what the brutal Syrian civil war has come to – a 7-year-old toting an AK-47" and taking a drag on a cigarette while guarding a barricade that shelters rebels from government snipers, according to the piece below.
Yes, sad, disturbing, barbaric, deadly, etc. are all words that come to mind when viewing pictures like the one below. BUT something else also comes to mind and that is (as we wrote last year): "Of course it's the culture, stupid!"
Presidential candidate Mitt Romney caused a "firestorm" in Jerusalem last year when he talked about the cultural dimensions of Israeli economic growth. The Palestinians were outraged and took it as an implied criticism of Palestinian culture.
Well, news flash: Of course it's the culture! Culture is not only an integral part of economic growth, but of human behavior in general, regard for life, treatment of women and children, and more.
A culture that uses women and children as human shields, celebrates death and glorifies suicide-bombers as martyrs, is a culture that isn't jarred or disturbed by pictures like the one below.
New York Post | March 29, 2013
7-Year-Old Totes AK-47 Assault Rifle In Syrian Civil War
Bloody civil war puts kids in line of fire
By Andy Soltis
With Times of London and Post Wire Services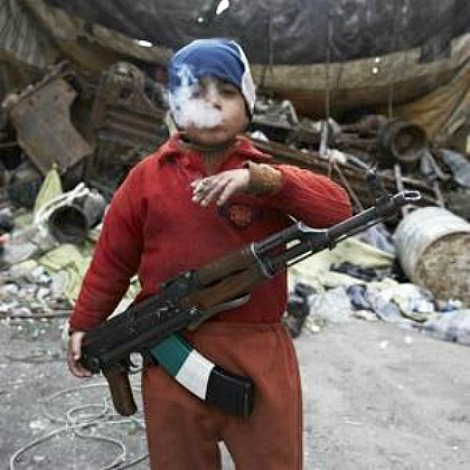 Ahmed, the son of a fighter in the Free Syrian Army, smokes and stands guard with an
AK-47 in front of a barricade protecting rebels from snipers. Sebastiano Tomada Piccolomini/Sipa
This is what the brutal Syrian civil war has come to – a 7-year-old toting an AK-47.
Ahmed, the son of a fighter in the Free Syrian Army, was photographed bearing an assault rifle nearly as big as him and taking a drag on a cigarette as he guarded a barricade that shelters rebels from government snipers.
New York-born photojournalist Sebastiano Tomada Piccolomini, 26, was allowed to get this close to the rebels in a once-fashionable district in the city of Aleppo and snapped this picture of Ahmed to illustrate how savage the war has become.
"When you are on the front line, it's very easy to bond with those around you," Piccolomini told The Times of London. "They took me as one of them. I crawled, ducked, jumped, yelled and breathed everything they did. I watched them die."
Teenagers and youngsters have increasingly been drawn into the two-year conflict, which has killed more than 70,000 people.
More than 4,200 of the dead have been children, according to an opposition group. The UN regards the recruitment or even volunteer enlistment of youths under the age of 18 as a war crime.
But Human Rights Watch, which has monitored the struggle to bring down President Bashar al-Assad's regime, found several boys in Syria last year who said they had been recruited and trained to fight.
The cost of the war to Syria's youth was underscored yesterday when mortar fire killed at least 10 students at Damascus University, authorities said.
State-run TV blamed the rebels for the attack on an open-air campus cafeteria. It showed footage of plastic tables and chairs toppled, shattered glass and pens and books scattered on the floor.
The Britain-based Syrian Observatory for Human Rights confirmed the attack, saying 13 were killed and many of the 20 wounded were in critical condition.
"No one anywhere in the world can imagine a more criminal act than this," the state-run SANA news agency quoted Amer al-Mardini, the president of the university, as saying.
Anti-Bashar activists accused the regime of launching the attack to tarnish the opposition's image. Last weekend, rebel groups sent out warnings on the Internet, saying they planned to intensify strikes on government and military sites in Damascus in what they called "Operation Shaking the Fort."
But other shellings have occurred near civilian targets, including the Sheraton Hotel and a soccer stadium, both on Damascus' west side. Mortar shells also have struck in areas to the east, like the Christian neighborhood of Bab Touma.
The United Nations said on Monday it would withdraw about half of its international staff from Damascus after a mortar bomb landed near their hotel.
Also yesterday, Russia harshly criticized the Arab League's recognition of the Syrian opposition as the only representative of the country.
It said the league's decision at a summit in Qatar to let the main opposition group take over Syria killed efforts to negotiate a peaceful end to the civil war.
Russia has been Assad's main supporter throughout the conflict.
Original article here.
We welcome your comments, but please comply with our
Comment Rules.
You must be registered and logged in to leave a comment. Comments will display your Username and location.
Log In »
Notable Quotables

"Mr. Netanyahu is one of the most media-savvy politicians on the planet. On Friday he appeared live via video link on 'Real Time with Bill Maher,' taking the host's alternately sardonic and serious line of questioning with gazelle-like alacrity."

~  Anthony Grant, jourrnalist who has written for many major newspapers and worked in television at Paris and Tel Aviv, interviewing former PM Benjamin Netanyahu on Monday, at the outset of Mr. Netanyahu's new book (more here).