Archives

AND MORE...


Russia Won't Invade Ukraine?
_____________________


Befuddled Responses
_____________________


Our Whisperer-in-Chief
_____________________


Go Ahead, Make Our Day
_____________________
May 8, 2014
Battling The Jew-Haters
A group of Ukrainian Jews with combat skills – who have served in either the Ukrainian or Israeli armies, or have martial arts skills – have formed a 'rapid intervention force' to stop anti-Semitic attacks that have been occurring in Kiev (see story below).
This spate of anti-Semitic attacks comes against the backdrop of Russia's invasion. So who's committing them?
It's unclear, but the cartoon below is a good deconstruction of the so-called "Ukraine crisis":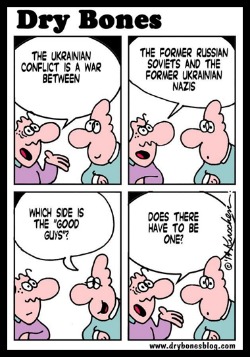 Times of Israel | May 8, 2014
Armed With Bats, Kiev Jews Look To Combat Anti-Semitism
Members of eight-man unit set up in recent weeks in Ukrainian capital have IDF experience or martial arts skills
By JTA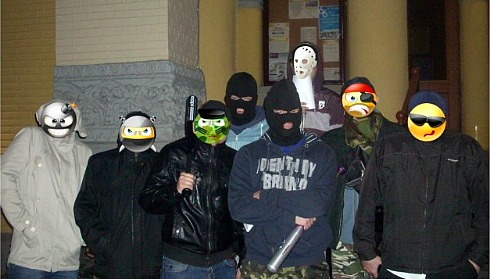 Members of Kiev's Jewish rapid-intervention force, some with faces masked digitally by emoji. (photo credit: JTA/Courtesy)
Ukrainian Jews with combat skills formed a rapid intervention force to stop anti-Semitic attacks.
The force, which was set up in recent weeks, currently is made up of eight men who served in the Ukrainian or Israeli armies or have martial arts skills, the team's founder, Tzvi Arieli, told JTA Thursday.
The defenders are armed with baseball bats that an American donor whose family hails from Kiev sent the team, he added. "We are trying to raise funds for bullet-proof vests which would greatly increase safety if the situation escalates," said Arieli, a Latvia-born former soldier of a special forces unit in the Israel Defense Forces who lives in Ukraine.
Arieli said he set up the task force — which now has its own Facebook page – at the request of Rabbi Yaakov Dov Bleich, a chief rabbi of Ukraine, following a series of anti-Semitic attacks that occurred in Kiev and beyond in the wake of a bloody revolution that erupted in November over former Ukrainian President Viktor Yanukovych's alleged corruption and perceived allegiance to Russia.
Yanukovych was ousted from power in February. The following month, Russian-backed troops seized control of the Crimean Peninsula – an area which used to belong to Ukraine and which Russia promptly annexed, claiming residents had sought Russian protection for fear of Ukrainian nationalism in the post-revolution period. Hundreds have died in clashes between different interest groups and militias.
"In talks with officials, it became clear the authorities could offer limited protection to the Jewish community so we needed to take security into our own hands," said Arieli, who in March helped organize the medical evacuation of Ukrainians who had been wounded in fighting to Israel. He said the self-defense team was acting with Ukrainian authorities' knowledge and consent.
Arieli also noted that Ukraine, where anti-Semitic assaults used to be rare occurrences, has seen four serious physical assaults against Orthodox Jews and two attempts to torch synagogues.
"These attacks were well-planned," said Arieli, who blamed pro-Russian militants whom he said were trying to justify Russian aggression.
The Kremlin and some pro-Russian Ukrainians have blamed far-right Ukrainians for the attacks.
"The current reality means that even tomorrow we could find 20 people with firebombs outside the synagogue. We need to be prepared," said Arieli.
The team is scheduled to deploy on Friday in Kiev to fend off any violence against Jewish targets during events that commemorate the May 9 surrender 69 years ago of Nazi Germany to the Russian army.
Original article here.
We welcome your comments, but please comply with our
Comment Rules.
You must be registered and logged in to leave a comment. Comments will display your Username and location.
Log In »
Notable Quotables

"Mr. Netanyahu is one of the most media-savvy politicians on the planet. On Friday he appeared live via video link on 'Real Time with Bill Maher,' taking the host's alternately sardonic and serious line of questioning with gazelle-like alacrity."

~  Anthony Grant, jourrnalist who has written for many major newspapers and worked in television at Paris and Tel Aviv, interviewing former PM Benjamin Netanyahu on Monday, at the outset of Mr. Netanyahu's new book (more here).