Archives

AND MORE...


Make-Believe Foreign Policy
_____________________


Obama's Global Fantasies
_____________________


Stuck on Arrogant
_____________________


Laughingstocks of the World
_____________________
February 28, 2014
Russia Won't Invade Ukraine?
The piece below, written by respected investigative journalist, Eli Lake, is from yesterday. Lake wrote:
"U.S. intelligence estimates conclude that Russia has no intention of invading Ukraine. This, despite the launch of a massive, new Russian military exercise near Ukraine's border and moves from armed men to seize two key airports in the country's Crimea region."
Except as of this posting, i.e., one day after the above-referenced intelligence estimates, Russia has launched an 'armed invasion' into Crimea; Ukraine has appealed to the UN Security Council; and President Obama has offered a brief statement on the situation, from the White House before rushing off to a Democratic Party gathering across town, where he told the audience: "It's Friday, it's after 5:00 pm, so this is now officially Happy Hour with the Democratic Party." (Reminiscent of Benghazi, when Obama made a brief statement in the Rose Garden before flying off to a Las Vegas fundraiser.)
So why are we posting this piece today? Because the folks who issued yesterday's intelligence estimates that Russia had no intention of invading Ukraine, are the same folks telling us today that Iran isn't pursuing a nuclear bomb.
The Daily Beast | February 27, 2014
Putin's Bluff: U.S. Spies Say Russia Won't Invade Ukraine
American intelligence has concluded that Russia won't openly invade Ukraine, despite a massive military exercise on the border and the armed takeover of local airports.
By Eli Lake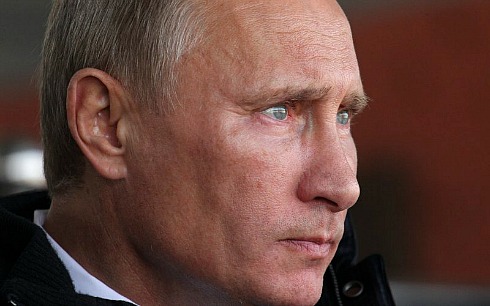 Russian President Vladimir Putin (Photo by Sasha Mordovets/Getty)
U.S. intelligence estimates conclude that Russia has no intention of invading Ukraine. This, despite the launch of a massive, new Russian military exercise near Ukraine's border and moves from armed men to seize two key airports in the country's Crimea region.
The latest developments led Ukraine's interior minister Arsen Avakov Friday to accuse Russia of invading the Russian majority province of Crimea after armed militias took control of the civilian airport in Simferopol, the region's capital and the military airport in Sevastopol, where Russia's Black Sea fleet is based. Russian authorities meanwhile have denied any responsibility for the seizure of the two airports in the region.
On Wednesday Russia's president, Vladimir Putin, ordered 150,000 troops to take part in a military exercise his defense minister said was a routine test of combat readiness. A senior U.S. intelligence official told The Daily Beast that the timing of the military exercise, coming only days after the Ukrainian parliament voted to oust the pro-Russian president, Viktor Yanukovych, was suspicious. But nonetheless, U.S. intelligence agencies have collected no information suggesting the training exercises were preparation for an invasion.
"The mere fact of the timing when you consider what is going on in Ukraine and you see the sudden nature of the exercise would cause concern," this official said. "From an intelligence perspective we don't have any reason to think it's more than military exercises."
The assessment is based in part on the fact that not enough medical units have been ordered to accompany the Russian troops to the Ukrainian border to suggest preparation for war, according to one Congressional staffer who has seen intelligence on Russia. This source also said no signal intercepts have detected plans for an invasion.
On Thursday, Secretary of State John Kerry acknowledged that he had been assured in conversations with Russian Foreign Minister Sergei Lavrov that Russia respected the territorial integrity of Ukraine. Nonetheless, Kerry is urging all sides to stand down. Earlier in the week, Kerry warned Russia's leader not to mistake the current conflict in the Ukraine for Rocky IV, the 1985 movie about a steroid-addled Soviet boxer who is eventually defeated by the American, Rocky Balboa.
"We believe that everybody now needs to step back and avoid any kind of provocations," Kerry told reporters in Washington Thursday.
Since Sunday, senior U.S. officials have publicly warned Russia not to escalate the already delicate situation in the Ukraine. At a conference for the North Atlantic Treaty Organization in Brussels, Belgium, Secretary of Defense Chuck Hagel said, "We expect other nations to respect Ukraine's sovereignty and avoid provocative action. That's why I'm closely watching Russia's military exercises along the Ukrainian border, which they just announced yesterday."
The stand off over Ukraine marks a low point in U.S.-Russia relations for President Obama. In 2009 he touted a "reset" in the relationship that had frozen in the last year of the Bush administration after Russia invaded two provinces of Georgia, a former Soviet Republic. This fall, Kerry and Obama touted Russia's offers to help destroy Syria's chemical weapons stocks as evidence of a mutually beneficial relationship with Moscow. But the Ukraine crisis pits the two former Cold War rivals in opposition. The now deposed Ukrainian president sparked the first protests in Kiev after he ended talks with the European Union over integrating his country with Europe. Putin has made it clear that he would like Ukraine to remain more closely tied to Russia than to the west.
The exercises have also raised concerns from top Republicans. Rep. Howard "Buck" McKeon, the Republicans chairman of the House Armed Services Committee, was even wistful for the end of the cold war when America's military budget was fattened to outspend the Soviet Union. "Look what's happening in the Ukraine. Russia is now putting a 150,000 troop exercise on the border with the Ukraine. Russia is a problem," McKeon said. "What, are we going to put troops on the other side of the border in Ukraine?"
One potential flashpoint will be Russian military installations in the Ukrainian province of Crimea.
Fiona Hill, the director of the Center on the United States and Europe at the Brookings Institution, said she did not expect Russia to launch a land invasion into Ukraine. She did however say that the Russian Navy's presence in the Black Sea port of Sevastopol in the Crimea would be a potential flash point. "There is one place where they could indeed do something militarily, Crimea," Hill said. "If there was any kind of threat to the bases, they could mobilize their forces."
Russian intervention in Crimea would depend, according to Hill, on whether the current tensions in that province escalate. On Thursday masked gunmen reportedly stormed the regional parliament building in Crimea and hoisted Russian flags.
"Let's say things move beyond attacks on administrative buildings in Crimea to attacks that start to move against the Russian Black Sea fleet installations or there is an attack on Russian soldiers or civilian workers," Hill said. "Then this could be a trigger for Russian action. So far we have not seen anything like that."
Original article here.
We welcome your comments, but please comply with our
Comment Rules.
You must be registered and logged in to leave a comment. Comments will display your Username and location.
Log In »
Notable Quotables

"Mr. Netanyahu is one of the most media-savvy politicians on the planet. On Friday he appeared live via video link on 'Real Time with Bill Maher,' taking the host's alternately sardonic and serious line of questioning with gazelle-like alacrity."

~  Anthony Grant, jourrnalist who has written for many major newspapers and worked in television at Paris and Tel Aviv, interviewing former PM Benjamin Netanyahu on Monday, at the outset of Mr. Netanyahu's new book (more here).