Archives

AND MORE...


Turkey (or U.S.) Problem?
_____________________


U.S. Grants Exemptions From Iran Sanctions
_____________________



Turkeys
_____________________


Bypassing Sanctions... Again
_____________________


Another Day in Centrifuge-Land
_____________________

March 14, 2013
Axis of Something
German prosecutors are accusing Turkey of exporting to Iran nearly 1,000 items with "nuclear applications," through multiple front companies that Iran has established in Istanbul (see below).
Iran has "really perfected the art of sanctions evasion, and we've seen them do that in response to every round [of sanctions]," said Kristen Silverberg, a former U.S. Ambassador to the European Union.
So our question is: Why does the US (and the world) continue to delude itself into believing that sanctions work?
If sanctions are intended to stop Iran's nuclear program, but they don't - Iran and the IAEA like to remind us on a daily basis that Iran is making progress and moving full speed ahead with its nuke building - then sanctions are obviously NOT working.
Now, as for our so-called friends, the Turks, besides bad-mouthing U.S. ally, Israel, they appear to be busy bees helping Iran skirt sanctions, as well as funding terrorist group, Hamas. Yet as reported here a week ago, the U.S. is planning on gifting Turkey two U.S. warships.
So our question is: What part of friends-do-not-aid-enemies does the American government NOT understand?
Washington Free Beacon | March 14, 2013
Nuke Program? Turkey's Got An App for That
Reports: Germans accuse Turkey of exporting items with 'nuclear applications'
to Iran
By Adam Kredo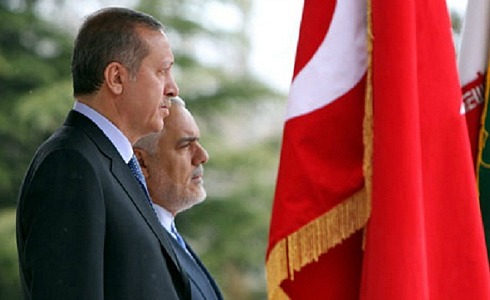 Iranian vice president Mohammad-Reza Rahimi and Turkish PM Tayyip Erdogan during a welcome ceremony in Tehran. Photograph: Abedin Taherkenareh/EPA; Courtesy: guardian.co.uk
German prosecutors have accused Turkey of exporting to Iran nearly 1,000 items with "nuclear applications," according to German and Turkish media reports.
German prosecutors allege Iran has established multiple "front companies" in Istanbul, accordingto Today's Zaman, an English-language publication in Turkey. These illicit companies are believed to have shipped nuclear-related material back to Iran.
Kristen Silverberg, a former U.S. Ambassador to the European Union, said Iran has a history of using front companies as a means to skirt sanctions.
"The Iranian regime has a long practice of using front companies" to evade sanctions and conduct illicit business affairs, Silverberg, who serves as president of United Against Nuclear Iran, a non-partisan advocacy group, told the Washington Free Beacon.
Iran has "really perfected the art of sanctions evasion, and we've seen them do that in response to every round [of sanctions], which is why it's so important for the U.S. and its allies to identify the front companies and continue to sanction them and any country abetting them," Silverberg said.
News of the nuclear exports comes just days after German and Turkish officials busted several Iranian smugglers suspected of transferring nuclear goods from India to Iran.
German and Turkish officials conducted raids in each country on Monday, capturing several Iranian suspects. Three other suspects remain at large.
"In 2012 German police detected that materials with nuclear applications obtained in Germany and India were transported to the Mitech company in Iran through Turkey by an Iranian national, Hossein Tanideh," Today's Zaman quoted the German report as saying.
Tanideh was captured in Turkey earlier this year.
"Germany's Federal Criminal Police Office, which is also the German branch of Interpol, informed its counterpart in Turkey about Tanideh's dealings, and Tanideh was arrested," according to the report.
German officials were reportedly able to trace Tanideh's activities to back several of the Iranian front companies.
The investigation revealed that Tanideh was tied to several business owners who were exporting material to Iran.
"As part of the investigation, a thorough search was conducted at IDI, a foreign trade company owned by Tanideh," Today's Zaman reported. "Police raided the main office of the company in Bak?rköy, ?stanbul, and seized all the documents in the office."
The seized documents showed that Tanideh and one of his business associates "sent the materials with nuclear applications they got from Germany and India to Mitech in Iran and declared them as plumbing parts and fixtures," according to the report.
Turkish police are believed to have learned from these documents that 91 nuclear-related items were funneled from Germany to Turkey on multiple occasions before making their way to Iran.
Another 856 nuclear items were shipped from India to Turkey and then to Iran at various points, according to the report.
"Despite six years of sanctions Iran is still capable of procuring critically vital, made-in-Europe dual use technology for its nuclear weapons' program," said Emanuele Ottolenghi, a Germany-based senior fellow for the Foundation for Defense of Democracies.
"Dozens of front companies still operate in Europe under the nose of local authorities," he said. "The mushrooming of Iranian companies in Turkey is clearly related—obtaining export licenses to this NATO member state is relatively easy."
By using Turkey as a conduit, "Iran is able to elude sanctions," Ottolenghi explained. "European authorities must do much more to stop this traffic and demand much more vigilance from Turkey since, by now, there are more than 3,000 Iranian companies registered in Turkey."
Iran sanctions experts questioned whether Turkish officials had quietly allowed these shipments to take place.
"The big question is: Did Ankara know about this procurement network before the Germans blew the lid off?" said Jonathan Schanzer, a former terrorism finance analyst at the U.S. Treasury Department.
Iran and Turkey continue to expand business ties.
"A good number of Iranian-financed firms have set up shop in Turkey recently," Today's Zaman reported. "In January this year, there were 28 Iranian-funded foreign companies established in Turkey, which ranked just behind German investors."
Turkey has been implemented in a series of troublesome actions meant to skirt Western sanctions on Iran.
Turkey's Halkbank, a majority state-owned lender, faced scrutiny for carrying out so-called "gold for oil" transactions with Iran. It is believed that Turkey traded more than 60 tons of gold in exchange for Iranian crude oil.
Regional reports have also indicated that Turkey may trade ships to Iran in exchange for oil in another scheme meant to skirt Western sanctions.
Turkey has also been suspected of funding the terror group Hamas, leading experts to wonder if the nuclear-export fiasco reveals a growing terrorism problem in Turkey.
These exports, "coupled with Halkbank's gas for gold scheme, coupled with Hamas funding, coupled with Turkey's failure for five years to comply with international standards for terror finance laws paints a very troubling picture of Turkey," said Schanzer, who serves as vice president of research at the Foundation for Defense of Democracies.
Former Pentagon adviser Michael Rubin said these front companies appear legitimate but are actually tools of the Iranian Revolutionary Guards Corps (IRGC).
"The economic wing of the Revolutionary Guards runs a number of front companies for seemingly legitimate purposes," Rubin said. "The Iranians can use these companies' Turkish partners to access a lot of dual use technology that Iran could never import directly. That's hard enough to keep track of under normal circumstances, but we're saddled with a Turkish government that sees Obama's professed friendship as evidence that they can literally get away with murder."
Original article here.
We welcome your comments, but please comply with our
Comment Rules.
You must be registered and logged in to leave a comment. Comments will display your Username and location.
Log In »
Notable Quotables

"Mr. Netanyahu is one of the most media-savvy politicians on the planet. On Friday he appeared live via video link on 'Real Time with Bill Maher,' taking the host's alternately sardonic and serious line of questioning with gazelle-like alacrity."

~  Anthony Grant, jourrnalist who has written for many major newspapers and worked in television at Paris and Tel Aviv, interviewing former PM Benjamin Netanyahu on Monday, at the outset of Mr. Netanyahu's new book (more here).