Archives

AND MORE...


Surprise!
_____________________


BOHICA, America
_____________________


On Our Way Out
_____________________


Confrontation Confirmed
_____________________

Chinese Navy: "You Go!"
_____________________


President Bamlet Dithers
_____________________


China: Don't Make Fools Of Yourselves
_____________________


New World Order
_____________________
October 20, 2016
About That Pivot To Asia-Pacific
Remember President Obama's "pivot" to Asia-Pacific?
Well, as we wrote at the time (e.g., here, here, here, here, and here), after betraying our allies, emboldening our enemies and leaving the Middle East in tatters, Obama pivoted to Asia-Pacific, and that pivot has resulted in one big FAIL.
Why? Because as President Bamlet dithered, China modernized and remilitarized; built artificial islands with military bases and airfields in the disputed waters of the South China Sea (China illegally claims sovereignty over most of the South China Sea, although the Philippines, Vietnam, Malaysia, Brunei, and Taiwan have overlapping claims); and became more bellicose in confronting American warships entering the South China Sea and threatening U.S. surveillance planes flying over the islands. In 2015, China conducted its first ever naval exercises in the Mediterranean, together with Russia, demonstrating the strengthening bond between Moscow and Beijing. Both see their combined might as a counterbalance to US power.
Now Philippines President Rodrigo Duterte has declared his "separation" from longstanding ally the United States (see below). Duterte made the announcement on Thursday while visiting Beijing, as he rebalances his country's diplomacy towards China.
The visit capped a series of recent declarations made by Duterte blasting the US and President Barack Obama, and saying the Philippines had gained little from its long alliance with the US, its former colonial ruler.
Duterte has also suspended joint US-Philippine patrols in the strategically vital South China Sea, and has threatened an end to joint military exercises.
And so, nearing the end of his term, President Bamlet remains "captive to an ideology that distrusts the United States and is crippled by a deep disdain for our military."
As Lt Colonel Ralph Peters wrote last year about Obama: "He is the wrong man in the wrong place at the wrong time, and our country will need decades to extinguish the strategic fires he's allowed to burn out of control."
Yahoo News  |  October 20, 2016
Philippines' Duterte, In China, Announces 'Separation' From US
By AFP
Beijing (AFP) - Philippines' President Rodrigo Duterte declared his "separation" from longstanding ally the United States in Beijing on Thursday, as he rebalances his country's diplomacy towards China.
Duterte is in China for a four-day trip seen as confirming his tilt away from Washington and towards Beijing's sphere of influence -- and its deep pockets.
"I announce my separation from the United States," he said to applause at a meeting in the Chinese capital.
"America does not control our lives. Enough bullshit," he added in a rambling speech that flipped between languages.
"How can you be the most powerful industrial country when you owe China and you are not paying it?"
His comments came after he met his Chinese counterpart Xi Jinping at the Great Hall of the People on Tiananmen Square, with the two men pledging to enhance trust and friendship, while playing down a maritime dispute.
Xi called the two countries "neighbours across the sea" with "no reason for hostility or confrontation", the official Xinhua news agency said.
Under Duterte's predecessor Benigno Aquino the two countries were at loggerheads over the South China Sea -- where Beijing has built a series of artificial islands -- but since taking office in June the new head of state has changed course.
In a statement, the Chinese foreign ministry cited Xi as telling Duterte their emotional foundation of friendly good neighbourliness was unchanged, and difficult topics of discussion "could be shelved temporarily".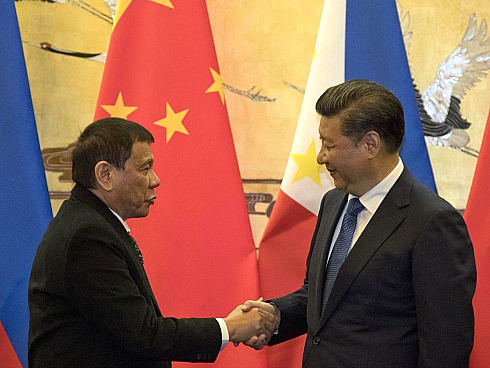 Philippines President Rodrigo Duterte, left and Chinese President Xi Jinping shake hands during the Beijing visit. Getty Images
Duterte called the meeting "historic", it added.
His visit to Beijing capped a series of recent declarations blasting the US and President Barack Obama.
Addressing the Filipino community in Beijing Wednesday, the firebrand leader said the Philippines had gained little from its long alliance with the US, its former colonial ruler.
He also repeated his denunciation of Obama as a "son of a whore".
China, he said earlier, was "good". "It has never invaded a piece of my country all these generations."
- 'Candid and friendly' -
Duterte has also suspended joint US-Philippine patrols in the strategically vital South China Sea, and has threatened an end to joint military exercises.
The South China Sea is of intense interest to Washington and it has repeatedly spoken out on the various territorial disputes between China and its neighbours over the waters.
Tensions have risen between the US and China over Washington's so-called "pivot" to the Asia-Pacific, a move that Beijing says is intended to contain it.
In 2012, China seized control of Scarborough Shoal, a fishing ground in the Philippines' exclusive economic zone.
In a case brought by Aquino, the Philippines won a resounding victory at an international tribunal earlier this year over Beijing's extensive territorial maritime claims in the area, infuriating the Asian giant.
But Duterte, who took office in June shortly before the tribunal ruling, has made a point of not flaunting the outcome.
Asked whether the leaders had discussed the South China Sea, the foreign ministry's spokesperson Hua Chunying said they had a "candid and friendly exchange of views on how to resolve relevant disputes".
Their meeting represented a "return to the right track of dialogue and consultation" she said, adding China was willing to make "relevant arrangements" to cooperate on fishery issues.
- 'Full recovery' -
The meeting between Xi and Duterte marked a "full recovery" of the "traditional friendship" between the two countries, Chinese vice minister Liu Zhenmin said, according to a transcript released by the Philippine president's office.
They oversaw the signing of 13 bilateral cooperation documents on business, infrastructure, and agriculture, among other fields, he added.
Beijing also has offered the Philippines a $9 billion soft loan for development projects, a statement from the Philippine presidential press office said.
About $15 million of the promised loans will be earmarked for drug rehabilitation programmes amid Duterte's anti-drug campaign, which has killed thousands of people and raised concern abroad of human rights violations.
China will also lift bans on 27 Philippine tropical fruit export companies. Previous sanctions on fruit were intended to punish Manila for its South China Sea stance.
Original article here.
We welcome your comments, but please comply with our
Comment Rules.
You must be registered and logged in to leave a comment. Comments will display your Username and location.
Log In »
Notable Quotables

"Don't threaten us with cutting off your aid. It will not work. I am not a Jew with trembling knees. I am a proud Jew with 3,700 years of civilized history. Nobody came to our aid when we were dying in the gas chambers and ovens. Nobody came to our aid when we were striving to create our country. We paid for it. We fought for it. We died for it. We will stand by our principles. We will defend them. And, when necessary, we will die for them again, with or without your aid."

~  Israeli PM Menachem Begin, in June 1982 at height of Lebanon War, responding to then Senator Joe Biden in front of Senate Foreign Relations Committee, after Biden had attacked Israeli settlements in Judea and Samaria and threatened to cut economic aid to Israel (more here).