Archives

AND MORE...


We Lied
_____________________


Oops, They Meant It...
_____________________


Another Day in Centrifuge-Land
_____________________


Weak & Confused
_____________________
November 21, 2012
WRONG... Again
Anyone shocked, shocked to hear that Iran supplied Hamas in Gaza with the technology to "quickly" produce longer-range missiles on their own without needing direct shipments (see below)?
We're not. And contrary to VP Foot-in-Mouth Biden's claims during the vice presidential debates that Iran does not have the means to deliver a nuclear bomb on Israel's head... here's a way, Joe!
As for the Iranian regime, well, history has taught us that if their lips are moving, they're lying.
Times of Israel | November 21, 2012
Iran Says It Supplied Hamas With Long-Range Missile Technology
Tehran provided Gaza fighters with information necessary to produce their own Fajr-5 rockets, Revolutionary Guard head announces
By AP and Elhanan Miller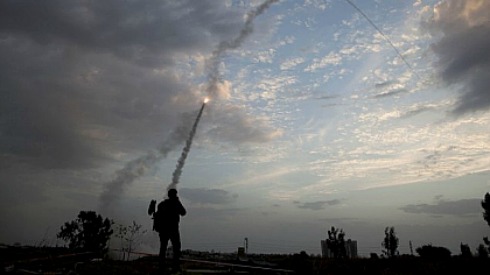 An Iron Dome missile is launched in Tel Aviv, to intercept a rocket fired from Gaza, Saturday, November 17, 2012 (photo credit: AP/Oded Balilty)
TEHRAN — Iran has supplied Hamas in Gaza with the technology to "quickly" produce longer-range missiles on their own without needing direct shipments, said a report Wednesday that quoted the head of Iran's Revolutionary Guard.
The comments by Gen. Mohammad Ali Jafari offer some of the clearest insights on Iran's weapons support for Hamas, whose Iranian-engineered Fajr-5 missiles have struck near Tel Aviv and Jerusalem during a weeklong battle with Israel.
"Gaza is under siege, so we cannot help them. The Fajr-5 missiles have not been shipped from Iran. Its technology has been transferred and [the missiles are] being produced quickly," Jafari was quoted as saying by the semiofficial ISNA news agency.
Jafari said Iran supports a ceasefire "that will serve the interests of resistance in Palestine."
His comments came a day after Palestinian Islamic Jihad official Ziad Nakhaleh Ziad Nakhaleh said that the missiles themselves were delivered from Iran. Iran has repeatedly denied it directly supplied Hamas with the Fajr-5. The ISNA report gave no further details on the level of missile know-how sent to Gaza or the channels used.
Israel charges that Iran sends weapons, including rockets, to Gaza through a network of smuggling tunnels under the 15-kilometer (9-mile) border between Gaza and Egypt.
Iran also backs the anti-Israel faction Hezbollah in Lebanon, which fired thousands of rockets into Israel during a monthlong 2006 war.
Iran's parliament speaker, Ali Larijani, meanwhile, said his country was "honored" that Iran could help Palestinians with "material and military aspects." He did not elaborate.
"We will stand with the Palestinians even in the most difficult of times," Larijani said.
He criticized Arab countries for failing to help arm Hamas and other Palestinian group. "The Palestinian nation does not need speeches and meetings. Arab countries should send military aid," he was quoted as saying by the semiofficial Fars news agency.
Iran's Supreme Leader Ayatollah Khamenei also chided other Muslim nations for not rallying behind Gaza in the latest showdown with Israel.
"Some of them sufficed with words, and some others did not condemn" Israel, Khamenei said, according to the official Islamic Republic News Agency.
Israel has carried out hundreds of airstrikes in Gaza over the past week in an operation meant to stop rocket salvos by Gaza terrorists at Israel.
Iran and Israel are bitter enemies, and the two nations are locked in a deepening dispute over Iran's nuclear program. The West and others fear Iran could eventually produce nuclear weapons, and Israel has left open the option of staging a military strike at its nuclear facilities.
Original article here.
We welcome your comments, but please comply with our
Comment Rules.
You must be registered and logged in to leave a comment. Comments will display your Username and location.
Log In »
Notable Quotables

"Mr. Netanyahu is one of the most media-savvy politicians on the planet. On Friday he appeared live via video link on 'Real Time with Bill Maher,' taking the host's alternately sardonic and serious line of questioning with gazelle-like alacrity."

~  Anthony Grant, jourrnalist who has written for many major newspapers and worked in television at Paris and Tel Aviv, interviewing former PM Benjamin Netanyahu on Monday, at the outset of Mr. Netanyahu's new book (more here).