Archives

AND MORE...


Selective Amnesia
_____________________



Gradually, Then Suddenly
_____________________


Why Does History Repeat Itself?
_____________________


The Royals & The Nazis
_____________________
June 12, 2016
When Nazis Landed On LI
Below is an article that appeared in the New York Post this past weekend. The piece, entitled "How Nazi Spies Landed In The Hamptons For Secret Mission" relays the story of a Nazi rubber raft that landed on the beach at Amagansett, Long Island in 1942.
A story that ended well, although let's hope the Coast Guard and military have learned from it, because the good ending was based on pure luck.
New York Post  |  June 11, 2016
How Nazi Spies Landed In The Hamptons For Secret Mission
By Bill Sanderson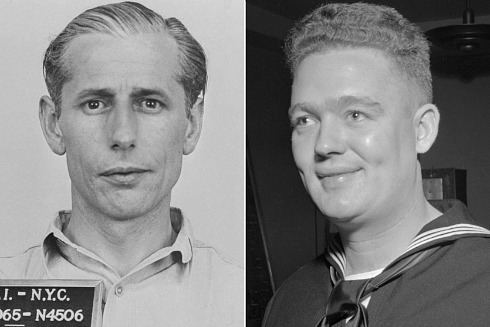 George Dasch (left), Coast Guard Ensign John Cullen Photo: Bettman Archive
Shortly after midnight on June 13, 1942, German navy Capt. Hans-Heinz Linder steered submarine U-202 into a sandbar 100 yards off Long Island.
On deck, his crew lowered a big rubber raft into the water.
Two sailors climbed in, along with three men in Nazi uniforms and one man in civilian clothes. George Dasch, the group's leader, refused to wear the uniform.
Through the fog, Dasch glimpsed the beach at Amagansett, a place he knew well. He was once a waiter at restaurants in Manhattan and Long Island's East End. Now he was leading the first foreign invasion of American soil since the War of 1812.
Dasch and the three uniformed men were on a sabotage mission conceived by Adolf Hitler himself.
Several wooden boxes loaded into the raft contained explosives and other weapons of destruction. Hitler hoped Dasch and his men would wreak havoc on American factories, railroads and other infrastructure.
Dasch clutched a satchel containing roughly $85,000 in cash meant to fund the operation. His men were busy burying their cache of weapons and explosives when Coast Guard Ensign John Cullen approached.
Cullen — who was based at the Amagansett Coast Guard station, barely a half-mile from the Germans' landing spot — was on his nightly beach patrol. He was not armed.
Dasch gave Cullen a cover story: they were four fishermen from Southampton headed for Montauk, but their boat ran aground. "I don't believe I know where I landed," Dasch said. Cullen answered that he was in Amagansett and suggested the men return with him to his station.
Dasch pushed him away. "You don't know who I am, and you don't know what I am intending — why I am here," he said. "But please. You have a mother and you have a father. I don't want anything to happen to you. You have done your duty.
"Take a good look at my face. Look into my eyes," Dasch said. "Would you recognize me if you saw me again?"
"No, sir," Cullen said. "I never saw you before." Dasch pressed $300 into his hand. "You never saw this operation," he said. "Take the money and run." Which Cullen did.
Back at the Coast Guard station, Cullen alerted his superiors. Some got to the beach in time to glimpse the submarine heading away. They could even smell its engine fumes. Soon they found the Nazis' explosives. But Dasch and his men were gone.
The Americans should have checked at Amagansett station. There the Germans caught the 6:59 a.m. Long Island Rail Road train to Manhattan.
Dasch went on a 36-hour gambling bender at a Midtown bar, winning $250 at pinochle. Then he got a train to Washington — where he was soon captured by the FBI. Agents rounded up the rest of his crew in New York.
Dan Rattiner, the founder of Dan's Papers, an East End weekly newspaper, has a new take on the story of George Dasch and his band of Nazi saboteurs. Rattiner is working on a book, "The Night the Nazis Landed," and believes Dasch, disillusioned with the Nazi movement, never intended to carry out his sabotage mission.
"He was a good guy," Rattiner said.
Original article here.
We welcome your comments, but please comply with our
Comment Rules.
You must be registered and logged in to leave a comment. Comments will display your Username and location.
Log In »
Notable Quotables

"Mr. Netanyahu is one of the most media-savvy politicians on the planet. On Friday he appeared live via video link on 'Real Time with Bill Maher,' taking the host's alternately sardonic and serious line of questioning with gazelle-like alacrity."

~  Anthony Grant, jourrnalist who has written for many major newspapers and worked in television at Paris and Tel Aviv, interviewing former PM Benjamin Netanyahu on Monday, at the outset of Mr. Netanyahu's new book (more here).