Archives

AND MORE...


Some Inconvenient Facts
_____________________


Dear World
_____________________


Where's The Outrage?
_____________________


Another Genocidal Mufti of Jerusalem
_____________________


For 'Low-Info' Voters
_____________________
October 22, 2015
United Dregs of Humanity
UNESCO (the United Nations Educational, Scientific, and Cultural Organization) on Wednesday passed an Arab-sponsored (of course) resolution listing two ancient Jewish holy sites – the Cave of the Patriarchs in Hebron and Rachel's Tomb in Bethlehem – as "Muslim" sites (see below).
No joke. UNESCO on Wednesday decided to openly placate Muslims by co-opting two ancient Jewish holy sites and condemning Israel for archaeological excavations in the Old City of Jerusalem, and Temple Mount 'aggression'.
All this comes as ISIS continues to pillage and destroy UNESCO World Heritage sites in Syria and Iraq, as Palestinians set fire to (twice) and destroy parts of Joseph's Tomb in Nablus, and as al Aqsa mosque is turned into a weapons depot by the perpetually aggrieved Palestinians.
Worth noting that during Jordan's occupation of East Jerusalem and the West Bank, from 1949-1967, Jordanians allowed the desecration and destruction of Jewish and Christian holy sites, antiquities, tombstones, and artifacts.
However since recapturing it in 1967, Israel has protected and preserved all holy sites, and allowed free and unfettered access to followers of all religions.
Yet UNESCO decided on Wednesday to aid and abet the Muslim world in its never-ending quest to erase any and all Jewish connection to Jerusalem, indeed all of Israel.
Which raises the question, btw, what is the significance of Jerusalem to Muslims? And the answer is, little if anything. Jerusalem is important to Muslims only because it's important to Jews.
The same Arab/Islamic leaders whining today about Israeli 'occupation' are the same Arab/Islamic leaders who showed zero interest in Jerusalem when it was under Jordanian occupation. In fact, as the Supreme Moslem Council wrote in its 1924 pamphlet: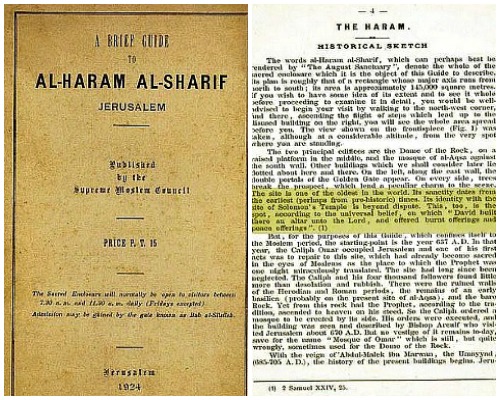 So SHAME on the Arab/Muslim world for its revisionist history, and SHAME on the United Nations for enabling it and again showing itself to be the United Dregs of Humanity.
IsraelNationalNews.com  |  October 21, 2015
UNESCO Passes Arab Resolution: Cave of Patriarchs 'Islamic'
Rachel's Tomb, Cave of the Patriarchs now listed as Muslim sites, Israel condemned over Temple Mount 'aggression.'

By Ari Soffer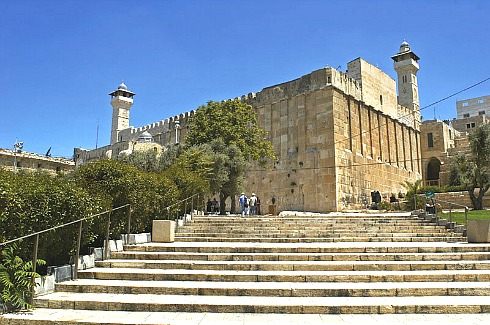 Cave of the Patriarchs in Hebron. Flash 90
UNESCO (the United Nations Educational, Scientific, and Cultural Organization) passed a resolution Wednesday listing the Cave of the Patriarchs in Hevron and Rachel's Tomb in Bethlehem as Muslim sites.
The resolution - which passed with 26 in favor, six voted against, and 25 abstentions - condemned Israel for archaeological excavations in the Old City of Jerusalem and particularly near the Temple Mount.
An initial draft of the resolution had also called for the Kotel (Western Wall) to be listed as an Islamic site - or more specifically as an "extension of the Al Aqsa Mosque" - but that detail was hastily withdrawn after widespread condemnation, including from UNESCO's own Director-General.
The revised draft also toned-down some of the more blatant anti-Israel language in the original, including referring to Jerusalem as the "occupied capital of Palestine."
Nevertheless, the resolution accepted Wednesday does co-opt two other ancient Jewish holy sites: the Cave of the Patriarchs and Rachel's Tomb, which contain the remains of the Jewish patriarchs and matriarchs and are regular sites of pilgrimage for Jewish worshipers.
Both sites, however, have seen Muslims lay claim to them as well - which including the building of mosques directly on top of the Jewish shrines.
The resolution was backed by six Arab UNESCO members - Algeria, Egypt, Kuwait, Morocco, Tunisia and theUnited Arab Emirates (UAE) - who spearheaded the initiative on behalf of the Palestinian Authority.
The only countries who voted against were the United States, Britain, Germany, the Netherlands, the Czech Republic and Estonia.
The resolution "deeply deplores the recent repression in East Jerusalem, and the failure of Israel, the Occupying Power (sic), to cease the persistent excavations and works in East Jerusalem particularly in and around the Old City."
It also calls for the "prompt reconstruction of schools, universities, cultural heritage sites, cultural institutions, media centers and places of worship that have been destroyed or damaged by the consecutive Israeli wars on Gaza."
Israel has in fact allowed construction materials into the Gaza Strip, but construction work has been moving at a snail's pace due to corruption and inefficiencies, as well as some donor states failing to deliver on their pledges of funding to the Hamas government.
AFP contributed to this report.
Original article here.

We welcome your comments, but please comply with our
Comment Rules.
You must be registered and logged in to leave a comment. Comments will display your Username and location.
Log In »
Notable Quotables

"The damage to the reputation of the United States is indescribable. We are now seen, and will be seen for many years, as an unreliable partner in any multinational agreement or operation. Trust in the United States is irreparably damaged."

~  From Open Letter penned three days ago, by nearly 90 retired US generals and admirals to Sec of Defense Lloyd Austin and Chairman of Joint Chiefs of Staff Gen Mark Milley, calling on them to resign from their positions over their handling of US withdrawal from Afghanistan (more here).