Archives

AND MORE...


"Friending" Terrorists
_____________________


Saudi Mufti: Twitter Full of Lies
_____________________


"Kissing Assad's Ass"
_____________________


Dumb, Dumber and Dumbest
_____________________


Top-Secret: New WMD
_____________________
January 3, 2013
Top-Secret: New WMD
Behold a new weapon of mass destruction, i.e., hashtags, courtesy of the Twit, er, Twitter world (see below).


Haaretz.com | January 3, 2013
Hamas Defeated IDF In Virtual Warfare During Gaza Conflict, Study Shows
Researcher says Israel's use of Twitter, Facebook during recent Gaza operation reflects a transformed approach to warfare, as world acknowledges importance of social networks during emergencies.
By Eli Ashkenazi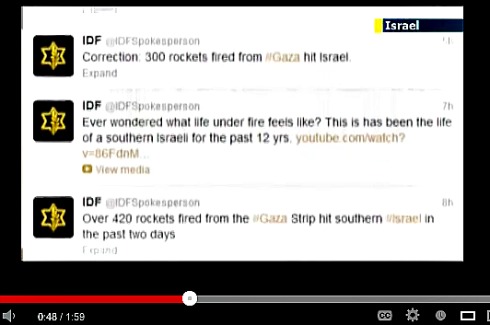 (Screenshot) Operation Pillar of Defense
The social networking activity of Hamas during Operation Pillar of Defense was more effective than that of the Israel Defense Forces, a study by an Israeli researcher has shown.
Tomer Simon, a researcher at the Department of Emergency Medicine and PREPARED Center for Emergency Response Research at Ben Gurion University in the Negev, followed the virtual battle by analyzing the Twitter accounts of the IDF Spokesman and Hamas during November's clashes. After conducting a comprehensive analysis of the hashtags used by each side, the number of mentions for each hashtag and the reactions they received, Simon determined that Israel was under harsher attack by international Web surfers.
"Social networking is based on interaction with the audience, unlike the conventional media, which are one-directional and act only to disseminate information," said Simon.
Simon's study found that the IDF refrained almost entirely from engaging in Twitter discussions, and in doing so failed to dominate the online discourse and the messages being transmitted.
"Using hashtags, the basic building block for managing topics and discussions on Twitter, was not done in a uniform and consistent way during the course of the operation," said Simon, "so that a large part of the information the IDF published 'got lost' and was viewed only by direct followers."
The hashtag #GazaUnderAttack, for example, led the online discourse, reaching a peak of 170,000 mentions in a single day, compared to only 25,000 mentions of #IsraelUnderFire, Simon's study showed. "The perception dominating the online discourse was that the IDF had embarked on an unjustified attack," he said.
However, Simon said the IDF had developed its approach to, and made an "impressive investment" in, social networking. "The IDF got prepared in advance and turned the social networks into a combat branch."
"In contrast to Operation Cast Lead and the Mavi Marmara incident, and perhaps as a lesson learned from those events, the IDF distributed visual information during Operation Pillar of Defense soon after events occurred. This allowed the IDF to be the first to report its strikes and show their accuracy," Simon said.
While acknowledging that the IDF "still has a long way to go with respect to understanding the dynamic of the social networks and how they work," Simon said "the IDF Spokesman waged an extensive battle; in practical terms it completed the construction of the IDF's strength on the social networks and today it has a channel or account on all the leading social networks."
Simon's study, which he undertook as part of his Master's thesis and as a basis for his doctoral thesis at the university, will be presented at the Multidimensional Resilience conference to be held on Sunday at Tel Hai College. According to Simon, Internet activity is very important to national resilience and strength.
"A significant part of modern warfare is in fact decided on the home front, and the home front's steadfastness depends on its narrative of victory, or its morale. This presents a tremendous challenge for policy makers and those who set the way for emergency preparedness," said Simon. "Image shaping, establishing morale, creating a narrative of victory and overcoming adversity on the home front is essential to this."
Simon noted that this relatively new area of study is developing rapidly. "The use of social networks during emergencies and disasters has been researched in depth since 2010, after their potential during such times was observed during the Haiti earthquake."
"Emergency services worldwide use social networks as a means of distributing information to the public during emergencies, information that could help populations deal with the events," said Simon. "Operation Pillar of Defense represents a conceptual change whereby, for the first time, the army used social networks for 'war' purposes: psychological warfare and propaganda, in an attempt to control the way the war was depicted and justify it to the world."
But in doing so, Simon noted, "both the IDF and Hamas violated Facebook's and Twitter's conditions of use by publishing posts and tweets that called for violence and escalation."
Original article here.
We welcome your comments, but please comply with our
Comment Rules.
You must be registered and logged in to leave a comment. Comments will display your Username and location.
Log In »
Notable Quotables

"Mr. Netanyahu is one of the most media-savvy politicians on the planet. On Friday he appeared live via video link on 'Real Time with Bill Maher,' taking the host's alternately sardonic and serious line of questioning with gazelle-like alacrity."

~  Anthony Grant, jourrnalist who has written for many major newspapers and worked in television at Paris and Tel Aviv, interviewing former PM Benjamin Netanyahu on Monday, at the outset of Mr. Netanyahu's new book (more here).