Archives

AND MORE....


Make-Believe Foreign Policy
_____________________


"Healthily Hard-Ass" Foreign Policy?
____________________


US Foreign Bungling Policy
____________________


Calling On US Billionaires
_____________________


U.S. Fumble Policy
_____________________
September 23, 2016
The Real Story
"There is perhaps only one thing harder for the American mind to process than the fact that President Obama has been a terrible foreign policy president, and that is that Bibi Netanyahu is an extraordinarily successful Israeli Prime Minister," writes Walter Russell Mead below.
And we agree. Wholeheartedly.
Obama is an academic; Bibi is a pragmatic leader.
Mead sums up it perfectly, when he writes:
"When and if American liberals understand the causes both of Bibi's successes and of Obama's setbacks, then perhaps a new and smarter era of American foreign policy debate can begin."
AMEN.
[p.s., Another lesson to be learned here is, never rely on the New York Times for any kind of insightful analysis.]
The American Interest  |  September 23, 2016
The Real Middle East Story
Precisely because he has a colder view of international affairs than Obama, Netanyahu's leadership has made Israel stronger than ever.
By Walter Russell Mead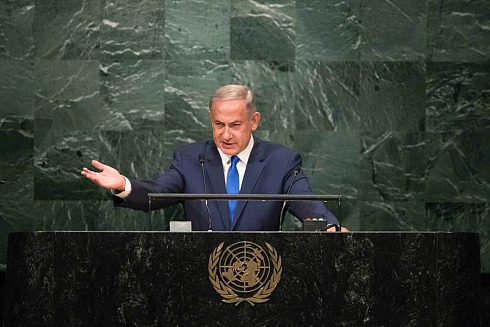 Prime Minister Benjamin Netanyau
Peter Baker notices something important in his dispatch this morning: at this year's UNGA, the Israel/Palestine issue is no longer the center of attention. From The New York Times:
They took the stage, one after the other, two aging actors in a long-running drama that has begun to lose its audience. As the Israeli and Palestinian leaders recited their lines in the grand hall of the United Nations General Assembly on Thursday, many in the orchestra seats recognized the script.
"Heinous crimes," charged Mahmoud Abbas, the Palestinian president. "Historic catastrophe."
"Fanaticism," countered Benjamin Netanyahu, the Israeli prime minister. "Inhumanity."
Mr. Abbas and Mr. Netanyahu have been at this for so long that between them they have addressed the world body 19 times, every year cajoling, lecturing, warning and guilt-tripping the international community into seeing their side of the bloody struggle between their two peoples. Their speeches are filled with grievance and bristling with resentment, as they summon the ghosts of history from hundreds and even thousands of years ago to make their case.
While each year finds some new twist, often nuanced, sometimes incendiary, the argument has been running long enough that the world has begun to move on. Where the Israeli-Palestinian conflict once dominated the annual meeting of the United Nations, this year it has become a side show as Mr. Netanyahu and Mr. Abbas compete for attention against seemingly more urgent crises like the civil war in Syria and the threat from the Islamic State.
Baker (and presumably many of his readers) don't go on to the next, obvious question: What does this tell us about the relative success or failure of the leaders involved? The piece presents both Netanyahu and Abbas as irrelevant. They used to command the world stage, but now nobody is interested in their interminable quarrel.
What the piece doesn't say is that this situation is exactly what Israel wants, and is a terrible defeat for the Palestinians. Abbas is the one whose strategy depends on keeping the Palestinian issue front and center in world politics; Bibi wants the issue to fade quietly away. What we saw at the UN this week is that however much Abbas and the Palestinians' many sympathizers might protest, events are moving in Bibi's direction.
There is perhaps only one thing harder for the American mind to process than the fact that President Obama has been a terrible foreign policy president, and that is that Bibi Netanyahu is an extraordinarily successful Israeli Prime Minister. In Asia, in Africa, in Latin America, Israel's diplomacy is moving from strength to strength. Virtually every Arab and Middle Eastern leader thinks that Bibi is smarter and stronger than President Obama, and as American prestige across the Middle East has waned under Obama, Israel's prestige — even among people who hate it — has grown. Bibi's reset with Russia, unlike Obama's, actually worked. His pivot to Asia has been more successful than Obama's. He has had far more success building bridges to Sunni Muslims than President Obama, and both Russia and Iran take Bibi and his red lines much more seriously than they take Obama's expostulations and pious hopes.
The reason that Bibi has been more successful than Obama is that Bibi understands how the world works better than Obama does. Bibi believes that in the harsh world of international politics, power wisely used matters more than good intentions eloquently phrased. Obama sought to build bridges to Sunni Muslims by making eloquent speeches in Cairo and Istanbul while ignoring the power political realities that Sunni states cared most about — like the rise of Iran and the Sunni cause in Syria. Bibi read the Sunnis more clearly than Obama did; the value of Israeli power to a Sunni world worried about Iran has led to something close to a revolution in Israel's regional position. Again, Obama thought that reaching out to the Muslim Brotherhood (including its Palestinian affiliate, Hamas) would help American diplomacy and Middle Eastern democracy. Bibi understood that Sunni states like Egypt and its Saudi allies wanted Hamas crushed. Thus, as Obama tried to end the Gaza war on terms acceptable to Hamas and its allies, Bibi enjoyed the backing of both Egypt and Saudi Arabia in a successful effort to block Obama's efforts. Israel's neighbors may not like Bibi, but they believe they can count on him. They may think Obama has some beautiful ideas that he cares deeply about, but they think he's erratic, unreliable, and doesn't understand either them or their concerns.
Obama is an aspiring realist who wanted to work with undemocratic leaders on practical agreements. But Obama, despite the immense power of the country he leads, has been unable to gain the necessary respect from leaders like Putin and Xi that would permit the pragmatic relationships he wanted to build. Bibi is a practicing realist who has succeeded where Obama failed. Bibi has a practical relationship with Putin; they work together where their interests permit and where their interests clash, Putin respects Bibi's red lines. Obama's pivot to Asia brought the US closer to India and Japan, but has opened a deep and dangerous divide with China. Under Bibi's leadership, Israel has stronger, deeper relationships with India, China and Japan than at any time in the past, and Asia may well replace Europe as Israel's primary trade and investment partners as these relationships develop.
The marginalization of Abbas at the UN doesn't just reflect the world's preoccupation with bigger crises in the neighborhood. It reflects a global perception that a) the Sunni Arab states overall are less powerful than they used to be and that b) partly as a result of their deteriorating situation, the Sunni Arab states care less about the Palestinian issue than they used to. This is why African countries that used to shun Israel as a result of Arab pressure are now happy to engage with Israel on a variety of economic and defense issues. India used to avoid Israel in part out of fear that its own Kashmir problem would be 'Palestinianized' into a major problem with its Arab neighbors and the third world. Even Japan and China were cautious about embracing Israel too publicly given the power of the Arab world and its importance both in the world of energy markets and in the nonaligned movement. No longer.
Inevitably, all these developments undercut the salience of the Palestinian issue for world politics and even for Arab politics and they strengthen Israel's position in the region and beyond. Obama has never really grasped this; Netanyahu has based his strategy on it. Ironically, much of the decline in Arab power is due to developments in the United States. Fracking has changed OPEC's dynamics, and Obama's tilt toward Iran has accelerated the crisis of Sunni Arab power. Netanyahu understands the impact of Obama's country and Obama's policy on the Middle East better than Obama does. Bibi, like a number of other leaders around the world, has been able to make significant international gains by exploiting the gaps in President Obama's understanding of the world and in analyzing ways to profit from the unintended consequences and side effects of Obama policies that didn't work out as Obama hoped.
Bibi's successes will not and cannot make Israel's problems and challenges go away. And finding a workable solution to the Palestinian question remains something that Israel cannot ignore on both practical and moral grounds. But Israel is in a stronger global position today than it was when Bibi took office; nobody can say that with a straight face about the nation that President Obama leads. When and if American liberals understand the causes both of Bibi's successes and of Obama's setbacks, then perhaps a new and smarter era of American foreign policy debate can begin.
Original article here.
We welcome your comments, but please comply with our
Comment Rules.
You must be registered and logged in to leave a comment. Comments will display your Username and location.
Log In »
Notable Quotables

"Mr. Netanyahu is one of the most media-savvy politicians on the planet. On Friday he appeared live via video link on 'Real Time with Bill Maher,' taking the host's alternately sardonic and serious line of questioning with gazelle-like alacrity."

~  Anthony Grant, jourrnalist who has written for many major newspapers and worked in television at Paris and Tel Aviv, interviewing former PM Benjamin Netanyahu on Monday, at the outset of Mr. Netanyahu's new book (more here).