Archives

AND MORE...


Islamic Doctrine of 'Creative Lying'
_____________________


It's Not You, Islam, It's Us
_____________________


U.S. of Blissful Ignorance
_____________________


Hogwash: "Don't Blame Islam For Toulouse Killings"
_____________________
May 7, 2012
Respect For Barbarians
The first thought that comes to mind when reading the piece below (regarding defense attorney Cheryl Bormann's call for women at the 9/11 proceedings to wear "appropriate" clothing) is: IS SHE KIDDING?!
Raise your hand if you think Ms. Bormann's client, Walid bin Attash, or his beliefs deserve any respect or consideration from us? Now, raise your hand if you think they DON'T?
To those who raised their hands in the first instance: You're living in the wrong world, i.e., the civilized world, because most of us here have (or should have) zero respect for Attash and his cohorts, much less for the beliefs that led them to participate in the biggest atrocity ever committed on U.S. soil.
As for those who tolerated the circus-like atmosphere at Saturday's hearing and allowed Khalid Sheikh Mohammed and his fellow animals to make a mockery of our justice system, fyi: Respecting the rule of law does not mean leaving your brain (and common sense) at the door before entering a courtroom.
FoxNews.com | May 6, 2012
Attorney In Hijab Defends Call For Other Women At 9/11 Hearing To Wear 'Appropriate' Clothing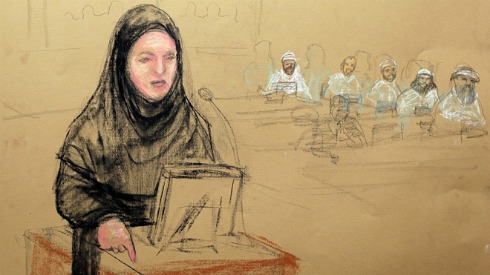 May 5, 2012: In this photo of a sketch by courtroom artist Janet Hamlin and reviewed by the U.S. Department of Defense, Pentagon paid civilian defense lawyer Cheryl Borman, defense attorney of accused Sept. 11 co-conspirator Walid bin Attash, argues a point during the military hearing at the Guantanamo Bay U.S. Naval Base in Cuba. (AP/POOL)

The defense attorney who wore a traditional Islamic outfit during the rowdy arraignment of the accused Sept. 11 terrorists is defending her courtroom appeal that other women in the room wear more "appropriate" clothing to the proceedings -- out of respect for her client's Muslim beliefs.
Cheryl Bormann, counsel for defendant Walid bin Attash, attended the arraignment Saturday dressed in a hijab, apparently because her client insisted on it. She further requested that the court order other women to follow that example so that the defendants do not have to avert their eyes "for fear of committing a sin under their faith."
At a press conference Sunday at Guantanamo Bay, Bormann said she dresses in a hijab at "all times" when she meets with her client "out of respect" for his beliefs. Asked why she requested other women do the same, Bormann said, "When you're on trial for your life, you need to be focused."
Bormann, who is not Muslim, claimed the issue came up several years ago, when a paralegal wore "very short skirts" and it became a distraction for the defendants. She said that on Saturday, "somebody" was also dressed "in a way that was not in keeping with my client's religious beliefs."
"If because of someone's religious beliefs, they can't focus when somebody in the courtroom is dressed in a particular way, I feel it is incumbent upon myself as a counsel to point that out and ask for some consideration from the prosecution," she said. "Suffice to say it was distracting to members of the accused."
The clothing request was just one of several unusual moments during Saturday's lengthy and chaotic hearing.
The court hearing for Khalid Sheikh Mohammed and his four co-defendants should have taken a couple of hours at most. Instead it lasted almost 13 hours, including meal and prayer breaks, as the men appeared to make a concerted effort to stall Saturday's hearing.
They knelt in prayer, ignored the judge, wouldn't listen to Arabic translations over their head sets and one even insisted on having the more than 20 pages detailing the charges against them read aloud, rather than deferred for later in their case as the judge wanted, which added more than two hours... More here.
We welcome your comments, but please comply with our
Comment Rules.
You must be registered and logged in to leave a comment. Comments will display your Username and location.
Log In »
Notable Quotables

"The damage to the reputation of the United States is indescribable. We are now seen, and will be seen for many years, as an unreliable partner in any multinational agreement or operation. Trust in the United States is irreparably damaged."

~  From Open Letter penned three days ago, by nearly 90 retired US generals and admirals to Sec of Defense Lloyd Austin and Chairman of Joint Chiefs of Staff Gen Mark Milley, calling on them to resign from their positions over their handling of US withdrawal from Afghanistan (more here).