April 14, 2006
Group Therapy At The U.N.
"When the American ambassador to the United Nations, John Bolton, asked the members of the Security Council yesterday whether they thought it appropriate on Passover, a major Jewish holy day, to debate a motion denouncing Israel, most of the 15 ambassadors failed to grasp what was wrong."
Of course they failed to grasp what was wrong! If it's okay to attack Israel on the holiest of Jewish holidays (e.g., the Yom Kippur War, Passover Massacre, etc.), then what's wrong with just denouncing it then, right?
This bunch needs more than a "group therapy" session. They need serious treatment for acute psychosis.

The New York Sun | April 14, 2006
U.N. Furor Erupts on Passover
By Benny Avni, Staff Reporter of the Sun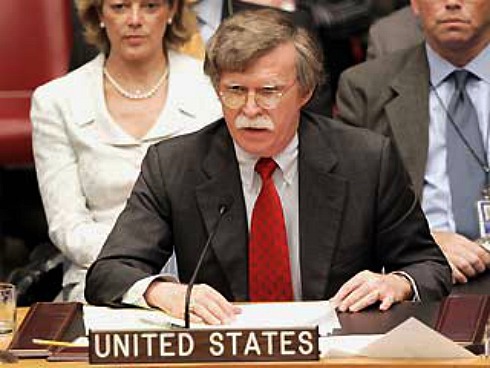 United States Ambassador to the United Nations, John R. Bolton. Photo courtesy: foxnews.com

UNITED NATIONS - When the American ambassador to the United Nations, John Bolton, asked the members of the Security Council yesterday whether they thought it appropriate on Passover, a major Jewish holy day, to debate a motion denouncing Israel, most of the 15 ambassadors failed to grasp what was wrong, according to diplomats present at the meeting, held behind closed doors.
The council scheduled yesterday's meeting after a few days of consultations, hoping to reach an agreement on a statement regarding Israel and the Palestinian Arab territories. No agreement was reached because, according to Mr. Bolton, the text proposed by Qatar, the Arab member of the council, was "not fair and balanced."
The council instead will meet Monday for an open meeting, in which dozens of U.N. members will deliver speeches in what one diplomat described as a "group therapy session."
Non-members of the council do not take part in closed-door consultations like the one that took place yesterday. But diplomats from countries whose affairs are being discussed wait in a room near the council, where they are briefed on the goings-on by friendly council members and where they try to lobby council members.
Israeli diplomats are always present during such consultations, but yesterday they were conspicuous in their absence. A diplomat, who asked for anonymity because Israeli officials are supposed to decline interviews during the first 24 hours of Passover, told The New York Sun that the council had been notified in advance that no Israelis would come to Turtle Bay during the holiday.
The request for a council meeting by Qatar's ambassador, Nassir Abdulaziz al-Nasser, "was made several days ago," Chinese ambassador Wang Guangya, who is the council's president for the month of April, told the Sun. Qatar declined to delay the consultations any further, as today the United Nations is closed as it is Good Friday.
Russian ambassador, Andrey Denisov, who usually carries a lot of influence with the Arab group, told the Sun he had tried to dissuade the Palestinian Arab U.N. observer, Riyad Mansour, from calling consultations on Passover. "Now we are at a deadlock," he said.
Secretary-General Annan's spokesman, Stephane Dujarric, said that it was not a secretariat issue. "The council is master of its own schedule," he said, and wished the Sun a happy Passover.
As consultations began, Mr. Bolton asked for what he later described as "consistency about observing religious holidays." He said that he was told that "we work on everybody's religious holidays." From now on, he said, "never again can anybody say, 'But it's a religious holiday, therefore I can't work.'"
Which holidays are observed by the United Nations "is something which is decided every year," said French ambassador Jean Marc de la Sabliere, adding that the United Nations cannot afford to stop work" whenever there is a religious feast" anywhere around the world.
The Israeli diplomat said that the issue is not working days, but a council meeting that specifically had to do with Israel. Two years ago, after a flare up on the Syrian-Israeli border, a more acute open meeting of the council took place on the eve of Yom Kippur, the diplomat noted. Ambassador Dan Gillerman had to deliver a speech, and after making special arrangement to schedule the speech early, he literally ran out of Turtle Bay just before sundown, when Jewish observance begins.
"The essence of Jewish holidays would require a moral basis," said the Palestinian Arab observer, Mr. Mansour. "These are holy days for Muslims, Jews, and Christians. And the tradition we are familiar with, during religious holidays there should not be killing of civilian and innocent individuals."
An Arab resident was murdered yesterday in East Jerusalem, a week after selling his house to a Jew. The Israeli Web site Y-Net reported from Palestinian Arab sources that the killing was claimed by operatives of the Al-Aqsa Brigades, which are the militant faction of Fatah.
But the discussion in yesterday's Security Council meeting was about the Gaza Strip, where in the last few days Israeli air and cannon strikes have been taking place against Palestinian Arab targets. Israel has tried to stop a barrage of rocket attacks on its southern towns from inside Gaza, which began immediately after Israel left the strip last August, but intensified earlier this year, when Hamas won a parliamentary election. Israeli troops infiltrated Gaza after sundown last night for the first time since the August pullout.
While yesterday's proposed council statement called on the Palestinian Authority to conduct "firm measures to halt rocket attacks and suicide bombings," it concentrated mostly on Israel's "excessive use of force."
"What were these consultations about?" the Israeli diplomat said. "Were they on Israel's response, or on the terror that led to it?"
Mr. Mansour said that yesterday only America was "shielding and protecting Israeli activities and aggression" from the condemnation of all other 14 council members, but members of the council said that several other ambassadors also had reservations about the Arab text.
"If I were the only holdout, I would be proud of the fact," Mr. Bolton told the Sun.
Original article here.

We welcome your comments, but please comply with our
Comment Rules.
You must be registered and logged in to leave a comment. Comments will display your Username and location.
Log In »
Notable Quotables

"Barack Obama is a lawyer, so it was stunning to read that he ventured into the Michael Flynn case in a way that misstated the supposed crime and ignored the history of his own Administration in targeting Mr. Flynn. Since the former President chose to offer his legal views when he didn't need to, we wonder what he's really worried about."

~ Wall Street Journal Opinion Editorial, from May 10, 2020, entitled "Barack Obama on Michael Flynn" (more here).