Archives

AND MORE...


Pivoting Into Irrelevance
_____________________


Don't Know Much About Much
_____________________


Where Are The American People?!
_____________________


The Accidental Emperor
_____________________
September 17, 2012
Groundhog Day
Look who crawled out of the ground?! Why, it's none other than Hezbollah leader, 'Punxsutawney' Nasrallah, who emerged from his hole in the ground on Monday to partake in the Islamic festivities of calling for Death to [fill in the blank], protests and lots of righteous indignation (see below).
In between shouts of Death to whomever, Nasrallah demanded the US "ban the movie and have it removed from the Internet," while according to Iranian state TV, Ayatollah Ali Khamenei jumped on the camel, er, bandwagon and called on the West to block the film to prove they were not "accomplices" in this "big crime."
Well, isn't that swell? Let's hope if and when our own Commander-in-Chief, Sheikh Obama, emerges from his hiding place, he'll tell Khamenei, Nasrallah, et al what to do with their calls and requests, and where to go after they do it.
Times of Israel | September 17, 2012
Nasrallah, in rare public address, hails 'start of a serious movement in defense of the prophet'
As 500,000 supporters in Beirut shout 'Death to Israel' and 'Death to the Great Satan America,' Hezbollah leader urges week of protests over anti-Islam movie
By AP and Yoel Goldman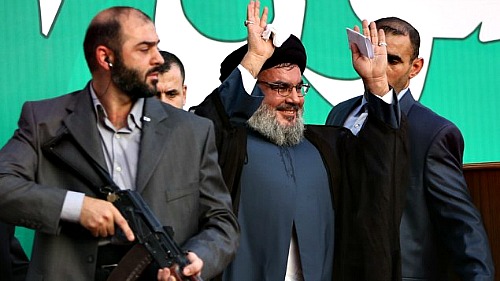 Hezbollah leader Hassan Nasrallah, center, escorted by his bodyguards, waves to a crowd of hundreds of thousands of supporters in Beirut, Lebanon on Monday (photo credit: AP/Hussein Malla)
BEIRUT — The leader of Hezbollah made a rare public appearance Monday at a rally in Beirut, calling for sustained protests against an anti-Islam film that already has provoked a week of unrest in Muslim countries worldwide.
Sheikh Hassan Nasrallah has rarely been seen in public since his Shiite Muslim group battled Israel in a month-long war in 2006, fearing Israeli assassination. Since then, he has communicated with his followers and gives news conferences mostly via satellite link.
On Monday, Nasrallah spoke for about 15 minutes before tens of thousands of cheering supporters, many of them with green and yellow headbands around their foreheads — the colors of Hezbollah — and the words "at your service God's prophet" written on them.
Police officials estimated the crowd at around 500,000 — an exceptionally large turnout even by standards of the Hezbollah group whose rallies normally draw huge numbers.
Diplomats at the US Embassy in Beirut have started to destroy classified material as a security precaution and sent local Lebanese employees home early amid the anti-American protests.
In Washington, a State Department official said there was no imminent threat to the heavily fortified Beirut embassy, which is about an hour away from where the nearest demonstration is planned. The official, who spoke on condition of anonymity because he was not authorized to discuss security procedures, said the decision to "reduce classified holdings" was routine and made by embassy staff.
Nasrallah, who last appeared in public in December 2011 to mark the Shiite holy day of Ashoura, said the US must ban the movie and have it removed from the Internet and called for his followers to maintain pressure on the world to act.
"This is the start of a serious movement that must continue all over the Muslim world in defense of the prophet of God," Nasrallah said to roars of support. "As long as there's blood in us, we will not remain silent over insults against our prophet."
The crowd chanted "Death to Israel" and "Death to the Great Satan America," reported Israel Radio.
He has called for a series of demonstrations this week to denounce the video.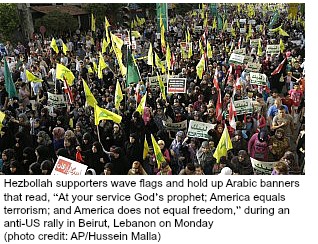 Hezbollah's rallies seem aimed at keeping the issue alive by bringing out large crowds. But the group also appeared to be trying to ensure the protests do not spiral into violence, walking a careful line. Notably, Hezbollah held Monday's protest in its own mainly Shiite stronghold of Dahieh in south Beirut, far from the US Embassy, in the mountains north of the capital, and other international diplomatic missions.
For the group, anger over the low-budget movie that denigrates the Prophet Muhammad provides a welcome diversion from the crisis in Syria, which has brought heavy criticism on Hezbollah for its support of President Bashar Assad. But stoking riots in Beirut could also bring a backlash in the tensely divided country.
"Some people still don't know the level of insult done to our prophet," Nasrallah said. "The world should understand the truth of our relationship and ties to our prophet."
The movie, "Innocence of Muslims," portrays Islam's Prophet Muhammad as a fraud, a womanizer and a child molester. Protesters have directed their anger at the US government, insisting it should do something to stop the film's distribution, though it was privately produced. American officials have criticized it for intentionally offending Muslims — and in one case, acted to prevent it being shown at a Florida church.
In a televised address on Sunday, Nasrallah had blamed the US for the film, saying, "The ones who should be held accountable and boycotted are those who support and protect the producers, namely the US administration."
He called for protests on Monday, Wednesday, Friday, Saturday and Sunday. More here...
We welcome your comments, but please comply with our
Comment Rules.
You must be registered and logged in to leave a comment. Comments will display your Username and location.
Log In »
Notable Quotables

"Joe Biden isn't leading from behind. Joe Biden is sleeping from behind. This year has been one embarrassment after another. Russian hacks. Chinese threats. Iranian missiles. And twenty years after September 11th, Afghanistan is back in the hands of the Taliban."

~  Former U.N. Ambassador Nikki Haley tweeting Monday afternoon (more here).