Archives

AND MORE...


"Rational" Actors
_____________________


Bombs & Kooks: A Winning Combo
_____________________


So Much For Sanctions...
_____________________



SEALS Slam Obama
_____________________
May 3, 2012
Desperately Seeking Trouble
With all the problems they have (e.g., sanctions, internal unrest, besieged Syrian ally Bashar Assad, etc.) leave it to those "rational actors," the Iranians, to desperately seek Trouble, which would serve as a distraction for their simmering population...
Nothing fits that bill better than a confrontation with Israel, at least as far as the Arab/Muslim world is concerned. Hence Iranian Vice President Mohammad Reza Rahimi's tour of Lebanon's border with Israel, on Thursday.
Provocative? You betcha. Expected? You betcha. Is the Obama administration watching? Probably not, as they're too busy marking the one-year anniversary of the killing of one Islamic murderer, to notice the ominous activities of a bunch of live Islamic murderers (i.e., Iran and Hezbollah).
The Times of Israel | May 3, 2012
Iranian Vice President Tours Israel-Lebanon Border
Rahimi meets with Hezbollah leader, voices support for fight against 'Zionist regime'
By George Potter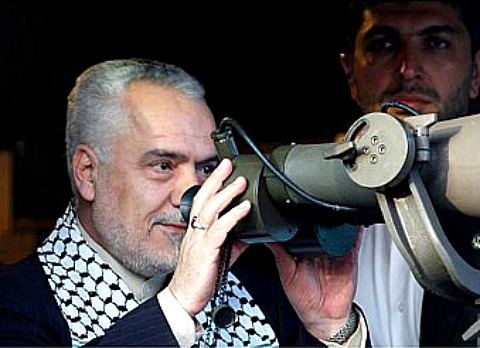 Iranian VP takes close look at Israel Photo: Reuters
Iranian Vice President Mohammad Reza Rahimi toured Lebanon's border with Israel Thursday while visiting the Hezbollah stronghold, Ynet reported.
At an official ceremony both Hezbollah and Iranian flags were flown, and Rahimi emphasized the need to oppose "the Zionist regime."
The vice president reiterated the Islamic Republic's support for Hezbollah and met with its leader, Hasan Nasrallah.
The story cited Iranian reports as saying that Rahimi observed "occupied Palestine" from across the border.
Rahimi also met with Lebanese Prime Minister Najib Mikati, saying he had high hopes for future Iranian Lebanese relations.
Original article here.
We welcome your comments, but please comply with our
Comment Rules.
You must be registered and logged in to leave a comment. Comments will display your Username and location.
Log In »
Notable Quotables

"The damage to the reputation of the United States is indescribable. We are now seen, and will be seen for many years, as an unreliable partner in any multinational agreement or operation. Trust in the United States is irreparably damaged."

~  From Open Letter penned three days ago, by nearly 90 retired US generals and admirals to Sec of Defense Lloyd Austin and Chairman of Joint Chiefs of Staff Gen Mark Milley, calling on them to resign from their positions over their handling of US withdrawal from Afghanistan (more here).