March 7, 2008
Blowing Hot Air
Okay, "Israel supporters", here's the deal:
Declaring that one is an unabashed "Israel supporter" or someone who "stands firmly with Israel" is nice rhetoric, but nevertheless rhetoric. And being sympathetic to "the Jews" is also nice, although it would mean a whole lot more if it weren't directed only at dead Jews.
Supporting policies - be they policies of the U.S. or Israel - that reflect zero tolerance for terrorism, of any kind, is a way to show real support for a democratic ally.
Instead of buying into nice rhetoric or heartfelt condolences, next time you run into self-professed "Israel supporters," ask them what, specifically, that means, i.e., which policies do they support with respect to Israel?
And while you're at it, ask them which policies they support with respect to the U.S., as that oughta give you an idea of whether they're consistent in their views, or just blowing hot air, as is often the case.


The New York Sun | March 7, 2008
Israel Backed After Killings in Jerusalem
By Benny Avni, Staff Reporter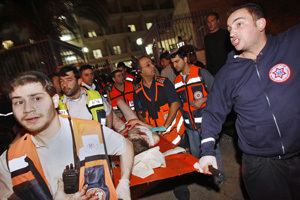 Medics evacuate a Israeli from the site of a shooting in
Jerusalem yesterday. Kevin Frayer / AP

UNITED NATIONS — The shooting attack in which at least eight religious students were killed yesterday in the heart of Jerusalem is reminiscent of past major campaigns of terror in Israeli cities - leading some Israelis to conclude that the Palestinian Arabs are launching a "third intifada."
The shooting rampage that left the religious scholars at the Merkaz Harav Yeshiva dead, and that ended only after a student who was also an Israeli army officer shot and killed a gunman, was seen as a major escalation in Israel, a country that had been under constant rocket attacks in its southern regions. The massacre took place mere blocks away from government offices where, a day earlier, Secretary of State Rice conducted her efforts to revive peace talks between Israelis and Palestinian Arabs.
World leaders, presidential candidates, and New York's major Jewish organizations expressed their outrage, and President Bush said America "stands firmly with Israel."
Terrorist organizations backed by Al Qaeda, Iran, and Syria, have used the 2006 Lebanon war as a model for conducting a campaign of missile attacks from the Hamas-controlled Gaza Strip on Israeli towns. After Israel conducted a two-day ground incursion into Gaza earlier this week, the rocket barrage only intensified, and leaders in Gaza and southern Lebanon declared a "victory" over Israel akin to the Lebanon war.
Although it was unclear late last night what organization was behind the Jerusalem terror shooting, officials in Jerusalem linked its timing to several key regional developments. Those included Ms. Rice's two-day visit; the 40-day anniversary of the assassination in Damascus of the Hezbollah terror master, Imad Mughnieh, and Hamas's desire to avenge the killing of some of its own terror leaders in Gaza.
"I also would not exclude" the Security Council resolution earlier this week that imposed sanctions on Iran for its nuclear weapons program as a possible cause of the recent escalation, a former Israeli ambassador to Washington, Daniel Ayalon, told The New York Sun.
As of late last night, responsibility for the evening terror attack in Jerusalem had been claimed on the Hezbollah-financed television station, al-Manar, by an organization calling itself The Liberators of Galilee-Mughnieh Brigades. Israeli intelligence sources said they were unsure who - if anyone - was behind the name, which had been used in the past for claiming responsibility for terror attacks.
Yesterday morning, several hours before the attack, Israeli press reports quoted the chief of the internal intelligence agency, Shabak, Yuval Diskin, as warning that as part of Hamas's efforts to extend its control beyond Gaza into the West Bank, it will attempt to carry a major - or "quality" - terror attack, conducted by West Bank- or Jerusalem-based operatives of its terrorist arm. The gunmen yesterday were unlikely to have come from Gaza.
There were celebratory gunshots in the air on the street of Gaza, nevertheless, and Hamas spokesmen expressed satisfaction. "The Israelis reap in Jerusalem what they have sown in Gaza," a Hamas military wing spokesman, Abu Ahmed, told Y-net. He said the shooting in Jerusalem was "only the first" of several planned attacks, but stopped short of declaring responsibility.
A day earlier, Ms. Rice secured a promise from the president of the Palestinian Authority, Mahmoud Abbas, to return to negotiations with Prime Minister Olmert, which he had suspended at the start of the Israeli attack on Gaza. No date for resuming negotiations has been determined however.
Mr. Abbas quickly condemned the Jerusalem shooting rampage, saying he deplores killing of civilians "be they Israelis or Palestinians." Mr. Olmert, who indicated the violence would not end the peace talks, spoke with several world leaders yesterday, starting with President Bush, but he spent most of the hours after the attack consulting with Israeli security officials, planning a response that might include a military assault.
Yesterday's attack at the Jewish seminary was only the culmination of a bloody day in which an Israeli soldier was killed and another one suffered severe injuries earlier in an ambush near the Gaza border, and a house in Sderot was directly hit by a Kassam rocket.
President Bush strongly condemned the "barbaric and vicious attack on innocent civilians" and Ms. Rice added, "There is no cause that could ever justify this action." Western world leaders, including the British and French foreign ministers and the U.N. Secretary General, Ban Ki-moon, also used strong language of condemnation.
In a rare move, Jerusalem initiated a late night meeting of the Security Council, where it is more accustomed to fending off denunciations of Israeli actions than hoping for sympathy after its citizens are attacked. But the Arab representative on the Council, Libya, demanded to make an American-proposed statement about the Jerusalem attacks "balanced" by also mentioning Israel's attacks in Gaza, preventing a unified council statement. The terrorist attack in Jerusalem "stands out," said Russia's U.N. ambassador, Vitaly Churkin, who serves as the council president.
"What would it take for the council" to condemn one attack "specifically, without going through the entore history of the Israeli-Palestinian conflict?" Mr. Churkin asked.
The attack struck a special chord with Orthodox Jews in the way that an earlier attack on a Tel Aviv disco resonated with more secular or youthful observers. "Just as there is a special place in hell for perpetrators of attacks on men women and children doing nothing but going about their daily lives, there is a special section there reserved for attackers of young men who were sitting and studying Torah," said the director of public affairs for Agudath Israel of America, Rabbi Avi Shafran. "Those who were killed, not the murderers for whom Palestinians use the word, are true martyrs, holy innocent souls killed only because they are Jews."
Original article here.


We welcome your comments, but please comply with our
Comment Rules.
You must be registered and logged in to leave a comment. Comments will display your Username and location.
Log In »
Notable Quotables

"Mr. Netanyahu is one of the most media-savvy politicians on the planet. On Friday he appeared live via video link on 'Real Time with Bill Maher,' taking the host's alternately sardonic and serious line of questioning with gazelle-like alacrity."

~  Anthony Grant, jourrnalist who has written for many major newspapers and worked in television at Paris and Tel Aviv, interviewing former PM Benjamin Netanyahu on Monday, at the outset of Mr. Netanyahu's new book (more here).