Archives

And More...


The Storyteller Behind The President
_____________________


Jihad, Journalists & Jackasses
_____________________


WH Leans On Jewish Community
_____________________


STOP Feeding These Orgs
_____________________


The Bipartisan Myth
_____________________
May 23, 2016
Blood Money
The dovish liberal Jewish lobby group J Street said it was "proud" of its activities to promote the controversial Iranian nuclear agreement, signed last year between Tehran and world powers, amid a report it received $576,500 to advocate for the deal (see below).
J Street received the money from a group called The Ploughshares Funds, recently identified by the White House as a key surrogate in selling the Iran nuclear deal. We identified the group last year on these pages in "WH Leans On Jewish Community" as a liberal group that has spent millions of dollars to slant Iran-related coverage and protect the Obama administration's diplomatic efforts.
From where does Ploughshares Funds get its money? Mostly from other large-scale grant-making foundations and philanthropic organizations, some of the largest in the world like, for example, Billionaire George Soros's Open Society Foundations.
Journalist Daniel Greenfield once aptly described the odious Soros as an Hungarian-born Jew who "did not wear a Nazi uniform, but he might as well have, because he aided in the persecution of the Jews of Europe, without compassion, without guilt and without regret."
It's worth mentioning, by the way, that another recipient of Ploughshares Funds' largesse was the National Iranian American Council (NIAC), which received more than $281,000 from Ploughshares. NIAC, founded and led by Trita Parsi is basically the public face of the Iran lobby in Washington DC.
So these are the folks with whom J Street is in bed. This so-called "pro-Israel" American Jewish organization that sits in DC and purports to know more than the Israeli government about what's best for Israel's security, is precisely what Vladimir Lenin used to call "Useful Idiots of the West."
There were quite a few of these Useful Idiots here in America during the 1930s. They abandoned the Jews of Europe and in some cases even worked against them. And their predecessors, i.e., groups like J(erk) Street, are "proud" to follow in their footsteps with respect to the Jews of Israel.
Despicable. Disgusting. And downright traitorous, are just a few of the adjectives that spring to mind whenever J Street rears its ugly head.
The Times of Israel  |  May 23, 2016
J Street 'Proud' Of Efforts To Push Iran Nuclear Deal
Amid claim it received over $500,000 to advocate for accord, Jewish group says pact 'of utmost importance' to Israel's security
By Agencies & Times of Israel staff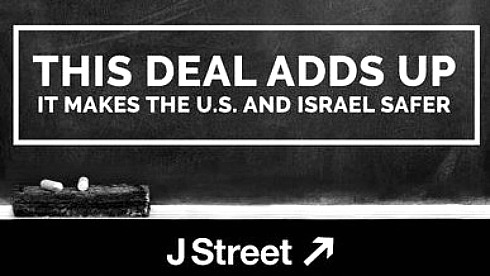 Portion of a full page ad in the New York Times, created and paid for by left-wing Jewish-American lobby group, J Street on Thursday July 23, 2015. (capture)
WASHINGTON — The liberal Jewish lobby group J Street said it was "proud" of its activities to promote the controversial Iranian nuclear agreement, signed last year between Tehran and world powers, amid a report it received $576,500 to advocate for the deal.
J Street didn't deny receiving the funds and said it "acted in order to advance the nuclear deal with Iran out of faith that it was an important deal, that it had a great contribution also to the security of Israel."
"(This) faith is shared by us as well as many sources, both in the American government and in the Israeli security establishment, as well as among the Jewish public in the US, most of whom supported the nuclear deal," the group said in a press release on Sunday.
"The nuclear deal with Iran has blocked Iran's pathways to a nuclear weapon for the coming years,"said J Street, adding "we are proud of the activities of the organization to advance the nuclear deal between the world powers and Iran, a deal that we believe is of the utmost importance for the security of the state of Israel."
The Jewish group received the money from a group, The Ploughshares Funds, recently identified by the White House as a key surrogate in selling the Iran nuclear deal, according to an Associated Press exposé.
The Ploughshares Fund also gave National Public Radio $100,000 last year to help it report on the pact and related issues, according to the group's annual report.
It also funded reporters and partnerships with other news outlets.
J-Street undertook a comprehensive campaign last year to support the nuclear deal, amid lobbying by Jerusalem and other pro-Israel groups to convince Congress to block the landmark pact.
Ahead of a crucial congressional vote to either ratify or block the deal, J Street in July 2015 took out a full page advertisement in The New York Times supporting urging Congress to refrain from "sabotaging" the Iranian nuclear agreement.
J Street also created TV ads and built a website to stump for the accord.
The group called the New York Times ad was "the latest phase of [our] multimillion dollar campaign to ensure that the US Congress does not sabotage the nuclear deal."
The Ploughshares Fund's mission is to "build a safe, secure world by developing and investing in initiatives to reduce and ultimately eliminate the world's nuclear stockpiles," one that dovetails with President Barack Obama's arms control efforts. But its behind-the-scenes role advocating for the Iran agreement got more attention this month after a candid profile of Ben Rhodes, one of the president's top foreign policy aides.
In The New York Times Magazine article, Rhodes explained how the administration worked with nongovernmental organizations, proliferation experts and even friendly reporters to build support for the seven-nation accord that curtailed Iran's nuclear activity and softened international financial penalties on Tehran.
"We created an echo chamber," said Rhodes, a deputy national security adviser, adding that "outside groups like Ploughshares" helped carry out the administration's message effectively.
The magazine piece revived Republican criticism of the Iran agreement as they suggested it was evidence of a White House spin machine misleading the American people. The administration accused opponents of trying to re-litigate the deal after failing to defeat it in congressional votes last year.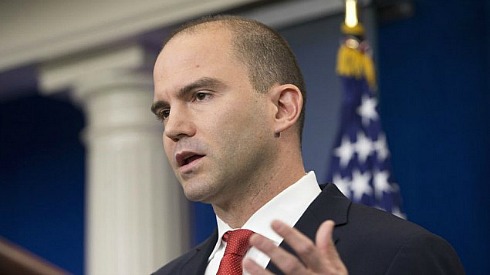 Deputy National Security Adviser For Strategic Communications Ben Rhodes speaks in the Brady Press Briefing Room of the White House, Feb 16, 2016. (AP/Pablo Martinez Monsivais)
Ploughshares boasted of helping to secure the deal. While success was "driven by the fearless leadership of the Obama administration and supporters in Congress," board chairwoman Mary Lloyd Estrin wrote in the annual report, "less known is the absolutely critical role that civil society played in tipping the scales towards this extraordinary policy victory."
The 33-page document lists the groups that Ploughshares funded last year to advance its nonproliferation agenda.
The Arms Control Association got $282,500; the Brookings Institution, $225,000; and the Atlantic Council, $182,500. They received money for Iran-related analysis, briefings and media outreach, and non-Iran nuclear work.
Other groups, less directly defined by their independent nuclear expertise, also secured grants.
More than $281,000 went to the National Iranian American Council.
Princeton University got $70,000 to support former Iranian ambassador and nuclear spokesman Seyed Hossein Mousavian's "analysis, publications and policymaker engagement on the range of elements involved with the negotiated settlement of Iran's nuclear program."
The Ploughshares grant to NPR supported "national security reporting that emphasizes the themes of US nuclear weapons policy and budgets, Iran's nuclear program, international nuclear security topics and US policy toward nuclear security," according to Ploughshares' 2015 annual report, recently published online.
Outside groups of all stripes are increasingly giving money to news organizations for special projects or general news coverage. Most news organizations, including The Associated Press, have strict rules governing whom they can accept money from and how to protect journalistic independence.
Ploughshares' backing is more unusual, given its prominent role in the rancorous, partisan debate over the Iran deal.
"It is common practice for foundations to fund media coverage of underreported stories," Ploughshares spokeswoman Jennifer Abrahamson said. Funding "does not influence the editorial content of their coverage in any way, nor would we want it to."
Ploughshares has funded NPR's coverage of national security since 2005, the radio network said. Ploughshares reports show at least $700,000 in funding over that time. All grant descriptions since 2010 specifically mention Iran.
"It's a valued partnership, without any conditions from Ploughshares on our specific reporting, beyond the broad issues of national and nuclear security, nuclear policy, and nonproliferation," NPR said in an emailed statement. "As with all support received, we have a rigorous editorial firewall process in place to ensure our coverage is independent and is not influenced by funders or special interests."
The AP has taken grants from nonpolitical groups and journalism foundations such as the Knight Foundation. As with all grants, "AP retains complete editorial control of the final news product, which must fully meet AP standards for independence and integrity," Standards Editor Thomas Kent said.
Original article here.
We welcome your comments, but please comply with our
Comment Rules.
You must be registered and logged in to leave a comment. Comments will display your Username and location.
Log In »
Notable Quotables

"Mr. Netanyahu is one of the most media-savvy politicians on the planet. On Friday he appeared live via video link on 'Real Time with Bill Maher,' taking the host's alternately sardonic and serious line of questioning with gazelle-like alacrity."

~  Anthony Grant, jourrnalist who has written for many major newspapers and worked in television at Paris and Tel Aviv, interviewing former PM Benjamin Netanyahu on Monday, at the outset of Mr. Netanyahu's new book (more here).