November 4, 2009
60 Tons of Goodwill
Noting the 30th anniversary of the takeover of the U.S. Embassy in Tehran, President Obama insisted yesterday that he wants the U.S. and Iran to "move beyond the path of sustained suspicion, mistrust and confrontation."
Unfortunately, it looks like Iran was busy moving 60 tons of something else yesterday (see below).


FoxNews.com | November 4, 2009
Israeli Navy Seizes Ship Allegedly Carrying 60 Tons of Missiles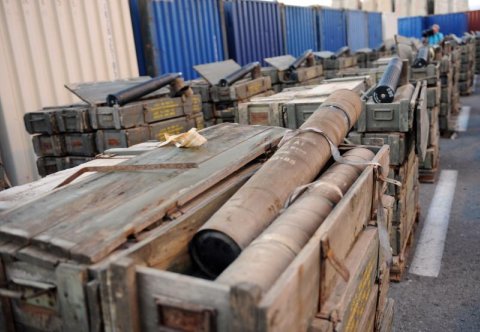 JERUSALEM — Israeli commandos seized a ship Wednesday that defense officials said was carrying more than 60 tons of missiles, rockets and anti-tank weapons bound for Lebanon's Iranian-backed Hezbollah guerrillas.

The pre-dawn seizure in the waters near Cyprus was a rare interception of a suspected arms shipment by Israel, which has long accused Iran of arming its enemies. Israel offered no evidence to support its claim that the weapons came from Iran and were meant for Hezbollah.
Israel and Hezbollah fought a bitter war in the summer of 2006 that ended with a U.N.-brokered cease-fire, but occasional flare-ups occur.
Wednesday's seizure was bigger than a similar haul in 2002, when Israeli military confiscated a vessel with 50 tons of missiles, mortars, rifles and ammunition headed for Palestinian militants in the Gaza Strip.
The presence of Iranian proxies in the Mideast have combined with worries over Tehran's nuclear program and arsenal of long-range missiles to make Iran the Jewish state's most formidable foe.
Israel shares the West's fears that Tehran is developing nuclear weapons, despite its assertions to the contrary. Neutralizing the Iranian nuclear threat remains Israeli Prime Minister Benjamin Netanyahu's top priority and Israel has not ruled out a military strike against Tehran's nuclear facilities.
On Wednesday, Israeli defense officials said weapons including anti-tank missiles and Katyusha rockets were stashed on a commercial vessel operating under the guise of an aid ship, captained by a Pole and flying an Antiguan flag. They spoke on condition of anonymity because the military had not officially released the information.
Based on intelligence reports, a naval unit patrolling the area intercepted and boarded the vessel without incident, defense officials said.
Deputy Defense Minister Matan Vilnai said the crew was not aware of the cargo's contents.
The ship, the Francop, was towed to the southern Israeli port of Ashdod, where the weapons were being unloaded. The vessel is operated by United Feeder Services, a Cyprus-based shipping company that said it picked up the cargo in Damietta, Egypt.
An employee of the company's chartering department who would not identify himself said the ship had been bound from Egypt to Cyprus and from there to Lebanon and Turkey. He said the company did not know what was inside... more here.
We welcome your comments, but please comply with our
Comment Rules.
You must be registered and logged in to leave a comment. Comments will display your Username and location.
Log In »
Notable Quotables

"Mr. Netanyahu is one of the most media-savvy politicians on the planet. On Friday he appeared live via video link on 'Real Time with Bill Maher,' taking the host's alternately sardonic and serious line of questioning with gazelle-like alacrity."

~  Anthony Grant, jourrnalist who has written for many major newspapers and worked in television at Paris and Tel Aviv, interviewing former PM Benjamin Netanyahu on Monday, at the outset of Mr. Netanyahu's new book (more here).