June 27, 2011
World's Bottom-Feeders Unite
"Iran is moving to cement ties with the leaders of three key American allies - Afghanistan, Pakistan and Iraq." (See below.)
Surprised? Don't be, this is what happens when the world's one and only superpower relinquishes its leadership role, and chooses to lead from behind (just like a horse's ass).
Expect more such re-alignments to come as America focuses on – in President Obama's words - "nation-building at home." After all, isn't that what we were focused on throughout the so-called wonderful 1990s, up to and including September 10, 2001?


The Wall Street Journal | June 27, 2011
Iran Woos U.S. Allies As Troops Withdraw
By Jay Solomon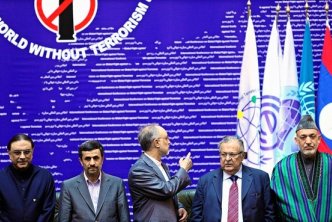 Afghan President Hamid Karzai met with Supreme Leader
Ayatollah Ali Khamenei in Tehran on Saturday. EPA
TEHRAN - Iran is moving to cement ties with the leaders of three key American allies - Afghanistan, Pakistan and Iraq - highlighting Tehran's efforts to take a greater role in the region as the U.S. military pulls out troops.
The Afghan and Pakistani presidents, visiting Tehran, discussed with Iranian President Mahmoud Ahmadinejad "many issues…that might come up after the NATO military force goes out of Afghanistan," Iranian Foreign Minister Ali Akbar Salehi said in an interview here Sunday.
"The three presidents were very forthcoming in carrying out the cooperation and contacts so as to make sure things will go as smoothly as it could," he said.
That was a jab at Washington, which is increasingly in competition with Tehran for influence in the region, particularly as popular rebellions have surged across the Middle East and North Africa since January.
The overtures by U.S. nemesis Iran come amid tensions between Washington and three governments that have each received billions of dollars in U.S. aid. Afghan President Hamid Karzai, before traveling to Tehran, welcomed President Barack Obama's announcement on Wednesday that the U.S. would withdraw 33,000 U.S. troops from Afghanistan over 15 months.
The U.S. is also committed to withdrawing all of its remaining 45,000 troops from Iraq by year-end; some U.S. military officials want some troops to stay to serve as a check on Iran, but Iraqi hostility to the U.S. presence has been an obstacle.
In Pakistan, military and civilian leaders are under domestic pressure to curb U.S. ties, in a wave of anti-Americanism fueled by the U.S. raid in May that killed Osama bin Laden at his home in Pakistan.
Tehran has been pressing Afghanistan - Iran's neighbor to the east - and Pakistan to end their military alliances with Washington.
Officials at the White House and State Department declined to comment on Sunday on the Tehran meetings.
U.S. and European officials have said they believe Iran's regional ambitions are hampered by a stagnant economy and growing political infighting in Tehran that could cost Mr. Ahmadinejad his job.
There are also historical tensions between neighbors - and in some cases, current conflicts. Afghan President Hamid Karzai told Pakistan President Asif Ali Zardari that Pakistan must stop lobbing rockets into his country, according to a statement from Mr. Karzai's office. Mr. Zardari denied Pakistan's military was firing the rockets.
But Iran's government took every opportunity to play up its international ties during a weekend that also included a conference in Tehran attended by representatives from around 60 countries.
The Obama administration and European nations had lobbied countries against attending what Iran called an "International Conference on the Global Fight against Terrorism." The U.S. characterizes Tehran as the world's largest state sponsor of terrorism.
The event was also attended by diplomats from U.S.-friendly countries such as Mongolia, Oman and Indonesia. The United Nations and Organization of the Islamic Conference both sent representatives.
"Pakistan and Iran share an historic bond," Mr. Zardari told the conference on Saturday, when his late wife, former Prime Minister Benazir Bhutto, was honored by Iran's government.
For its part, the U.S. charges Tehran with fomenting instability by providing arms and training to insurgent groups, including the Taliban in Afghanistan and the Kata'ib Hezbollah militia in Iraq, that battle American forces. Tehran denies the charge.
For the most part, the conference followed a pattern many U.S. and European officials anticipated. Iranian, Cuban and Palestinian representatives - mixing with North Korean, Zimbabwean and Myanmar diplomats - branded Israel the world's largest terrorism threat.
Sudanese President Omar al-Bashir, who is wanted by the International Criminal Court for alleged war crimes, addressed the conference and said the definition of terrorism is abused internationally. "We should prevent the use of terrorism for political reasons," he said.
On the grounds of the conference hall, the Iranian hosts assembled displays documenting what they alleged were Israeli and American-backed plots against the Islamic Republic.
On Friday, after a three-way meeting between the Iranian, Afghan and Pakistani presidents, the three leaders pledged to intensify their joint efforts to fight militant groups and combat narcotics trafficking, while "rejecting foreign interference" in their countries, according to a statement. The three also agreed to meet next year in Islamabad.
Iraqi President Jalal Talabani, while in Tehran, voiced his support for Iran's call to shut a military camp in central Iraq that has served as a base for an Iranian insurgent group, the Mujahedin e-Khalq, or MeK.
Washington, while designating the MeK as an international terrorist organization, has pressured Iraq to continue to provide sanctuary to some 3,400 MeK fighters over fears they would be persecuted if they returned to Iran.
The MeK was aligned with the late Iraqi dictator Saddam Hussein and carried out a string of terrorist attacks inside Iran over the past three decades, including one that seriously injured Iran's Supreme Leader Ayatollah Ali Khamenei.
Mr. Talabani said in a speech to the terrorism conference Saturday that his government's patience with the MeK had worn thin. The MeK camp "will be shut down by the end of the year," Mr. Talabani said. "We intend to prevent any kind of invasion to be launched against any of our neighboring countries."
— Maria Abi-Habib in Kabul and Maya Jackson Randall in Washington contributed to this article.
Original article here.
We welcome your comments, but please comply with our
Comment Rules.
You must be registered and logged in to leave a comment. Comments will display your Username and location.
Log In »
Notable Quotables

"I talked about the proposition that certain critical infrastructure should be off-limits to attack, period, by cyber or any other means. I gave them a list, and I don't have it in front of me, if I am not mistaken, of 16 entities - 16 defined as critical infrastructure from the energy sector to our water systems."

~ President Joe Biden, at a press conference Wednesday, after meeting with Russian President Vladimir Putin (more here).